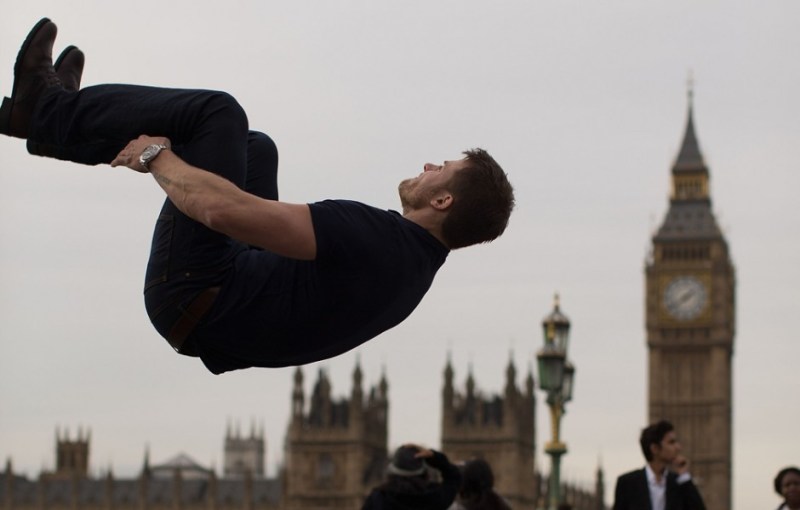 If you were to make a list of the top five most badass professions, movie stuntman would probably take the top spot, if not all five. These guys are fearless, indestructible, and responsible for countless on-screen thrills. They're the real heroes.
We were lucky enough to interview Bobby Holland Hanton, a mighty warrior who stands (and runs, and jumps, and falls) with the great film stunt performers of our time. His résumé is nothing short of incredible: He's worked on Thor: The Dark World, The Avengers: Age of Ultron, The Dark Knight Rises, the most recent Bond films, and Game of Thrones, to name just a few.
In our interview, we discuss a range of topics, including stunts, injuries, grooming, fitness, vacations, and Star Wars: The Force Awakens (which Bobby is in). Before we get started, we urge you to check out Bobby's jaw-dropping showreel, which features lots of behind-the-scenes ass-kickery.
The Manual: Looking at your IMDb page, it looks like you double for Chris Hemsworth in just about all his action-oriented films. He must have you on speed dial by now.
Bobby Holland Hanton: Yeah, it's amazing, I feel like I have a real good relationship with him. I've known him for a while, since Snow White and the Huntsman. We're the same age, he's got a great sense of humor, and we get on great. It's a real privilege to work with someone that professional and so good at his job and his craft, and who also appreciates other people that want to do a good job for him. It's an honor to be a part of his team. It actually reminds me of Entourage a lot, cause he's got such a lovely, great team, and everyone is super loyal. It's a credit to him — everyone loves him.
TM: What surprises people about what you do? What kind of myths or misconceptions are out there?
BHH: Most people don't understand exactly how much time we put into it. I think on a film, we're often the first to start and last to finish, mostly because of the safety side of it. It's such a dangerous industry that we're in, and we have to make sure we're on point all the time so we can eliminate as much danger as possible. On The Avengers, for example, I think I was rehearsing for 12 or 13 weeks before the film started, and then we were on it for maybe 5 months of filming. You end up doing jobs between 7 and 8 months sometimes, if the movie is really action-heavy.
And also the creativity that comes from the stunt department, to try to make the action scenes look as good as possible. We have these meetings with the director, and we have creative input, and the actor often has an opinion. We work super hard, everyone works together, and it's nice to know that once it's on camera, it's forever. It's a nice feeling, to sometimes look back on it, and be like, 'Oh, I worked on that.'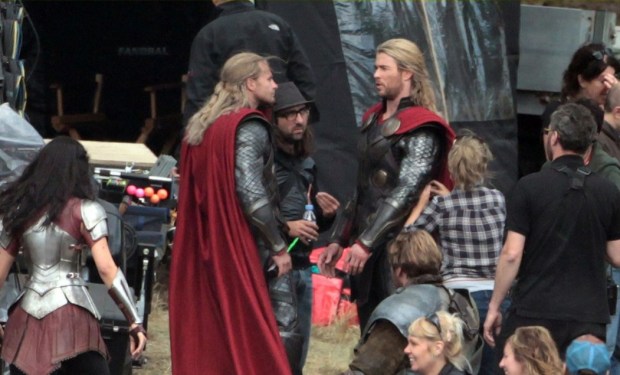 TM: As a stuntman, you're kind of the unsung hero in a lot of ways. Does that ever bother you?
BHH: I don't know, it's kind of cool sometimes, being that way. It's a little like Daft Punk, the band; no one knows who you are, you get to go out and be yourself and not have to worry about it. When we go out to dinner with Chris Hemsworth, he's always being looked at. He deals with it so well, he's so good with his fans, but some people might not be cut out for it. I'm quite happy that we get to meet amazing people. We get the best of both worlds. We have a great living, we work hard, we do something that we love, and get to be a part of something that's on film forever. I think our position is pretty special.
TM: You're fit fella. Do you have any tips for guys who are trying to get into a regular fitness routine? How do you do it?
BHH: I was a gymnast from the age of four, and I stopped competing for Great Britain when I was 17. When you're doing something that intense, you build this core strength and flexibility that lasts as long as you keep it up. I had to work real hard to get into the same kind of shape as Chris Hemsworth, because he's a machine. He's not human, he's actually carved out of ice.
It's very difficult for me to train, work, and eat well to stay in shape, but I've come up with a formula that works for me. I do a lot of circuit work and core strength work; instead of going jogging one day, and then doing weights on another day, I try to do it all together within a circuit. We've got a gym here that I'm a part of and I founded. It's called The Body Shape Studios, and it's basically EMS, electronic muscle stimulation. You put on this suit, and as you train the suit stimulates your muscles. 20 minutes in this suit is the equivalent of 2 hours in the gym. With trying to fit everything in to my work schedule, it's such a great little thing.
TM: What else helps you stay healthy?
BHH: I'd say 80 percent of all of it is diet. That would be another piece of advice, is to eat well and balanced. You can train all you want, but if you're not eating properly, you're not going to see the results you want to see. I love bad food — I grew up with that kind of food, just because I was a gymnast and I was training five hours a day, six days a week. I could eat whatever I wanted and burn it off quick, but that's not the case anymore. Being a little bit older and not a teenager anymore, I have to watch what I eat. To get the results you want, you have to be strict, and it's not easy. I believe if it wasn't part of my job, it would be very different.
TM: Would you mind describing your basic grooming routine?
BHH: By the time I get home in the evening, I've got like maybe six or seven layers of makeup on, plus the different kind of makeup they use to cover my tattoos. So by the time I get in the shower, I've got quite a lot of crap that I've built up over the whole day, and it can be tough on my skin. I use this new hydration face scrub in the mornings to kickstart my day. It's got micro moisturizers, and there's no dryness. When I get home in the evenings, I use a deep clean, and it'll get all my makeup off. There's no irritation, which is so important to me, and it comes off pretty easy.
I also use the Dove Men+ Care Clean Comfort dry spray antiperspirant. It gives me 48-hour protection, not that I need it for 48 hours, because I won't go for that long without showering, but it gives 48-hour protection and keeps me from smelling on set. The last thing you want is for an actor to say, 'I don't want to work with this stunt guy because he smells.' So I apply it once in the morning and maybe once in the afternoon if it's really a hot muggy day. Across the board, I use the whole Dove range, which is great for me. I really wouldn't use anything else.
TM: Sounds like you work super hard. What do you do to relax? Are there any specific vacation spots you enjoy?
BHH: I love Italy. I absolutely adore Italy. The Amalfi Coast is just beautiful — there's a little island I go to called Ischia, just off of Naples. I'm a member of the Soho House group, as well. There are Soho Houses all over the world. They're great chillout spots, where you can relax and maybe read a book, and train there. When I get time off, which isn't a great deal, I try to sleep, watch films, and spend time with friends and family. I love going out to nice dinners, I love a good bottle of red wine and a cheese board. So yeah, my time off becomes very precious. I like to do shopping and get stuff done around the house, and try to do all the normal things that people do when they get time off.
Related: The Manual's Top Five Tips for The Amalfi Coast, Italy
TM: What are you working on now?
BHH: I can't say too much at the moment. I'm filming the sequel to Snow White and the Huntsman, which is called The Huntsman. So we're full into that.
TM: OK, OK, I won't make you get into trouble or anything. It's probably the same situation with the new Star Wars, but if there's anything at all you can tell me about it, I'd love to hear it.
BHH: It was an honor to get the call to work on it. It's every child's boyhood dream to meet some of people working on it. We had a very good stunt coordinator, and JJ Abrams is a great director. I think it's going to be pretty epic. I'm super excited — like a kid — that I got to work on it. So yeah, I'm looking forward to it coming out at the end of the year.
TM: One of things that excites me about the new Star Wars is that they're departing from CGI a little bit, and going with more practical effects, which I'm sure is good news for you. More actual stuntmen in there, instead of so much CGI.
BHH: Yeah, It's great for us, and even with the CG movies we still have to be part of it — we start the move and finish the move, and CGI takes over in the middle. Sometimes that's the case, and there are times when, like Star Wars, like you mentioned, where there's a lot of stunts in it, and it's not that much CGI. It's like an action movie, like James Bond or Bourne.
TM: I'll let you go pretty soon, but I wanted to ask about some of your gnarliest injuries.
BHH: Hmm, my gnarliest injuries. I busted my back pretty bad on Green Lantern, in New Orleans. That was an experience. I was out for a bit of time after that. Two discs slipped my vertebrae and paralyzed the front of my leg for like five weeks. I managed to recover from that and I emerged stronger than ever. The next movie I did was Batman, so that was my incentive to get fit again. That was a pretty bad injury, but you know what, it's the nature of the beast — it's what we do. People get injuries here and there, and you just work through them. I've got a fantastic body coach that looks after me. I'm lucky to have someone who's able to fix me when I need to get fixed, and as you can imagine, that's quite a lot when you're smashing yourself about, hitting the ground, hitting things, and going through things. We get little knocks, but that's part of it, and that's part of the buzz, is knowing the danger behind it.
TM: Man, that's rough. But sounds like you're game. You can take it.
BHH: Yeah, I'm super-game.
(Photos courtesy of Bobby Holland Hanton)