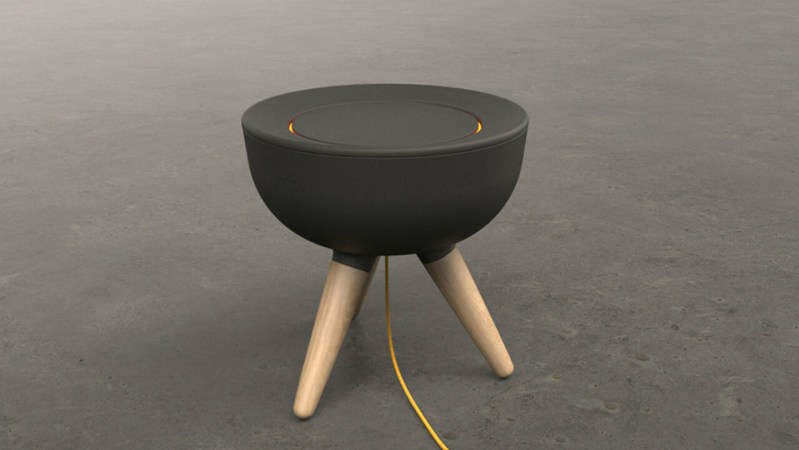 We all agree that one of the best parts about summer is gathering around the fire-pit with your friends. It's a great way to unwind after soaking up the sun all day. And with Memorial Day having come and gone, summer has unofficially kicked off. Bring on those bonfires, right? Except many of us have been stuck with constant rain for the last few weeks and our fire pits are sadly neglected. At last, there is a solution for the rainy days of summer: Stov Indoor Fire Pit.
The folks over at SPRINGTIME, an Amsterdam-based product design company, have developed a unique product that is space heater, coffee table, and social gathering spot all in one. The simple, minimalist design of Stov fits in perfectly with a variety of decor from urban industrial to mid-century modern. Based on the style of free-standing backyard fire pits, Stov sits on three wooden legs with an ash gray, bowl-shaped heating element. This isn't just a great focal piece for your living room, it's environmentally friendly and functional too.
Stov uses electricity, no fire (and no smoke) involved. We all know how awful it is to get a face and lungful of smoke when hanging around the bonfire. This means Stov is not just good for your lungs, there's also none of the dangers inherent in having a live fire going. Bonus: if you are a renter and aren't allowed to have an open flame, you can still use Stov.
Utilizing the same type of heat that the sun puts out – far-infrared radiation – SPRINGTIME says that Stov has the ability to heat a room by one to two degrees – a big deal and a huge cost saver in the cooler months. Perhaps that's enough warmth to toast a marshmallow or two, allowing you to indulge in delicious s'mores all year long, but, at the very least, this innovative fire pit means that once your outdoor patio is closed up for winter, you can still use Stov to get your 'socializing around the campfire' fix.
Still in concept phase, we have to patiently wait until Stov is available to purchase. Until then, we will just have to endure rainy days inside, sans fire pit. Unless of course, you'd like to build your own fire pit. That, we can help with.
Editors' Recommendations