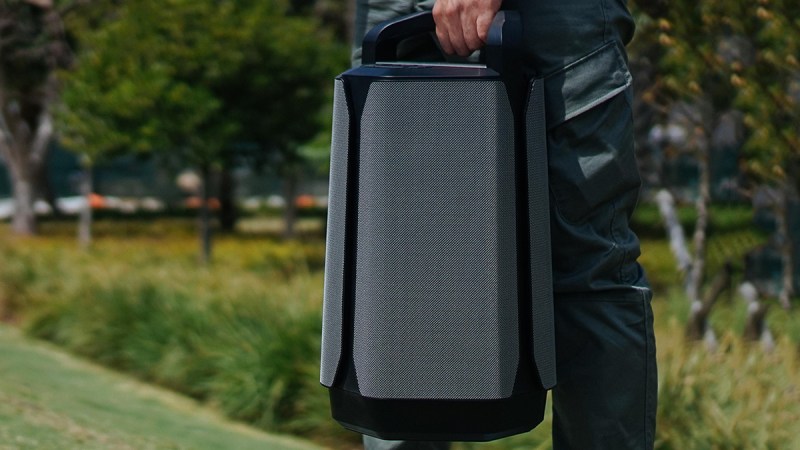 San Diego-based premium outdoor speaker maker Soundcast has returned from some time out of the speaker game with its latest high-end Bluetooth speaker, the VG7. This tower of power is encircled with drivers and encased in robust armor to serve as a musical warrior in any setting — especially your backyard barbecue. While Soundcast may have taken some time off, the company with a passion for remarkably good portable sound is back with a vengeance.
The warrior allusions aren't just for fun, as the VG7 is weather-resistant and shock-absorbent, making it tough enough to withstand bumps and even short falls. With an IPX4 rating, it's designed to take a licking (or a rain shower) while delivering premium sound on all sides. The VG7 features a 7-inch down-firing subwoofer set inside its plastic shell, and four 3-inch drivers to power the mid and high registers, as well as both indoor and outdoor equalization settings.
"Soundcast conducted extensive market research when designing the VG7, and we found that consumers want the ability to move their speakers to different areas of the yard based upon their activity, whether they are in the hot tub or the outdoor kitchen area," said Charity Hardwick, Soundcast's vice president of sales, in a statement. "The VG7's powerful, 360-degree sound and formidable, weather-resistant design makes it the perfect speaker to fill a homeowner's premium, outdoor living space with audio."
This 20-pound tank of a speaker commands a shock-inducing price point of $799. However, while it may not be a breeze to haul around, first impressions of the VG7 describe it as essentially a party in a box, able to reproduce rich, powerful, and strikingly detailed sound at high volumes with very little distortion — indoors or outdoors. The 360-degree output means it can be placed wherever you need it and still get great sound from virtually any angle.
While there's no question the VG7 costs a pretty penny, those looking for a powerful, premium sounding device for their backyard will want to give it a serious look. The VG7 is currently available at select audio retailers nationwide.
A version of this post was published on our "brother site" Digital Trends.
Editors' Recommendations