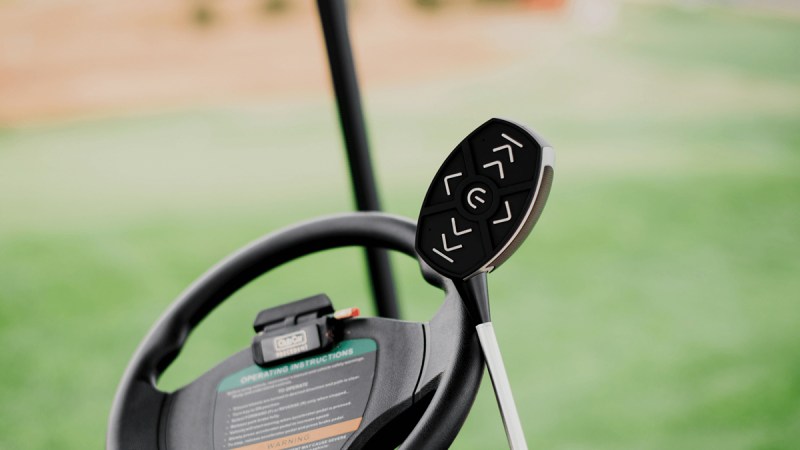 Golf is a normally a quiet sport of concentration and precision, but what about those times you just want to unwind, relax, and play a few holes with your buddies? In those moments, it'd be nice to have some music scoring the fun. Then again, hauling around a portable speaker can be annoying, especially one with enough oomph to really get the most out of your music, so it needs to not only give you good sound, but integrate into your golf game as well — provided your course of choice allows for such a thing in the first place. In that case, the Sound Caddy wireless speaker, may be exactly the thing you're looking for.
The Sound Caddy is a Bluetooth speaker that resembles a driver club, so it can seamlessly fit in with the rest of the clubs in your golf bag. However, instead of the usual wood or metal that club heads are made of, the Sound Caddy is built with rubberized plastic. The body is rated IPX5 waterproof and weather proof, making it safe to take on the course. Rain, sprinklers, or the accidental dunk in a pond wouldn't hurt it. However, Sound Caddy stresses that the speaker is not a golf club, despite its durability, and should not be used as such, no matter how much you want to play "Enter Sandman" while hitting a 250 yard drive.
Within the head, dual 30mm drivers and a passive subwoofer power playback. The 5000mAh LIPO battery not only supplies power for the speaker itself, but it can also charge your phone or other USB devices while out on the course thanks to two USB 2.1A ports. A micro USB port is also included, and is used to charge the speaker.
While you'll be able to control music directly from your connected Bluetooth device, the Sound Caddy features power, play/pause, skip/fast/forward/rewind, and volume controls on the face of the club. It also includes a mic, enabling the Sound Caddy to be used for hands-free phone calls — no need to interrupt play when the outside world decides to get a hold of you.
As mentioned earlier, the Sound Caddy is made to easily blend in with your golf bag, but you can remove the grip to reveal a spike to set the speaker into the ground. If the idea of lugging around a golf club-sized speaker seems unwieldy, the shaft breaks down further, and the head can be removed for better portability.
The Sound Caddy is available now from the official Sound Caddy online store, and will set you back $130.