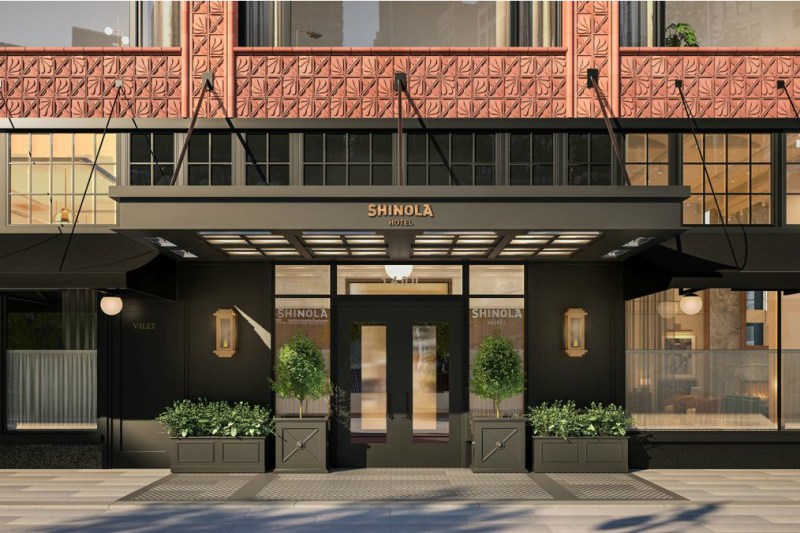 Detroit has been called a lot of things over the years, not all of them good. The city that brought us cars and Motown seemed poised for total collapse not too long ago. Crime and poverty were on the rise while the population was rapidly declining as residents left in search of better opportunities. But many stayed, their love of the city making it impossible to leave. And it's their passion that has turned Detroit around. The city has fought hard and recently earned a new, and well deserved, title: America's Comeback City.
Two companies who refused to give up were Shinola (maker of luxury products) and Bedrock (a commercial real estate firm). Both companies have worked hard to improve Detroit through development and increased job opportunities. Collaborating together, they have created what is sure to become downtown Detroit's newest hot spot: The Shinola Hotel. More than just a place to spend the night, Shinola Hotel offers social gathering spots, shopping, dining, and an outdoor beer garden that will be reason enough to visit once it opens this spring.
Working with architectural firm Kraemer Design Group and the design team at Gachot Studios, Shinola and Bedrock developed a hotel that honors Detroit's history while helping to rejuvenate the downtown shopping district. The Shinola Hotel occupies two landmark buildings: the T. B. Rayl & Co. department store and a former Singer sewing machine storefront. Annexes join the two buildings, turning the block into a destination for everyone from tourists visiting the city to locals looking for a fun night out.
Located on world-famous Woodward Avenue (reportedly the first ever strip of concrete highway in the world), The Shinola Hotel offers something more than the typical hotel experience. The "living room" designed by Gachot Studios was created as a hangout spot for anyone looking for a comfortable, stylish space to relax, gather with friends, work, or enjoy a quick bite to eat.
Classic, sophisticated design details can be found around every corner of the hotel, paying homage to Detroit's rich past. The bar feels plucked out of the 1920s, the living room space is an eclectic blend of contemporary, Mid-Century Modern, and Art Deco styles, and all were designed to be welcoming and warm with an added elegance that is bringing the city back to life.
The 129 guest suites, designed in 50 different layouts, are spacious and inviting, feeling more like luxurious city apartments than standard hotel rooms. Black steel framed windows add a subtle urban industrial edge to remind you that you're in a gritty city with a storied past. And no Detroit hotel room would be complete without a way to listen to some music, so suites have been outfitted with Runwell turntables (one of The Manual's favorites).
Shinola CEO Tom Lewand summed up the vibe of the new hotel best when he said, "We want to welcome people into our home." The Shinola Hotel is sure to become every visitor's home away from home, too.
Editors' Recommendations