No, that's not a fairy-tale palace in Northern Europe. It's a Scottish-style castle built on a hill high in the lush green valleys of Moganshan, Zhejiang Province, China. Located just north of Hangzhou near the country's verdant eastern coast, naked Castle, originally constructed in the early 20th century, has been completely rebuilt and renovated since 2007 when a South African entrepreneur and owner of naked Home and naked Stable (two rural retreat resorts for overworked and harried Chinese urbanites) acquired the property with the goal of creating a European-style retreat in the heart of China's hinterlands.
But how did this castle come to be in China in the first place and why was it left to ruin in the 1960s?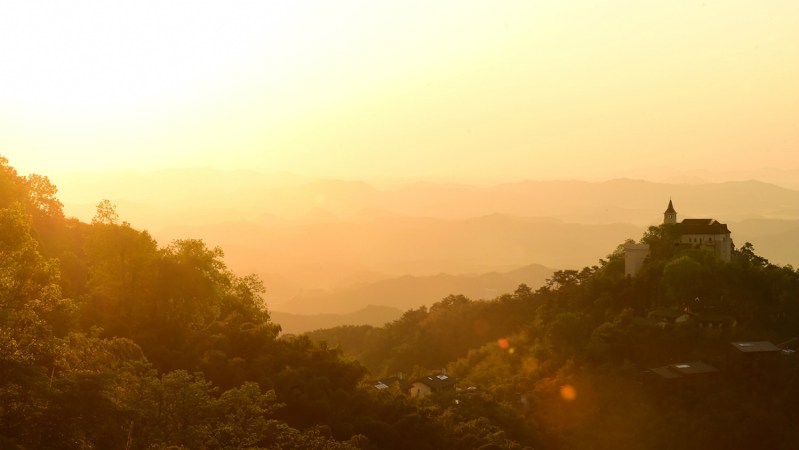 The story begins, where else, but in Scotland. In 1881, the British Christian Mission Society sent a young Dr. Duncan Main to China to serve both as a missionary and doctor ministering to China's rural poor. In 1910, after creating and seeing over China's largest Western-style medical facilities, Main bought a parcel of land near Mongshan and began building his rural castle retreat. Why he decided to go full Scottish castle is unknown, but it might have had something to do with the fact that that area of China at the time was mostly occupied by the British and they probably wanted to feel more at home during their semi-colonial occupation. Regardless of its origins, the castle became a local landmark with features such as a tennis court, swimming pool, and beautifully manicured and landscaped grounds. Main's castle served not only as a relaxing and peaceful retreat for Main and his wife but also as a rural hospital where Dr. Main treated the local Chinese population free of charge. Main retired to Scotland in 1926.
In 1932, a Chinese official by the name of Zhang Jingjiang bought the castle and used it as an inn to entertain high-ranking politicians and businessmen. In 1937, Zhang Jingjiang moved outside of China and the castle was left to deteriorate.
Fast-forward to 2007 when Grant Horsfield, the aforementioned South African entrepreneur, found the dilapidated ruins of the castle, purchased the property, and began his quest to turn it into what would eventually become naked Castle.
Today, naked Castle is a fully-remodeled and rebuilt luxury resort with 30 "village" rooms, 30 cliffside suites, 25 bungalow-style rooms, and 10 stunning castle suites. With a spa, multiple dining options, an infinity pool, mountain biking, hiking, yoga, and even the very Scottish sport of lawn bowling, naked Castle draws huge numbers of guests from all over mainland China and beyond.
Interested in staying in a Scottish Castle in the Highlands of China? Check out naked Castle's full website to plan your stay.
Looking for other out-of-place castles? Look no further than this Caribbean castle in St. Croix
Editors' Recommendations