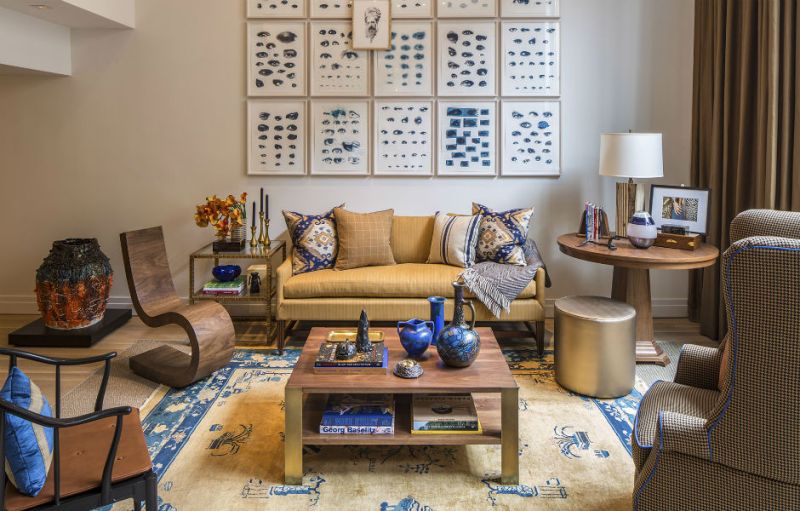 Spring is here and why not use it as an opportunity to spruce up your home? We bet that many of you aren't sure how to do that. It's as easy as getting a few essential pieces that will make a ton of difference, as well as impress all the women in your life. We caught up again with design maestro Scott Sanders, who has done interiors for the newly renovated Lord Baltimore Hotel in Baltimore, and the Capitol Skyline Hotel in Washington, D.C., to tell us what the five items are that every man needs in his home. See his must-haves below:
 A king's grand chair.  For the go-to place in your home, select a piece that features not only comfort, but style as well. Why not create your own statement piece? Take a classic leather lounge chair and cover the seat cushion in a contrasting fabric, or accentuate the lines of a wing chair with nailheads.
One large flexible, sexy ottoman. We love low, upholstered ottomans that are moveable and flex between acting as a coffee table (a place for food trays for guests) and extra seating. Covering the ottoman in lush, expensive fabrics like velvets or furs, establishes it as focal point in the room
Think of pillows as an art form! Large pillows can move from sofas to the floor to create additional seating. Fabrics, shapes and textures convey personality and color. They are also easy to swap out seasonally, to change the entire look of the space. For example, a masculine mix of wool tartans with velvets are cozy for cooler weather months, while madras and linens in the warmer months can lighten up the room.
A home office that conveys authority and unconventionality. So much of our lives are now modern and digital, but it is important to not let that define your office. Blending your functional needs with luxurious furnishings helps to make the space an extension of the rest of your home.  For example, pairing one of your fully upholstered dining chairs with a sleek white lacquer and chrome Italian desk, not only ties the two areas together, but allows that chair to do double duty.
Signature style with new familiars. I define New Familiars as being familiar shapes or expected materials, updated with a twist. From elegant drapes in surprising, fresh terry cloth; to grass cloth walls in lime green; to a wing chair inspired fully upholstered bed; New Familiars lead the way to comfortable spaces that are unique and rich with New American Style.
Want to see Scott's tips on how to create a stylish bachelor pad? Click HERE.
Editors' Recommendations