Audio equipment manufacturer Bang & Olufsen is well known for crafting high-end audio devices with impeccable sound quality and features that justify the high prices of its products. While the company's new $37,710 BeoLab 50 speakers are more affordable than their previously available $80,000 BeoLab 90, it's still a hefty price tag. That said, if you're an absolute sound nut, that dent in your retirement savings may just be worth it.

Each Beolab 50 speaker is equipped with seven drivers, and each of those drivers has its own 300-watt amplifier built in. This means that each channel can produce incredibly detailed sound. Further, the BeoLab 50's trio of ten-inch woofers, each of which can emit bass in different directions, can fill an entire room with incredible, uber-tight bass — no external sub necessary.

A pair of the powered speakers can be linked up into a master-slave configuration to source wired audio directly, but each individual speaker also features WiSA technology for high-resolution wireless connectivity. Developed as a standard for high-performance, wire-free, surround-sound audio, WiSA delivers lag-free, high resolution audio from compatible source devices. You'll be able to connect high-end equipment like a WiSA-equipped Blu-ray player up to the BeoLab 50 and get perfect playback with no latency.

The hardware in the BeoLab 50 is impressive, but that's only one aspect of these uber-speakers. Bang & Olufsen's room tuning software included in the speaker is powerful, giving the user a remarkable amount of control over playback. The system reads a room's acoustics and modifies the sound output to suit its needs, which results in immaculate clarity for almost any listening environment. Most impressively, the software allows you to place the sweet spot anywhere in the room, so you can still have an incredible sound stage and imaging even if you can't sit front and center. Better yet, if you're listening with a group of people, the sweet spot placement is flexible enough that you can widen it to a larger area.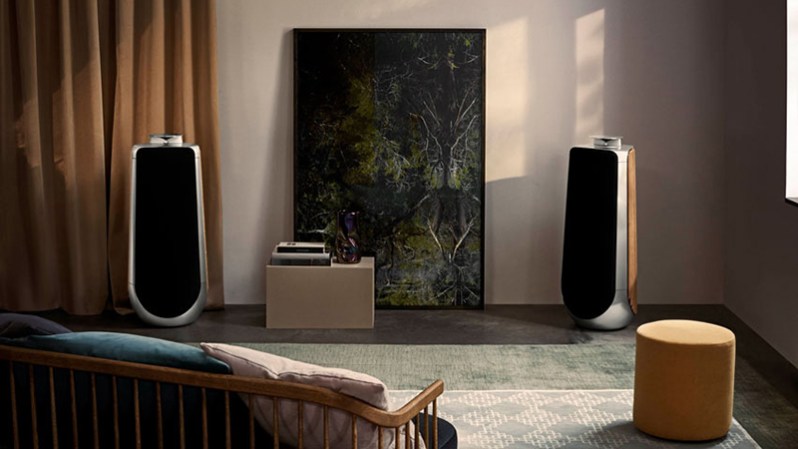 Many may find it difficult to fish out the cost of the BeoLab 50s from between the couch cushions and piggy banks, but in the world of audiophilia, it's not all that outrageous — especially considering these powered speakers are virtually all you'll need to power the listening room of your dreams, matching up (and even coming well under) the cost of many multi-component audiophile systems.
When it comes to design, these speakers live up to their regal price tag as well. While not as outlandish as the BeoLab 90's downright surreal design, the BeoLab 50's slender, silver-polished aluminum frame and oak wood lamellas are striking. To take things further into wealthy Bond-villain mode, the circular section on the top of each speaker unfolds when you power it on for some mechanical visual flair.
The BeoLab 50 is available from authorized retailers for just under $20,000 for one, or $38, 710 for a pair.
A version of this article also ran on our "Brother Site," Digital Trends.