Finding a suitable centerpiece for your living room isn't as easy as it seems. Not only does your statement centerpiece need to make a unique statement, it also needs to succeed in elevating the design atmosphere of your abode. If you find yourself struggling to find something that will suffice, try these bold and robust Concrete Audio speakers.
Concrete Audio's speaker systems are — you guessed it — made entirely out of concrete. Not many loudspeakers, if any aside from Concrete Audio, are made out of this material, making these truly unique from a design perspective.
However, behind all great designs lie a purpose, or a predetermined function, if you will. Concrete is heavy, and the heavy base keeps the speaker from vibrating when in use; therefore, it prevents the music from sounding distorted or drowned out, allowing for pure, untrammeled acoustic sound waves.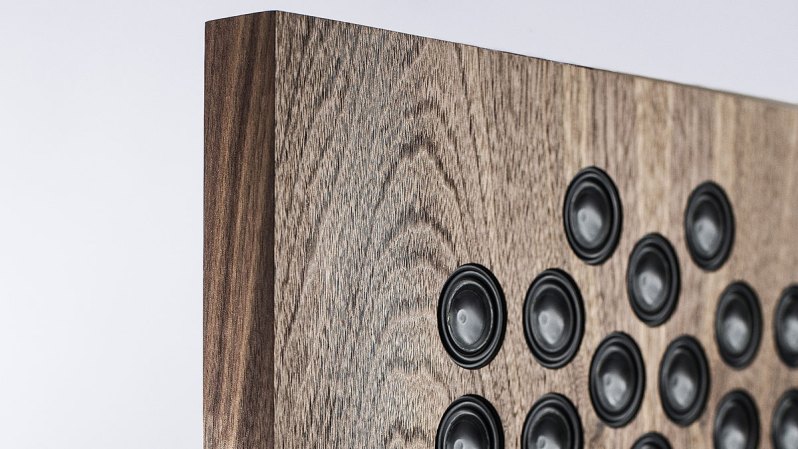 Concrete Audio is keen on keeping their timeless designs and sound quality to the highest of standards. That's why each set of Concrete Audio speakers are produced in a limited edition style at their headquarters in Munich, Germany in order to assure it holds up to their stouthearted requirements. These high-strength speakers are tediously built to withstand an uptick in volume, without losing sounds or quality.
Coming in two compact designs — wall-mounted or free standing — Concrete Audio speakers will make a loud appearance in your humble abode without taking up much space.
If you're one who likes some rugged qualities to compliment their elegant interior, the contemporary F1 wall-mounted design is both decorative and discreet. It features 41 mini-speakers that act as one, allowing for an innovative and pleasing depth of sound. The N1 floor standing speaker design follows suit for more traditional speaker housing, yet it boasts sleek, modern aesthetics that will elevate your living room to the next level.
And their newest creation, the B1 bookshelf speakers, make for the perfect office or industrial home accessory.
You can inquire about purchasing one of these speaker design on the Concrete Audio website.
Editors' Recommendations