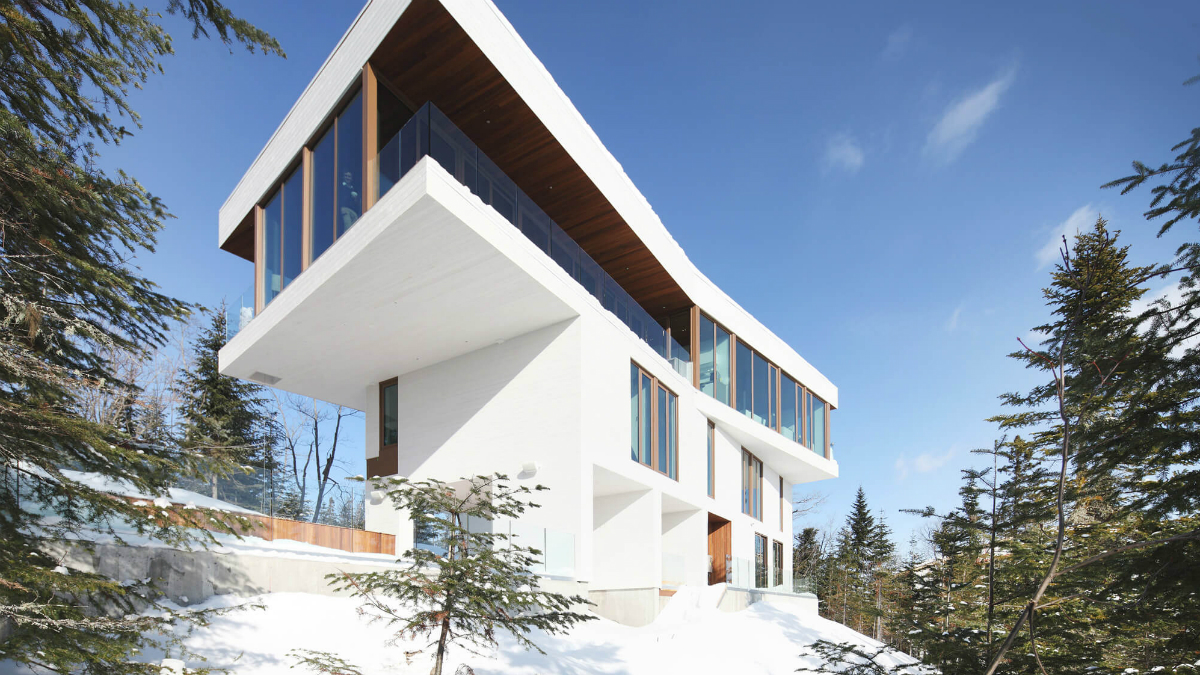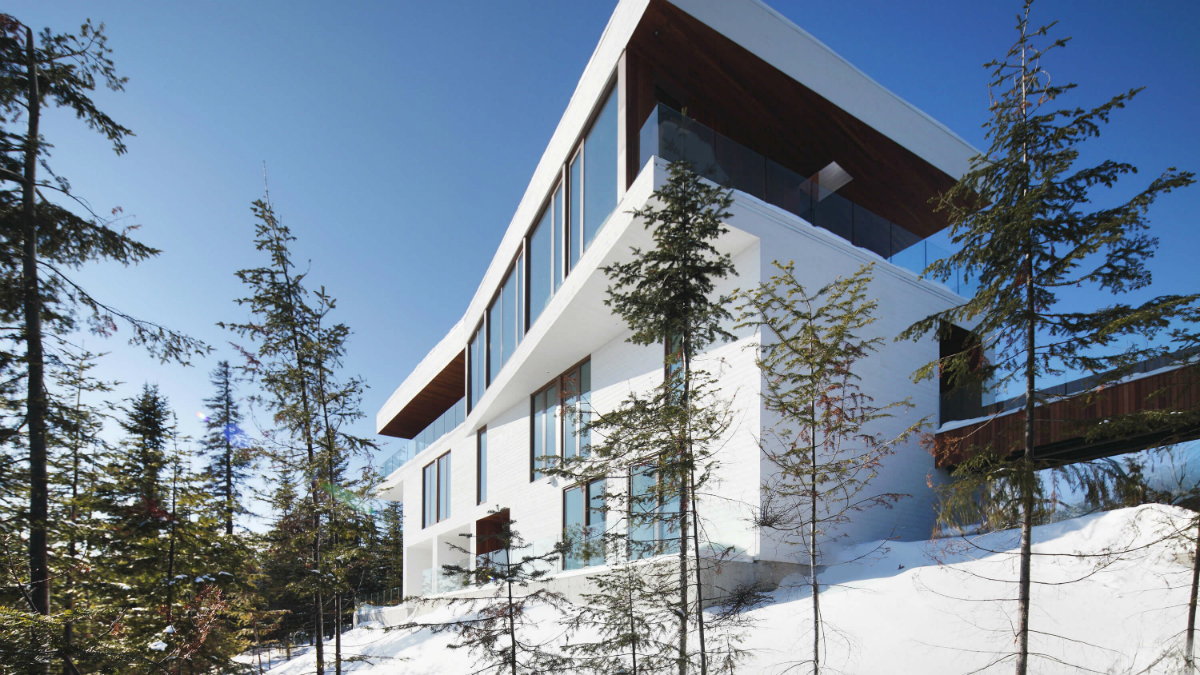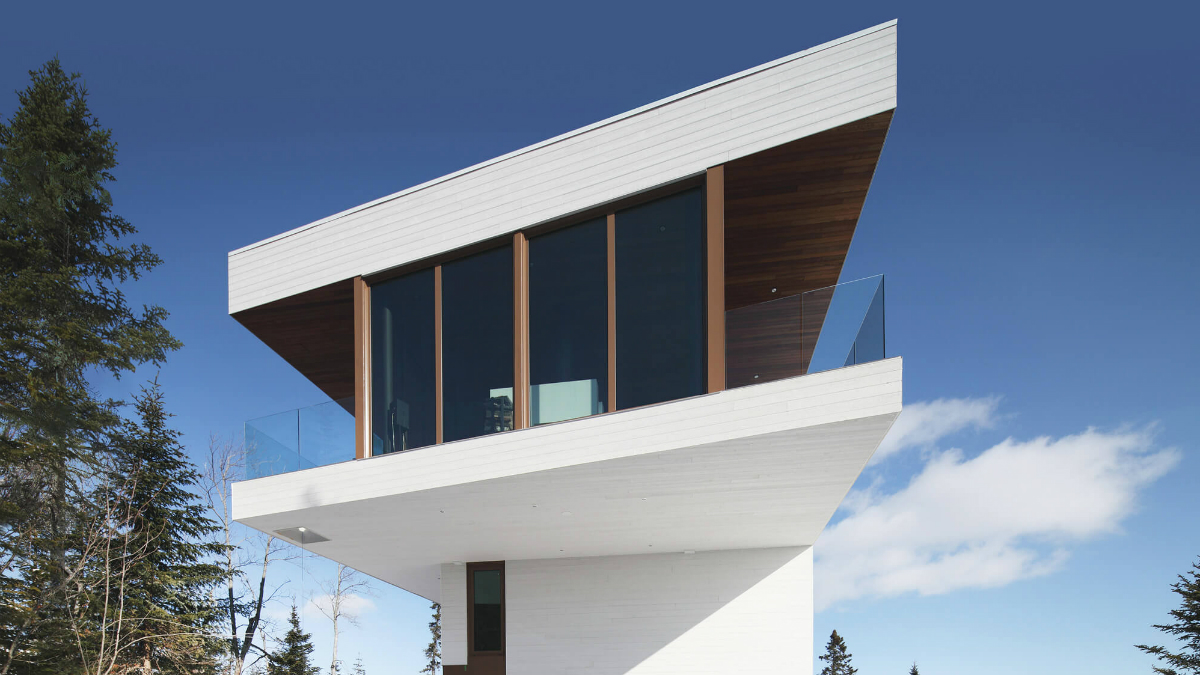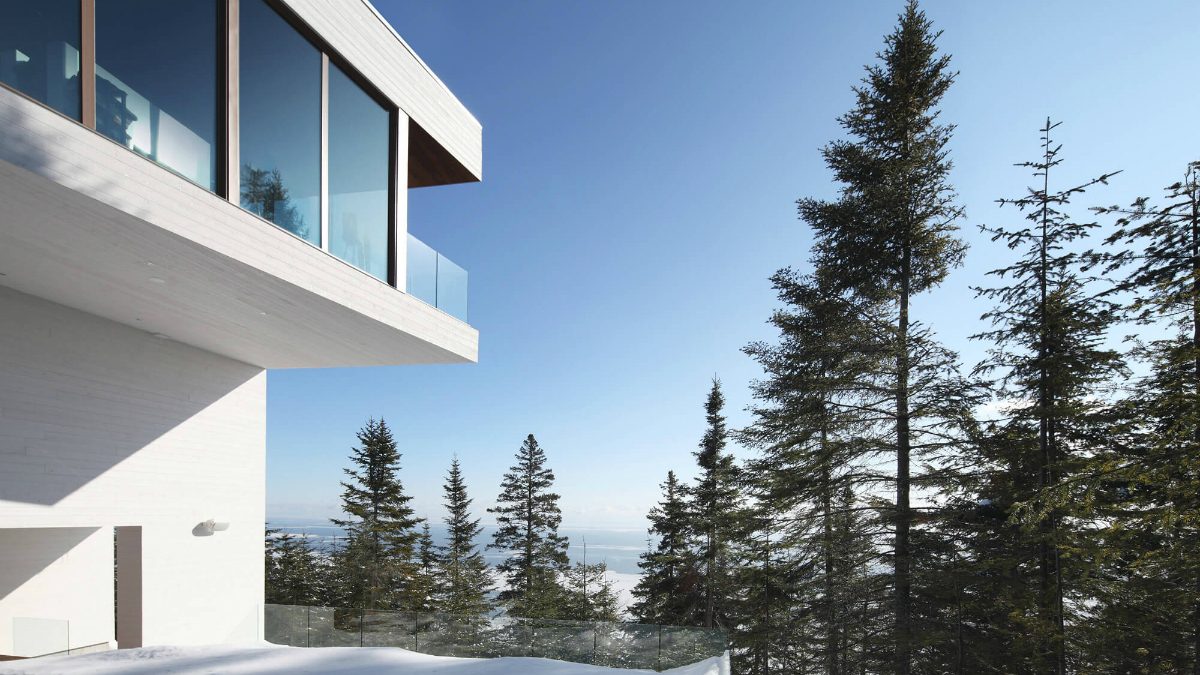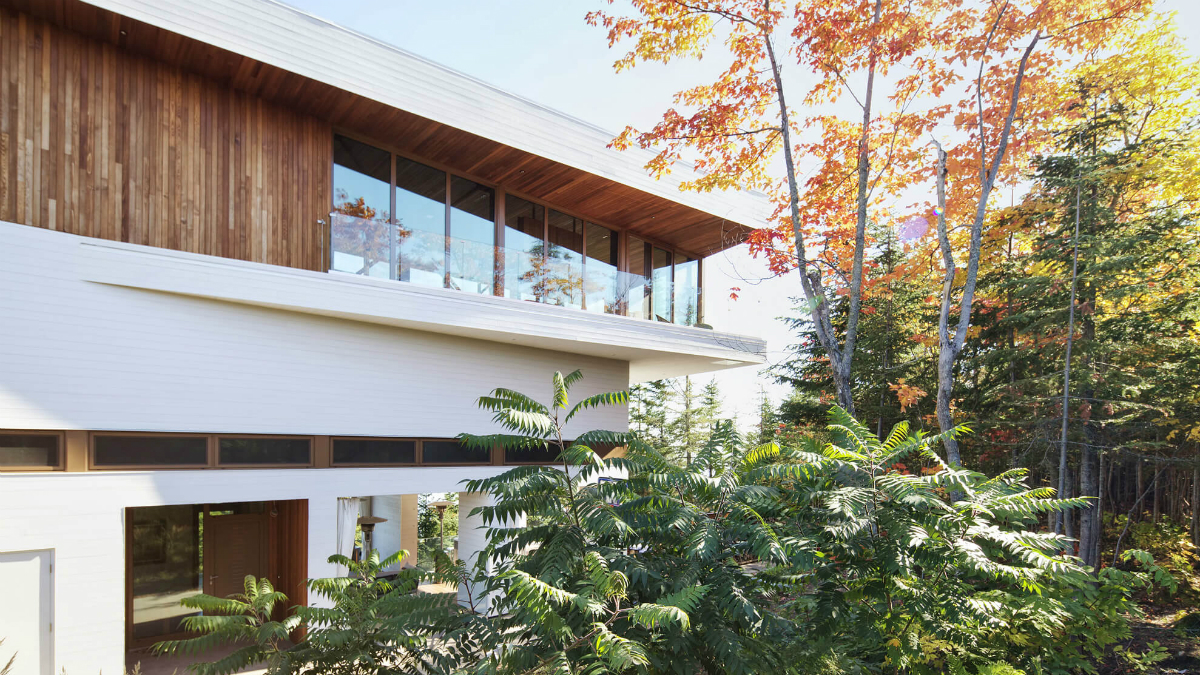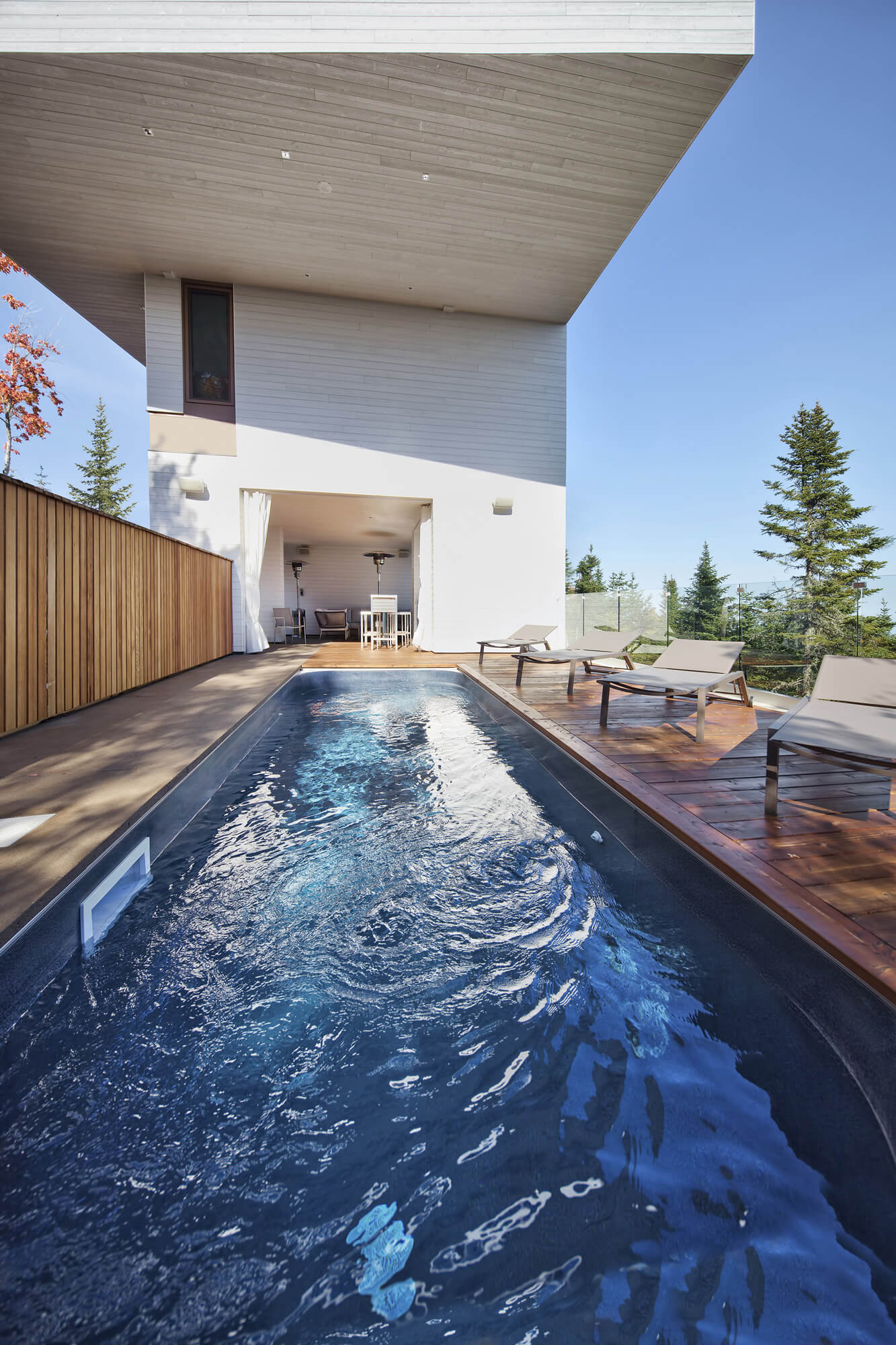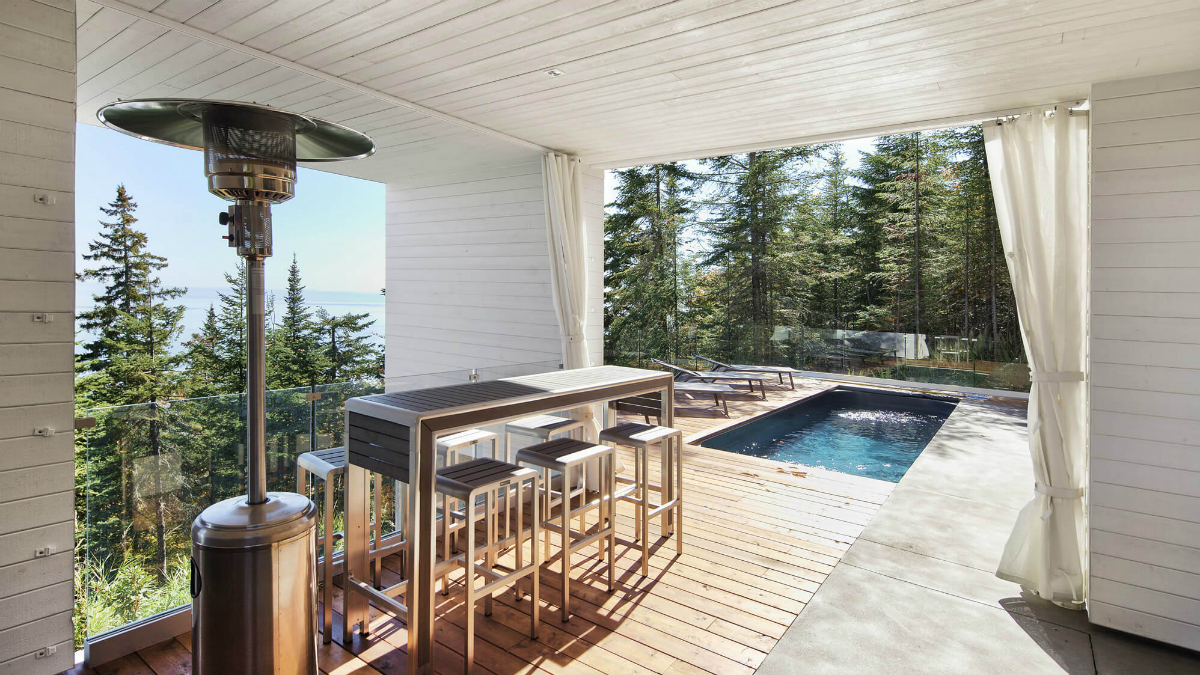 Perched on a forested and rocky mountainside in the Canadian Province of Quebec, this 2013 construction (known in French as "Résidence des Grands Jardins") from Bourgeois Lechasseur architects is a bona fide winter wonder. Affording expansive views of the St. Lawrence River and siting in close proximity to the formidable ski runs of Le Massif de Charlevoix (Charlevoix Mountain) resort, the Quebec Mansion acts as the perfect canvas for its art-aficionado owners' collection of paintings and photography.

The house's steep-sloped location offered the perfect opportunity for Bourgois Lechasseur to design the home with two very different facades. The side of the building facing the road only exposes the upper-most level of the three-level residence, making the house appear to be much more modest than it really is. Cascading down the hill on the opposite side, the two lower levels can only be seen from the back of the home, where the overhanging top level and its expansive wall of glass caps off the pristine white exterior of the floors below. During winter, the warm wood of the buildings trimming reflects the colors of the surrounding forest while the white walls firmly anchor the building in its snowy, Canadian environment.

In the interior, an industrial flair featuring raw concrete floors, brutalist fireplaces, and clean lines and sharp angles in every direction is fit for a bestselling Nordic novelist. Inspired by contemporary Scandinavian villas, the residence's open floor plan leaves room for the breaktaking views to pour in from all directions. The red-cedar wood ceilings provide just enough weight to the rooms to prevent you from feeling like the house could alight at any moment, which, when we think about it, we wouldn't say no to.

But best of all? It's not just a winter wonder, it can hold its own in summer too with a large, rectangular pool and outdoor eating area with those same spectacular views. Something tells me the people who own this house have a lot of midsummer barbecues.

And if this isn't quite your winter style, check out this Swiss xhalet.