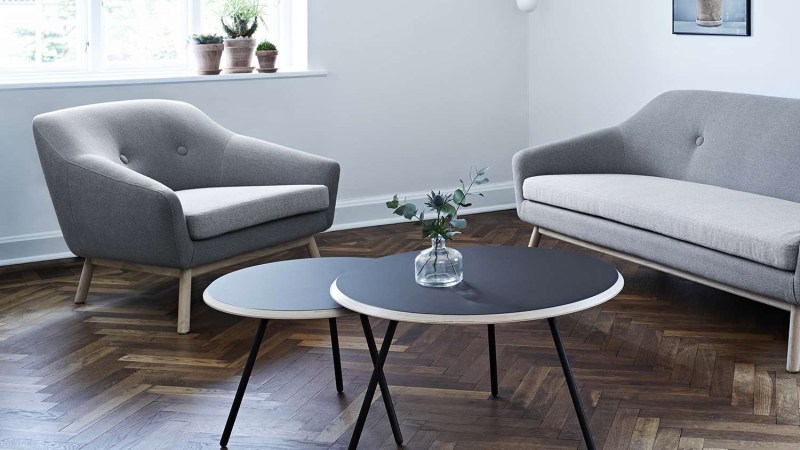 Black Flame is officially the 2018 Color of the Year, and we're elated. (No more Millennial Pink, please)
PPG Paint celebrated the turning over of the year with a new trending color, Black Flame (#PPG1043-7), shedding its whimsical 2017 Color of the Year, Violet Verbena, and moving into a moodier realm away from the 2016 aquatic shade, Paradise Found.
The matte charcoal tone is both elegant and industrial, and can be used for a mix of modern and antique design details, sophisticated neutrals, and textures. Black Flame provokes a space that is both masculine and warm, refined and bestial. (Just like you.)
"Black Flame acts like a black curtain, allowing your other décor elements to take center stage," says PPG. "It's a fantastic blend of black and navy, two classic hues. Black creates the silence we crave in an information-heavy world, while the navy offers possibility and a deep hopefulness. The blend of two colors makes it incredibly versatile — use it on a statement wall; with a matte finish on a ceiling; with high gloss on a naturally-lit staircase; on cabinets, interior and exterior doors; and in many more places."
Get with the trend and renovate your living room around Black Flame. Once you've painted the walls, decorate as follows.
Furniture
Couch: Stockholm Sofa
Creamy caramel leather evokes an earthy feel against a Black Flame wall. Ikea's Stockholm sofa in the Seglora Natural color fits the bill, with durable full-grain leather that maintains its composure under years of wear.
Chair: Peppy 1 Seater Lounge Chair
Maintain an airiness by adding a chair to your living room furniture set that is simple and ivory. The Peppy 1 Seater Lounge Chair is a lively and humorous lounger inspired by '60s Scandinavian design. Characteristic buttons give it a seductive, handsome charm, while its modern simplicity balances out heavy hues of gold, black, and caramel throughout the rest of the room. (Match the shade to your velvet sofa pillows to pull together the seemingly polar furniture styles.)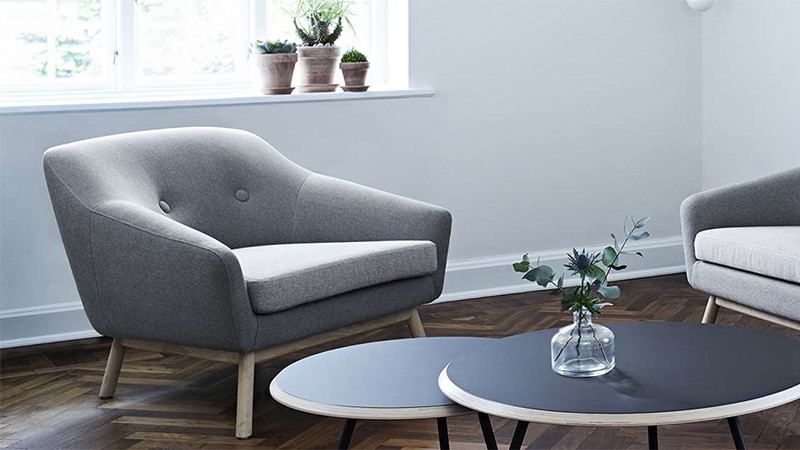 Coffee Table: Live Edge Walnut Slab
This custom gem sold on Etsy by AntonMakaDesigns pulls together the brown hues of the Stockholm sofa with the dark tone of Black Flame. The result is a super high-quality and totally unique coffee table made of wood, metal, powder-coated black, and matte black, made to order just. This major design piece lends to the sensation that your home is a cozy cave.
Side Table: Tri Brushed Bronze Side Tables
Black Flame calls for the accompaniment of bronze. Add one or two bronze side tables for resting your whiskey while you and guests relax. The triangular shape is bold and modern, and works with the angles of the chandelier. The size is also modest, allowing more eye-catching (read: expensive) furniture to take control of the room.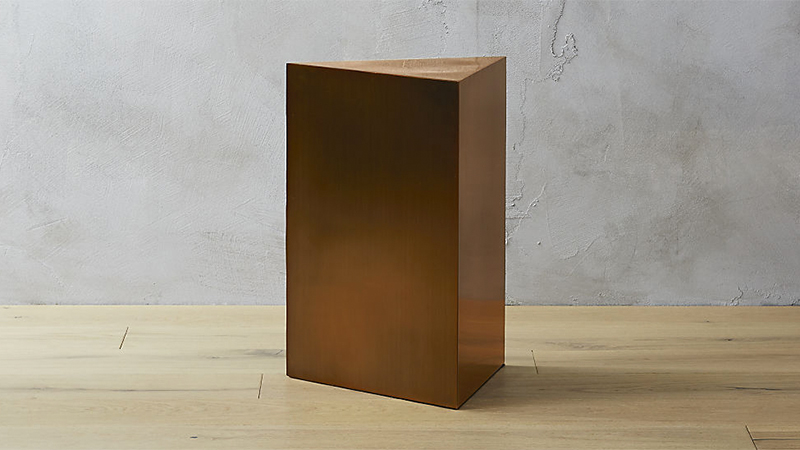 Fireplace: Malm Fireplace
The makers of Malm started experimenting with fireplace designs as a side hobby to their full-time sheet metal manufacturing jobs. Now, the iconic freestanding fireplace brand can transform any living space into a cozy den. Unlike traditional wood-burning stoves, Malm gives you a clear view of the fire from a variety of angles at night. Meanwhile, the design is high enough to make it shine during the day. Alongside Black Flame walls, you'll provoke the sense of being outdoors even while inside.
Accessories
Lighting: The Wright Collection
Restoration Hardware's Wright Collection takes the concept of a grand chandelier and swaps the crystal for steel. Remaining spare and elegant, the Wrights are hand-forged, hammered iron frames with tailored white linen shades. The design works to conjoin light and dark with sharp, organic angles.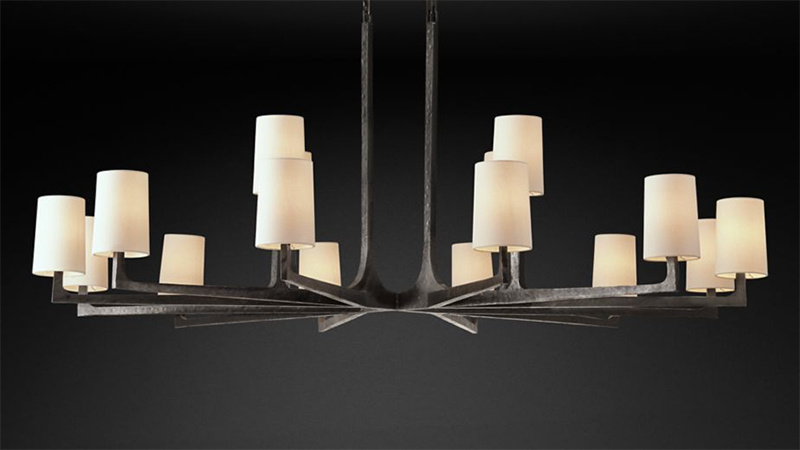 There's a variety of art styles that can put the finishing touches on your Black Flame living room renovation. Choose according to your personal preferences, but opt for one of the following: large black-and-white animal photographs such as Amy Carroll's Bull Horns, vibrant abstracts such as Amy Gray's Fahrenheit that can match other color pops through the room, and old master paintings from the 16th to the 19th centuries along the thread of The Otto Naumann Sale. And remember these hacks for hanging pictures frames and other wall art.
Pillows: Leisure Gray Pillow
We love CB2's 23-inch leisure pillow made of gray cotton velvet and cotton canvas for providing us accent pillows that still look manly while being comfy enough to nap on during lazy weekend Netflix binges. The richness of velvet marries with smoky black but adds dimensional tufts of texture. If your personal aesthetic is bold, spice up the room with the plum or copper colorways.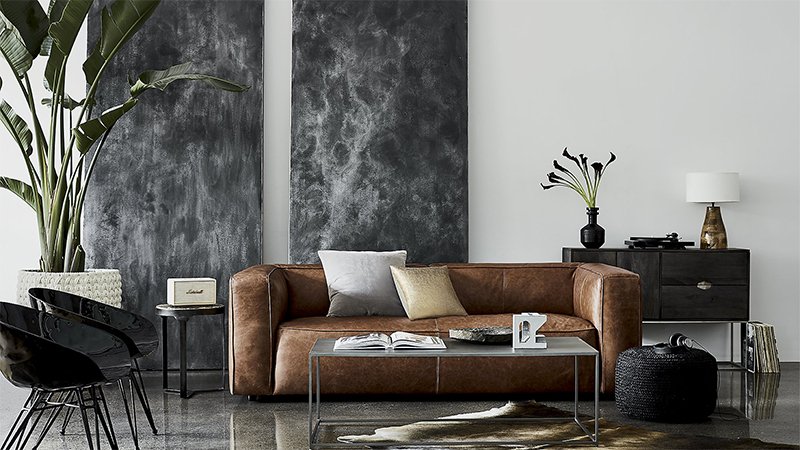 Radio: Model One Digital
Tivoli Audio's reimagined radio infuses your walls with beautiful rugged design, smart tech, and rich sound. Listening is made easy (via FM, Bluetooth, and WiFi), and design is made simple. The knitted texture of the speaker, along with the faded ash black box, is a perfect match to accessorize your Black Flame room.
Books: Cabin Porn and Hell's Angels
Adorn your coffee table with the perfect books, one for drooling over and the other for re-reading over and over again. Start with Cabin Porn: Inspiration for Your Quiet Place Somewhere. It's exactly as sexy as it sounds: images of rural escapes. Top this book with a 1967 first edition of Hunter S. Thompson's iconic Hell's Angels. Your street cred will go up for even owning this piece of history, and the cover lends a pop of deep red with dark black and grays that give it a home in your new living room composition.
Plant: Potted 60-inch Cardón Cactus
Adding greenery is one of the quickest ways to infuse a room with no-mess texture, color, and life. For this room, tropical foliage will be too busy. Go sparse and clean with one tall cactus. Tall and lean, CB2's Cardón Cactus creates new dimensions of height (we suggest positioning opposite your Malm Fireplace for best composition), and the feel of wide-open spaces. Hyper true-to-life, this cactus is actually a faux saguaro, so don't worry if you forget to water it … or if you lean into the hairs. Want the real thing? Call your local nursery. We also dig these living wall planters that turn your walls into a growing jungle.
And for your summer project? Create an outdoor living room.
Editors' Recommendations