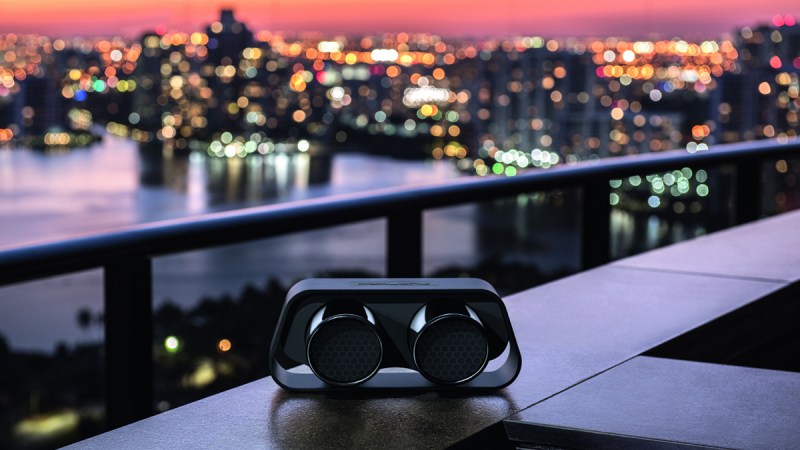 Ferdinand Alexander Porsche once famously said "If you analyze the function of an object, its form often becomes obvious." For more than 40 years, the Porsche Design Group has taken this philosophy as gospel, working alongside the legendary automaker and producing car-related accessories for Porsche enthusiasts. Recently, the studio announced a new addition to its catalog: The Porsche 911 Speaker, a Bluetooth-enabled speaker framed within the exhaust port of a Porsche 911 GT3.
The speaker, bathed in a glossy black finish and adorned with the Porsche wordmark on its crown, features the GT3's iconic dual exhaust ports housed within a rounded, trapezoidal chassis. The speaker looks identical to the exhaust on the car itself — except instead of a growling H-6 engine, you'll hear your music of choice, blasting out with clarity and power.
With the 911 Speaker, the Design Group managed to marry impressive tech to an attractive aesthetic. High-gloss "Porsche-grade" aluminum makes up the speaker's exterior, and its bowels are equally impressive. Bluetooth and NFC connectivity make pairing a breeze, while aptX support and sixty-watt system output ensure that the speaker pumps out high-quality sound.
The 911 Speaker is awesome for parties too, because you can buy two to synchronize, using Party mode for multi-room functionality or Stereo mode to use them as left and right channels. The battery lasts for 24 hours, too, so no need to worry that they'll die mid-soiree.
Porsche fans and gearheads might know that the 911 Speaker isn't Porsche Design's freshman foray into home audio. The 911 Soundbar — made for real aficionados and collectors — integrates the rear silencer from a GT3, as well as the exhaust port found on the 911 Speaker. The soundbar costs $2,500, and features a 2.1 virtual surround sound system that supports DTS TruSurround signal processing.
If you're dead set on acquiring some handsome Porsche Design tech for your home, but not necessarily willing to shell out a few thousand big ones, the wireless Gravity One speaker could be your answer. Built from brushed silver aluminium and featuring a unique, T-shaped form factor, the Gravity One is equipped with "Sit-anywhere" Uni-Q technology that projects sound in a 360-degree radius around the speaker. It doesn't incorporate any car parts, but at just $380, it's on the affordable side (for Porsche Design, at least).
For now, fans licking their chops at the 911 Speaker will have to be patient. The speaker will be purchasable starting in mid-October, costing $550 — or 482 euros, depending where you're from. It'll be available via Porsche Design's website, as well as in select Porsche Design stores and Porsche centers worldwide.
A version of the article also ran on out "brother site," Digital Trends.