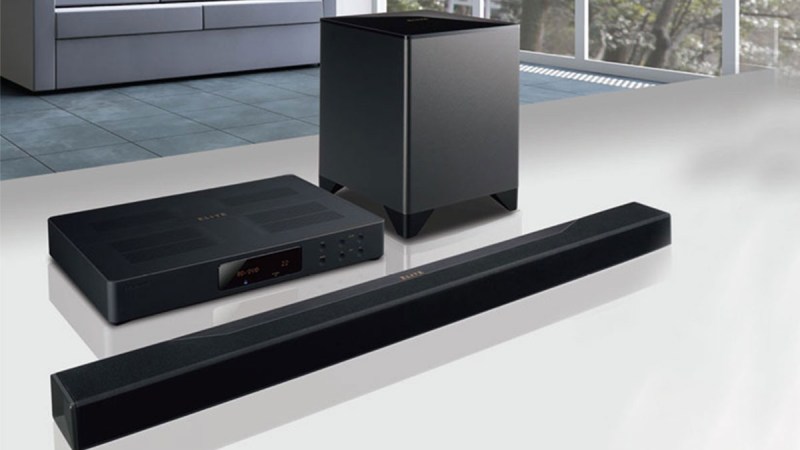 Soundbars are certainly nothing new, but they've been adding new features recently that are making them better than ever.
One of these features is object-based surround sound — provided by either Dolby Atmos or DTS:X — which can make it seem like sound is coming from above you in addition to around you, and that is exactly what Pioneer has packed into its new Elite FS-EB70 soundbar.
There are a few different ways to add height information to a standard surround sound setup. It can be handled by ceiling-mounted speakers, but that usually isn't very practical. In a soundbar like the Elite FS-EB70, it is accomplished by speakers that face the ceiling and reflect sound down toward you.
In addition to Dolby Atmos and DTS:X, this soundbar features Dolby Audio's new Surround Enhancer technology, which creates virtual rear speakers to allow for sound coming from behind you without the need for actual rear surround speakers. This combines with the included wireless subwoofer to make for cinematic sound with a minimal footprint.
Also included here is DTS Neural:X, which takes 5.1-channel surround sound and retrieves spatial cues to replicate object-based audio. For actual DTS:X audio, dialogue is mixed as a separate element, which lets you turn up the volume of the voices without having to turn everything up along with it.
This soundbar features two different wireless multiroom audio solutions: FireConnect and DTS Play-Fi. Bluetooth, Wi-Fi, and AirPlay are also supported, with Chromecast built-in functionality coming via a later firmware update. Music subscription services like Spotify, Pandora, Tidal, Deezer, and TuneIn are included as well. Finally, Hi-Res audio is supported, including 2.8 MHz/5.6 MHz DSD.
Every HDMI input on the Elite FS-EB70 supports 4K and HDR passthrough, including BT.2020 video. The HDMI output includes Audio Return Channel, so you can even use the soundbar for over-the-air broadcast TV.
The Pioneer Elite FS-EB70 network soundbar is available now for a retail price of $1,000. For more information, including how to purchase the new soundbar, see the Pioneer website.
A version of this post first appeared on our "brother site" Digital Trends.