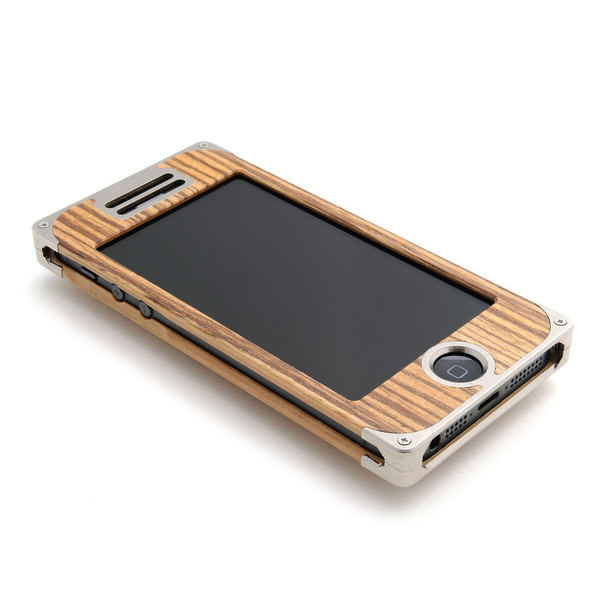 For the Eternal Bachelor
A cell phone is essentially a modern-day black book, right? This case will accordingly mark that bachelor's phone. Just don't let the girls see it.
TAVIK Digits Little Black Book Phone Case, $34.95 at shop.tavik.com.
For the Man Who Likes the Finer Things in Life
At $230, this phone case isn't cheap — but it will surely impress the man in your life who appreciates quality products that cost a lot of money. It's hand-finished and has a tough exo-skeleton that wouldn't let concrete kill your iPhone.
EXO16 iPhone 5 Nickel Zebra, $230 at fab.com.
For the Dapper Dandy
Any guy who is into style will certainly like the looks of this sleek, leather phone case.
Filson iPhone Case, $96 at brooksbrothers.com.
For the Outdoor Explorer
He'll be able to take his phone hiking, rafting and mountain climbing without worrying about the elements getting its way with this handy case.
Otterbox Pursuits Dry Box, $27.96 at ems.com.
For the Guy You Don't Know Very Well
We get so many compliments on our TYLT SQRD case that we're positive anyone who gets this will be happy.
TYLT SQRD, $29.99 at shop.tylt.com.
For the Guy Who Likes to Store His Cards With His Phone
This case is ideal for those guys who want a two-in-one phone case/wallet.
Quicksilver Morris iPhone Wallet, $25.99 at tillys.com.
For the DJ in Your Life
He'll remember the days when playlists were made for mixtapes, not MP3 players and Spotify. If you want to get extra fancy, make a playlist for him too.
Custom Cassette Mixtape iPhone 5 Cover, $44.95 at zazzle.com.
For the California Boy
He'll look back to the Golden State he came from every time he looks at this phone case.
California Carved Wood iPhone 5/5s Case, $35 at urbanoutfitters.com.
For The Guy Who Always Needs a Phone Charger
Trust us, this will save him from the dreaded dead battery over and over again.
Morphie Juice Pack Helium, $69.99 at crutchfield.com.
For the Comedian
This case will get him earfulls of laughs.
Prince Charles Orange Ear Case Cover Skin, $6.20 at amazon.com.
Editors' Recommendations