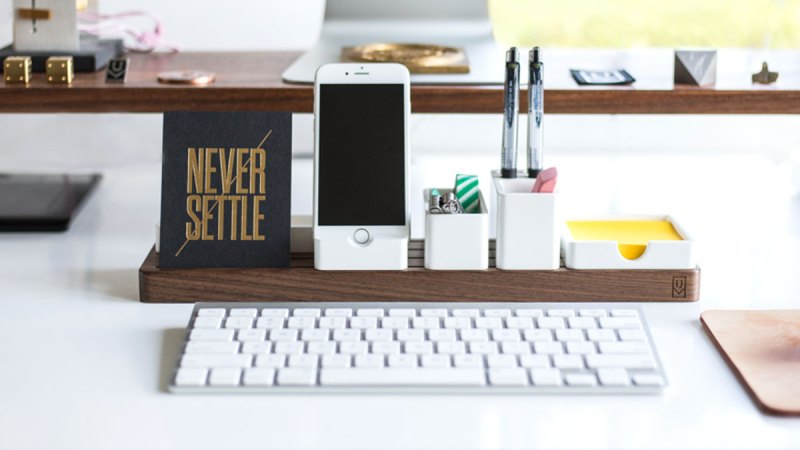 Finally, a modern take on the trapper keeper. A Kickstarter project called Gather is dazzling our inner neat freak with a minimal and modular approach to desk organization.
So much so, in fact, that the project blew past its $18,000 fundraising goal by more than $316,000… with a week and a half still to go.
From first look, Gather appears as a simple wooden base (that comes in two colors Walnut or Maple), with long horizontal lines that allow you to clip in organizing boxes; there's an iPhone prop, headphones rack, Post-it box, pens holder, coffee coaster, etc.
The slits also work great for propping up cards, photos, and small prints of your dream sports car.
What lies below the surface of this minimal plate are magnets embedded into the base, holding each piece in place yet allowing for rearrangement depending on when (and where) you grab for the work accessories on your desk.
Think of it like desk Tetris, and a killer way to improve your workspace and, no doubt, your productivity.
Fun fact: You can even combine two boards to make one master organizer.
It's no surprised the designer of Gather, Jeff Sheldon, came up with the concept after spending most of his day working at his desk and reaching for the same items over and over. "I searched for a product to solve this problem, but all I found were ugly, cheaply-made organizers," Sheldon says. "What I wanted was a beautifully-designed, minimal organizer. Something to gather all of my essentials into one central place."
Sheldon took the product to Kickstarter after being a regular Kicker himself, having contributed to more than 20 projects, including "The World's Greatest Beanie," a documentary about Dieter Rams, an ultra-minimalist pen, indie 8-track tape, and more.
Sheldon is also the Founder and Designer at Ugmonk, which seeks only to create high-quality, well-designed products; be it organizers, t-shirts, or messenger bags.
His success in launching Gather more than six years after joining the Kickstarter community speaks not only to the beautiful and clean design of Gather, but the demand for an organizer that doesn't come from Office Max.
Gather can be configured into hundreds of different setups and can also be used as a bedside organizer— that is, if most of your work doesn't revolve around a desk.
But as we said, Gather is super helpful even if you're not an organizational freak. Plus, its compact enough to not take up half of your desk space.
Gather ships December 2017 to its Kickstarter backers. A regular base with pen holder, phone holder, small and large tray, and Post-it square come in at $109, while Shelton also offers larger packages that include the Gather + Extension Kit, a two-pack, three-pack, and team pack.
If you're having trouble imagining just how effective Gather can be at clearing the clutter of your desk or side table, check it…
As the wise poet Outkast once said, "Ain't nobody dope as me, my desk so fresh so clean (so fresh and so clean clean)." Or something like that.