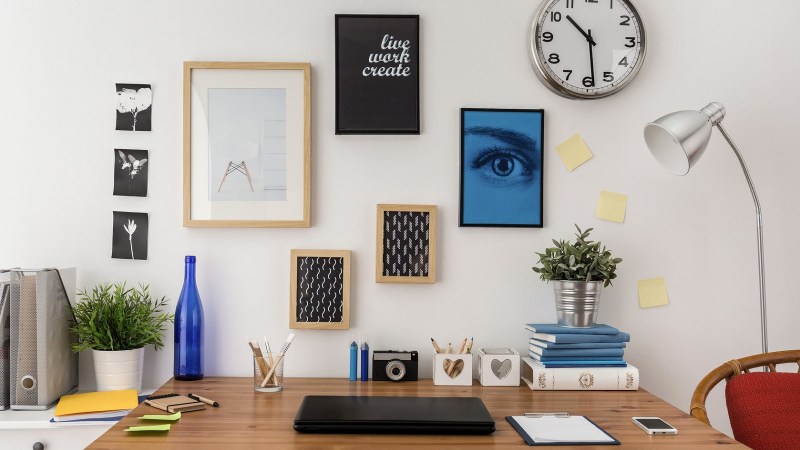 If you're like lots of people, you spend a lot of time sitting at a desk. Your desk might be nestled into a cubicle, it might command the center of an expansive corner office, or it might be tucked into a nook in your apartment. It's not where your desk is located that we're discussing today, it's what you have done to make the desk itself the best damn desk it can be. And we're not even talking about replacing the desk with a whole new unit; if you want to upgrade to a standing desk (see what I did there? Aw yeah) or get yourself that Cocobolo desk from Better Call Saul, go for it.
Today, though, we're discussing easy and affordable ways to make the desk you already have a bit more excellent. You're going to spend hours sitting at your desk every day, so why not spend an hour or two improving your space? And for the record, we're talking about practical, functional updates; when it comes to decorations, that's up to you. You gotta do your thing…
Fresh Air – The Desktop Air Purifier

If you suffer from allergies, a weakened immune system, or your desk simply sits in an environment prone to poor indoor air quality (which people yammer about so often that you'll even see the abbreviation IAQ all over the place), then treat yourself and your lungs to a desktop air purifier. You can find many fine units out there for well under $50 (though top-of-the-line units are much more expensive), most of which can reliably rid the air of all particulate matter larger than two microns in size (that's wildly small, FYI). Cleaner air can not only improve your overall health, but it might even keep your thought process more crisp and productive.
Put Your Feet Up – The Desk Hammock

Ah, how good it feels to put your feet up at the end of the day, right? But wait, why are you waiting until the end of the day to elevate those tired dogs of yours? With a fine desk hammock, you can kick back and relax right there at your desk. Most desk hammocks, also called desk foot rests by some, cost between $10 and $20 and take about three minutes to install. You can adjust the hammock height to lift your feet a few inches off the ground while you sit forward and type, write, or assemble a puzzle when you should be working, or you can raise the hammock to the same height as your chair and lean back for some quick at-desk R&R.
Fresh Food at Your Fingertips – The Desktop Garden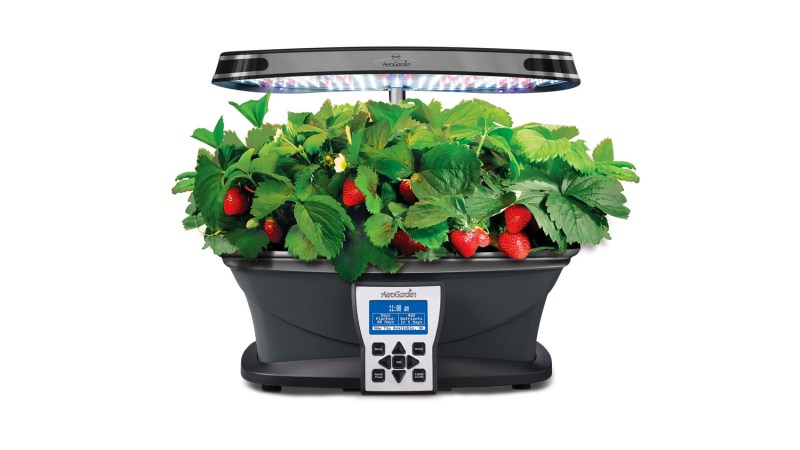 Adding a compact hydroponic garden to your desktop offers you three distinct benefits. First, the lights used to grow the plants in these units simulate sunshine and can help elevate your mood and increase your productivity. Second, as the herbs, vegetables, or fruits grow there on your desk, you'll benefit from a localized reduction in CO2 and increase in oxygen because, you know, plants. And third, once your little desktop garden starts to produce tomatoes, peppers, strawberries, or whatever other edible whatnot your chose, you can eat it. Just FYI, in case you missed that part when you started looking into the whole food growing thing. Prepare to spend about $200 for a great unit.
Less Sound Sounds Good – Filter the Noise

Imagine trying to conduct your work while riding on a busy subway train, with the clamor of the tracks, the cacophony of voices, and the din of phones, music, and more assailing your ears. And now imagine trying to work while riding along on a runaway stage coach as a band of outlaws chase you, your papers blowing comically over your shoulder as you spill coffee on an anachronistic laptop, while the tobacco-stained face of the driver turns toward you and shouts: "Now what'n the sam hell is that thar thing, mister!?" OK anyway. The point is that noise can be quite distracting, and you owe it your peace of mind and productivity to filter it out. You can do this with noise-cancelling headphones or a white noise machine . Or you can stick some earplugs up in there if that's your thing.