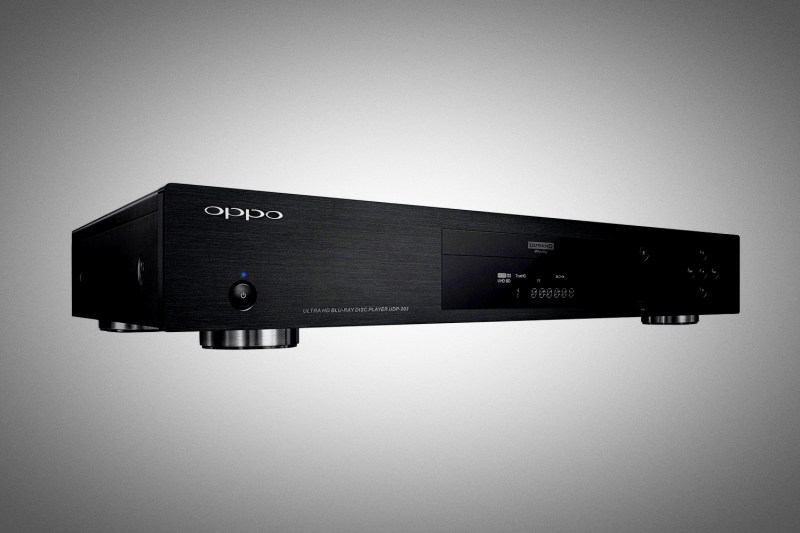 Unveiled earlier this year, the Oppo UDP–203 Ultra HD Blu-ray player looked to be one of the most feature-packed of the UHD players released so far, especially on the audio front, but as we began to close in on the end of 2016, there was no release info. That has finally changed, as Oppo has announced that the player is officially ready to hit the streets.
Oppo says the UDP–203 is a successor to its award-winning BDP–103 Blu-ray player, though obviously it's much more advanced. The big additions include 4K Ultra HD resolution (3,840 x 2,160 pixels), as well as support for HDR (high dynamic range) and Wide Color Gamut. The more common HDR10 format is supported out of the box for HDR, but a firmware update bringing support for Dolby Vision is planned for release in 2017.
The player features two HDMI outputs — the HDMI 2.0a port supports UHD TVs, A/V receivers, and other devices, while an HDMI 1.4 audio port adds compatibility for older receivers. Two USB 3.0 ports on the back and another on the front allow users to source video, music, and photos from USB hard drives or other devices. And unlike most run-of-the-mill players, the UDP-203 offers 7.1-channel analog audio outputs, fed by a 32-bit "Velvet Sound" DAC by AKM.
In addition to UHD Blu-ray, the UDP–203 also plays both standard and 3D Blu-ray discs, DVD, DVD-Audio, SACD, and audio CD formats. The player can decode AIFF, WAV, ALAC, APE, and FLAC audio formats, as well as DSD64 and DSD128. In addition to Dolby TrueHD and DTS-HD, the player also supports the Dolby Atmos and DTS:X object-based surround sound formats.
Oppo's goal with the UDP–203 is providing a premium experience for disc playback with quick start-up times and fast response, so it eschews such "smart" features as the streaming apps found in many players. Instead, it features an HDMI 2.0 passthrough input that allows you to connect a streaming device of your choosing while keeping an HDMI input free on your TV or A/V receiver.
The Oppo UDP–203 sells for $550 and while no exact release date is available so far, pre-orders are expected to become available shortly. For more information, see the product page on Oppo's website. A step-up UDP–205 model is also in the works, and is expected to launch in early 2017.
A version of this article originally appeared at our "brother site," Digital Trends.
Editors' Recommendations