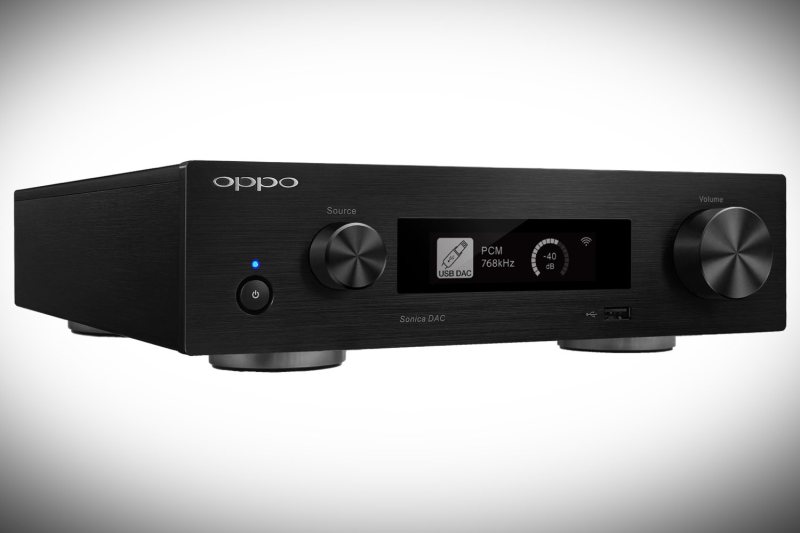 Since the arrival of the CD, more and more of the music we listen to has been coming from digital sources. While the sources have changed, speakers and headphones remain analog, so you need a good DAC (digital to analog converter) to get the best sound. Oppo's new Sonica DAC not only handles that, but can stream music from various sources directly to your headphone amp or hi-fi system.
The Sonica DAC is drafted in a similar vein to other Oppo audio products like the BDP-105 universal player or the HA-1 headphone amp (though it doesn't include a headphone output like the HA-1) but with a boost in digital audio quality. At the heart of this lies an updated DAC chipset in the much-loved ESS ES9038PRO Sabre DAC. Thanks to this, the USB input on the player can accept PCM signals up to an insane 768 kHz 32-bit and DSD up to 25 MHz.
This isn't going to mean much if you're using the Sonica DAC to listen to some old MP3s or audio CDs, but it makes it a great DAC for use with high-resolution audio files. If you're not using the Sonica DAC in a wired configuration, the player also supports wireless streaming, or playing files from computers and home servers over Wi-Fi or from your phone using the Sonica app. When used wirelessly, the Sonica DAC can decode FLAC, WAV, and Apple Lossless files up to 24-bit /192 kHz and DSD files at a 64x sample rate.
If you're wondering why the company called this particular DAC the Sonica when it already sells a wireless multiroom speaker with the same name, it's because the two can work together. The DAC can connect to Sonica speakers, and an auxiliary jack on the unit allows existing analog audio gear to be used in your multiroom setup.
If you would rather use the Sonica DAC with a headphone amp or power amplifier for your home stereo, it supports multiple analog output options. RCA output allows the Sonica to work with standard consumer audio gear, while a pair of XLR jacks on the back allows balanced operation for even better sound when used with higher-end amplifiers.
Coaxial and optical digital inputs allow connection from wired digital audio sources, while Ethernet provides wired network connectivity, and the built-in Wi-Fi supports both 802.11 a/b/g/n and ac standards.
The Oppo Sonica DAC sells for $800, and is available now direct from the company's website.
A version of this article originally appeared at our "brother site," Digital Trends.