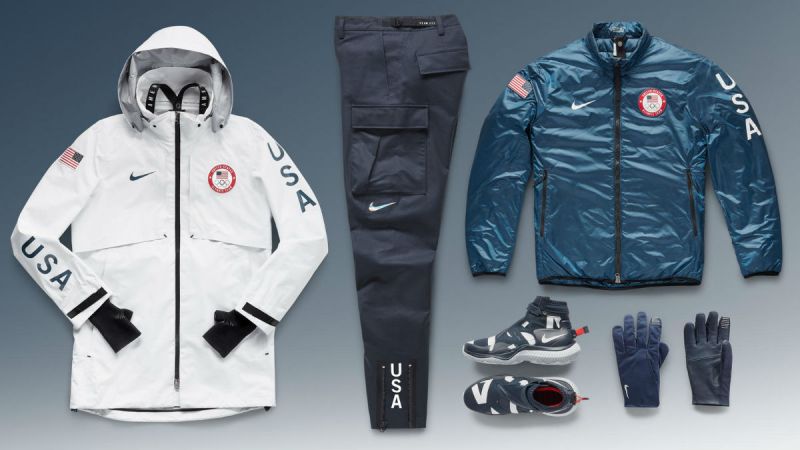 Pyeongchang, South Korea, is cold. Like, really cold. Located in the northern Taebaek Mountains region, the average temperature for this Korean county in February floats above freezing — which is when Team USA will be competing in a variety of snow sports during the 2018 Winter Olympics.
Of course, these elite American athletes will be decked in only the best performance suits during the competitions, but what about afterwards? That's where Nike comes in. The big-name brand recently unveiled the outfit that Team USA will rock on the medal stand if — when! — we take home bronze, silver, and gold at 2018 Pyeongchang.
A two-part jacket system makes up the most important part of the get-up: an outer, waterproof, GORE-TEX shell and a removable, insulated bomber-style jacket. Features include knit hand warmers, an adjustable toggle, and (of course) an American flag emblem. Weatherproof pants, touch-screen compatible gloves, and winter-ready boots round out the rest of the ensemble.
The best part? Nike is offering this entire kit to non-Olympic athletes like you and me. If you need high-quality outerwear for your winter adventures, or if you just want to pretend like you've won gold, then you can snag Nike's Medal Stand collection online and at select retailers.
However, if you want to represent Team USA with a little less pizzazz (but the same amount of pride), you can check out the other pieces in the line. Our favorites include the Tech Fleece Windrunner ($275), the classic USA pullover hoodie ($75), and the simple, Olympic Team-branded tee ($35). For those of you who are a little "extra," we suggest this shirt with a bald eagle wearing the Nike logo, because why not?
The 2018 Winter Olympics kick off on February 9 and run through February 25. The Nike Medal Stand collection is available for purchase now. Round out your red, white, and blue duds with Omega's exclusive watches inspired by the Olympic rings or Ralph Lauren's equally patriotic lineup of American-made clothing.