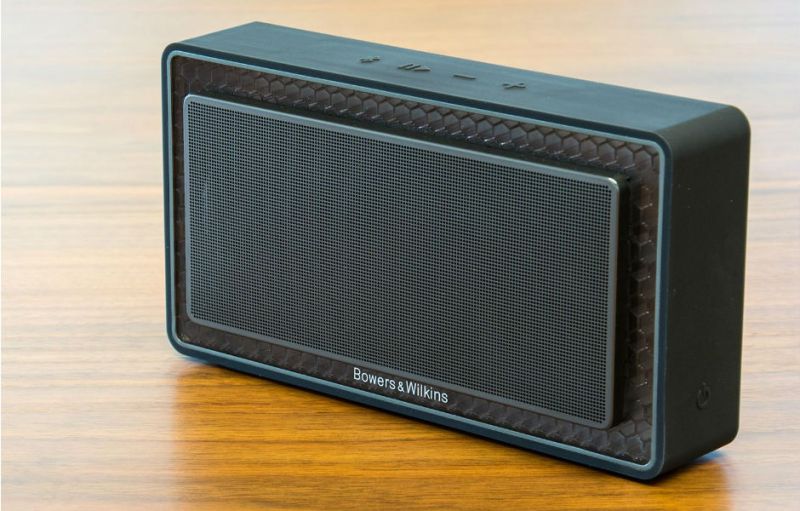 Got a certain impossible-to-buy-for someone on your gift list? We've got just the thing: Bowers and Wilkins has finally made a portable Bluetooth speaker worthy of bearing its storied name, and there's nothing else quite like it. Check out the B&W T7.
Bowers & Wilkins may have taken its sweet time coming up with a portable Bluetooth speaker it could be proud of, but the result of the company's patient work is a battery-powered Bluetooth speaker that incorporates just enough of the speaker maker's proprietary technology to make it special, and sound quality with B&W's signature character.
What sets the T7 apart from its competition is its honeycomb framework, which comes from B&W's lauded 800 Series Diamond Loudspeakers, a fixture in the famed Abbey Road Studios in London. That pattern isn't just for looks, it makes the speaker's enclosure more rigid, which helps buck sound-muddying cabinet resonances. It's effective, too, as we've yet to hear a speaker that is able to maintain such a clean sound from top to bottom..Even the Braven 850, which stands as one of our favorite high-end Bluetooth speakers, suffers from a bit of enclosure hum when the bass really gets going.
Armed with class-D digital amplification, and two 50mm full range drivers with matching bass radiators, the speaker reaches deep into the bass region, getting low enough to provide a truly full sound with crystal clear midrange and just the right amount of sparkle in the treble. For non-Bluetooth devices, the T7 offers a 3.55 auxiliary jack. The only thing the T7 doesn't do is charge your device, but it sounds good enough that we're willing to give it a pass.
The T7's $350 price tag is steep, to be sure, but then again, so is the competing Bang & Olufsen A2, which seeks $50 more. And we think the T7 is just a bit more handsome.
Give this to your friend with impossibly good taste, and their bound to be thrilled. But even if they aren't, you can always keep it for yourself.
Available at Amazon
Editors' Recommendations