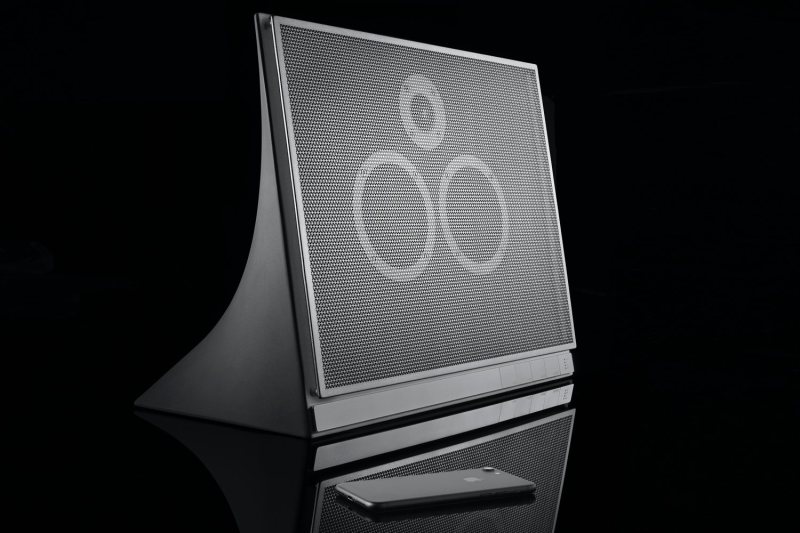 Wireless speakers are handy, and can offer some surprisingly good sound from a small package depending on the model, but they almost always lean toward the boring side in terms of design. With its new MA770 wireless speaker, Master & Dynamic is looking to buck that trend.
Master & Dynamic made bold choices for the design of the MA770 from the ground up, using a proprietary concrete composite instead of the usual plastic. The company says this offers acoustic benefits — specifically dampening — that make for better sound. Then there's the striking look of the speaker, designed by Sir David Adjaye, who is behind the National Museum of African American History and Culture at the Smithsonian in Washington, D.C.
"This speaker is not about the traditional idea of making boxes, but about a directional form. I became fascinated with the idea of using triangles to break down the mass of the box and to see if we could dissolve the sense of volume through sculptural detail," Adjaye said in a statement. "We created a new geometry with this speaker. A new geometry of sound."
Inside, the MA770 packs 100 watts of class D amplification, which powers dual 4-inch woven Kevlar woofers and a 1.5-inch titanium tweeter. These speakers are protected by a stainless steel grille that is magnetically attached, so if you would rather display the speakers, it's easy to do so.
The speaker features Bluetooth 4.0 for wireless connectivity, as well as Wi-Fi, which allows a second MA770 to be paired for a larger stereo image. This is done via Chromecast built-in, which means that all the other audio streaming features of Chromecast built-in are also available here. If you would rather connect a source via wires, both 3.5mm analog and optical digital inputs are included.
"As the industry ebbs towards smaller and more disposable pieces, we continue to defy convention," Master & Dynamic founder and CEO Jonathan Levine said. "The MA770 reinforces scale and prominence. Its luxurious design and use of premium materials further enhance its beauty."
The Master & Dynamic MA770 will sell for $1,800, and will be available in stores in mid-May. If you can't wait that long to buy it, the MA770 is available for pre-order now via the Master & Dynamic website.
A version of this article originally appeared at our "brother site," Digital Trends.