This year's election was nothing if not dramatic.
And whether you feel like you're riding out of the season in slow motion with an explosion behind you or cruising down a street paved with gold, you can do so in stunning style with Martone Cycling's limited edition Freedom Bikes collection — a surprise capsule with a flair for the bold.
With the sort of high-art color pops that'll have you standing out like a neon flag on a dreary winter's day, each bike in the collection comes fully-saturated in hues of red, white, and blue. These light commuters weigh in at 26 pounds and feature architectural baskets, dual-legged kickstands, cherry-red chains, lucite pedals, and SRAM automatic shifting.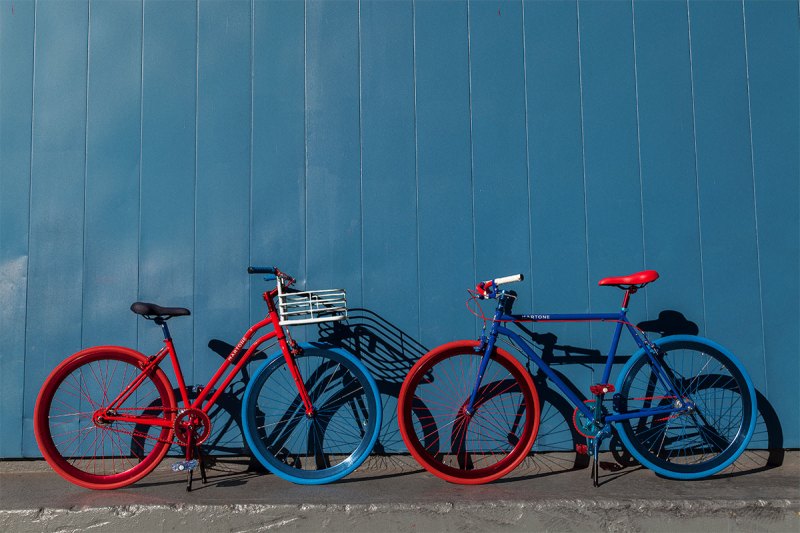 Yes, you read that right: automatic shifting. Martone Cycling's real piece de resistance is a two-gear automatic system that knows how to handle the streets based on your speed and incline.
Martone Cycling founder Lorenzo Martone felt inspired to put the pedal to the metal on the collection as a testament to Americans' freedom to vote. They're an homage to the nation's freewheeling spirit and sense of adventure.
"When so much is at stake for our nation, the power of voting and what that freedom means resonates even more deeply. I feel so fortunate to live in America, and to have been invited into this American dream," he says of the bikes, unveiled in early November 2016: "This brand of bikes is both a literal and figurative symbol of freedom to me. Freedom to move, express, and transform are not luxuries that are universally afforded, and I really wanted to draw upon the red, white and blue color palate as a celebration of that freedom."
Before these patriotic stunners rolled out of Martone's imagination, another technicolor capsule captivated the brand's cult following. In Summer 2016, Martone Cycling released a collection in honor of the Olympics in Brazil — his country of origin– before blazing trails in the U.S. fashion bike market.
So what's next for the Freedom Bikes? April 2017 will see them cruising across the pond to France for its own upcoming red, white, and blue presidential election. To check out these rides for yourself, visit www.martonecycling.com.