Majestic Athletic, despite being replaced by Under Armour as Major League Baseball's official uniform provider come 2020, isn't throwing in the towel.
In fact, they're doing the opposite and heading to the other side of the teeter totter, making sweet new products for the average Joe who will be playing on his Sundays off for the next 50 years.
If you grew up playing baseball in high school, college, maybe even abroad in the semi-pros, and now come to bat on a local men's league with your buddies, you'll know that no matter the caliber of the diamond, you want to have the best on-base average. Hell, maybe even hit a few home runs. And that all comes down to swing.
At the Consumer Electronics Show (CES) in Las Vegas the first week of January, Majestic unveiled a smart shirt powered by Intel technology that analyzes the 360-degree tracking of wrist, shoulder, and hip movement during your swing. Appropriately called Swing IQ, our pupils dilated at the prospect of suiting up with this new tech-driven garment come spring training (aka, batting cages with the boys and a strong stout to follow).
Swing IQ ($199.99, preorder, shipping on Opening Day April 3) is able to pull data from your kinetic swing sequence thanks to three hardly noticeable motion sensors embedded into the long-sleeve shirt— which looks and feels like a high-performance baselayer. With only those three points of reference, Swing IQ comes out with 4,500 unique data points per swing.
Accuracy was tested to a T, as Majestic and Intel pulled both MLB heavy hitters and Little League players during research & development for Swing IQ.
Paired with its app for iOs or Android devices, the data manifests into overlay video and a complete-picture view that not only makes you say 'shit, I gotta adjust my elbow,' but tells you cut and dry via its prescriptive coaching function. You can also share your ace swing on Facebook to brag. It's called intimidation, and it's a proven strategy.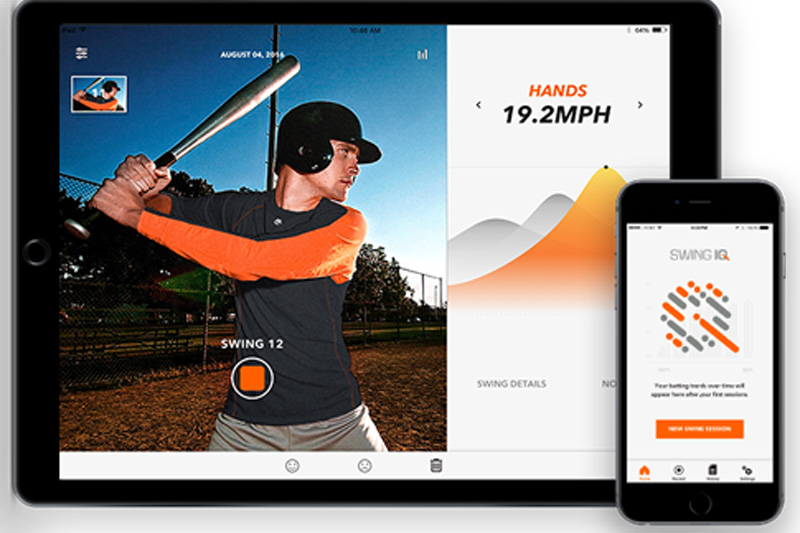 "Majestic's Swing IQ is shaping the future of performance apparel by leveraging technology to improve body kinetics," says Michael Johnson, vice president of strategy at Majestic Athletic. Vice President and General Manager at Intel Corporation, Sandra Lopez, chimed in saying, "Data analytics is transforming the way athletes and coaches train to improve their performance." And they're right: coaching advise from Tom who played a little baseball in college doesn't cut it anymore.
Swing IQ is available in Men's S-3XL sizes and Youth L-XL, meaning even the guy with the biggest beer belly on your team (dad bods are still in, right?) can hit like Mike Trout.
Photos courtesy Majestic Athletic, Intel Corporation.