The Netherlands boasts a long history of shipbuilding and exploration. The country's tiny island of Urk, in particular, is home to some of its proudest fishermen whose rich, centuries-long connection to the sea continues to this day. So, it's no surprise that one of the island's most notable shipbuilders has just launched a thoroughly beautiful line of yachts that blends 21st-century innovation with classic Dutch minimalist design to create the perfect gentleman's yacht, the Livingstone 24.
Shipmaker Hartman Yachts dates back to 1775 and is known among European sailors for their custom builds and ultra-modern Amundsen Series of expedition yachts. But the newly debuted Livingstone Series harks back to their roots, to the shipbuilding days of yore. The line features a clean, classic steel-and-aluminum exterior that recalls the luxurious, old-school ocean liners of the 1930s. The smallest of which, the Livingstone 24, is powered by a single 345-hp MAN diesel engine with a solid 3,000-nautical-mile range and a cruising speed of 11 knots. The 24's bigger brothers, Livingstone 34 and Livingstone 42, offer substantially more room to roam and twin 345-hp engines. All are designed with high-tech Naiad stabilizers for ultimate comfort on the open ocean.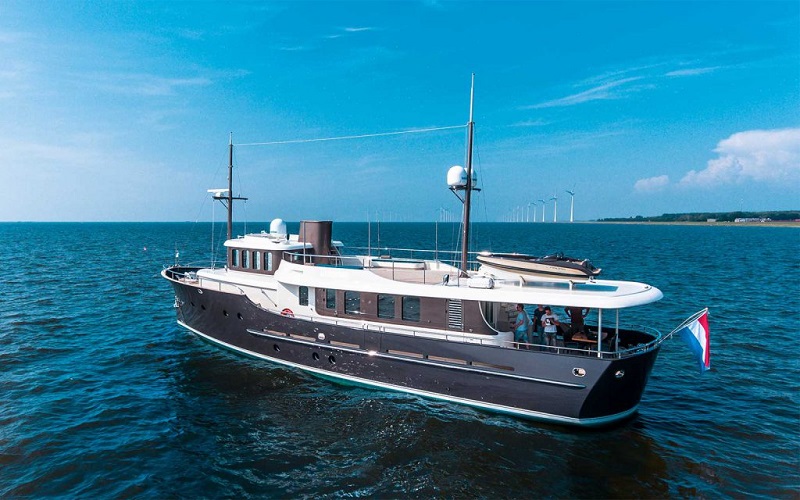 The vintage exterior belies a wealth of state-of-the-art gadgetry and modern amenities inside. The nearly 80-foot vessel sleeps nine passengers in four staterooms, including a master suite with a king-sized bed, en suite bath, and a large closet. Ample leisure space includes a dedicated bar, a kitchen, and dining and living areas. The interior features a pitch-perfect blend of vintage and modern decorative touches. Beautiful hand-carved wooden tables, leather-wrapped door handles, and glistening chrome fittings share space with all-glass shower stalls, luxurious cloth-wrapped headboards, and bold pops of purple and cobalt in the dining room.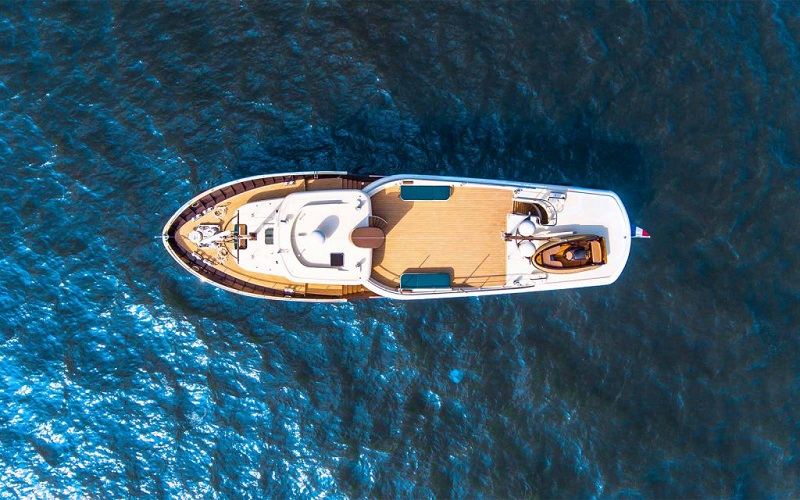 The line's namesake, Scottish missionary David Livingstone, was a tireless explorer in his day. His famous, 19th-century expedition down Africa's Zambezi River relied on the first all-steel boats ever built. He once remarked:
"If you have men who will only come if they know there is a good road, I don't want them. I want men who will come if there is no road at all."
His fierce determination and pioneer spirit are fitting inspiration for the Livingstone Series.