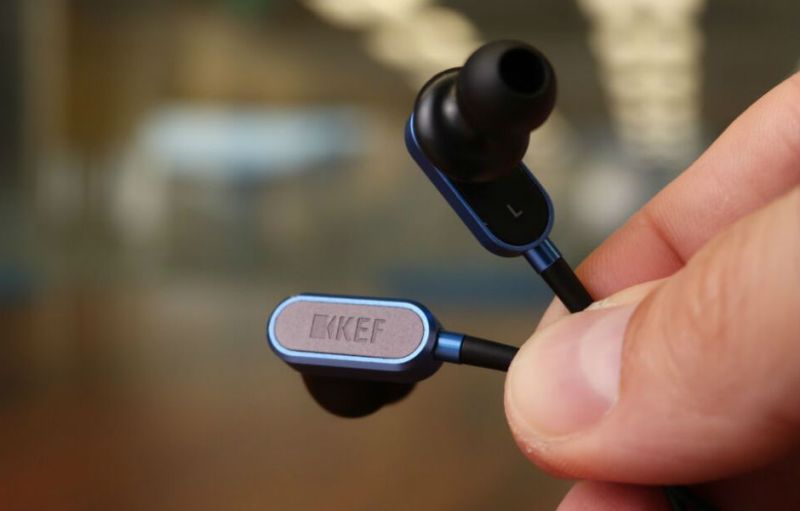 Those looking for a pair of in-ears offering that magic mix of style, comfort, and excellent performance would do well to look at the latest from KEF, the M100. The M100 are a sharp looking pair of ear buds, and although their $150 MSRP makes them the most affordable pair the brand has yet released, there's plenty of quality in the build to make these a coveted offering.
Related: Audeze goes direct to Lightning with new EL-8 Titaniums
The design begins with diamond-cut aluminum casings, cast into rounded pills with a "race-track" beveled edge that is sure to catch the light — and a few eyes, too. The earphones feel very solid in your hand, and that quality is echoed in the three-button iOS-compatible mic piece, and the casing around the jack, imprinted with the KEF logo. Apart the Racing Blue model shown here, the M100 come in Sunset Orange, Champagne White, and Titanium Grey.
The earpieces extend from the buds at an ergonomic angle, creating an extremely comfortable fit. The fit allows users to wear them for hours throughout the day with no issue whatsoever, though we do worry that they may hang a little loosely for any rambunctious activities, such as your daily workout.
Inside the angled chamber, the M100 sport 10mm drivers, in company with a low-resonance suspension ring of high-density foam to reduce distortion and control airflow.
As for the sound, as we've come to expect from KEF, these headphones impress, offering a balanced exploration throughout the frequency spectrum, including firm and full bass, a smooth and detailed midrange, and some pleasant sparkle up top. Highlights include great reproduction of instrumental textures — especially instruments like sax, electric guitars, and synthesizers — as well as excellent stereo imaging. Again, balance is the key here, and the M100's subtle approach to bass is a refreshing turn in today's bombastic headphone marketplace.
KEF's M100 headphones are available for an MSRP of $150. And in our book, that's going to be money well spent.
A version of this post was originally published on our "brother site" Digital Trends.