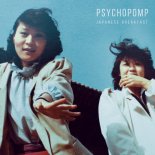 With the new year approaching, we're taking a look back through the past 11 months at records that did not get coverage in New Music Monday when they were first released earlier. This week we look at Michelle Zauner's first LP under the name Japanese Breakfast, Psychopomp.
Japanese Breakfast initially began as a side project for Michelle Zauner, a member of indie rock band Little Big League. In her own words, "With [Little Big League], there was more of a desire to be tough…I was playing with three dudes that grew up on punk and hardcore, then you had me and my Pacific Northwest indie-rock background, like Death Cab for Cutie, Built to Spill." With Japanese Breakfast, Zauner was able to explore those influences, and on Psychopomp she incorporated the influence of country and folk music. With help from co-producer Ned Eisenberg, she gave the the record a "a psychotic pop sound."
Psychopomp includes reworked tracks from Japanese Breakfast's previous releases, all from the summer of 2014. Around that time Zauner moved back to Oregon after her mother was diagnosed with stage four squamous cell carcinoma. The disease was aggressive, and Zauner's mother died within months. After her mother's death, Zauner remained in Oregon to help her father and during that time began to work on new material. Many of the songs on Psychopomp address Zauner's grief and troubles follower her mother's death. She wrote "Rugged Country," about becoming the person who had to love and nurture her father after he had lost the woman who had been in his life for 32 years.
Psychopomp captures an experience of grief through deft lyrics and a mixture of rock, folk, and electronic music.
Psychopomp by Japanese Breakfast is out now through Yellow K Records and Dead Oceans and is available on Amazon, Bandcamp, and iTunes. Michelle Zauner also has an essay in Glamour titled "How Learning to Cook Korean Food Helped Me Grieve (and Heal)."
Editors' Recommendations