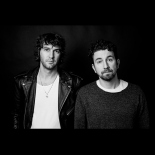 The title of Japandroids third album, Near to the Wild Heart of Life, comes indirectly from a passage in James Joyce's A Portrait of the Artist as a Young Man.
Reading Clarice Lispector's Near to the Wild Heart inspired vocalist-guitarist Brian King to, as he put it, "write a song that mimicked both the style and structure of the novel, somehow hoping to retain what I could of the tone and themes." As King later discovered, the title of Lispector's novel is taken from a passage in Joyce's. King initially attempted to include elements of both novels in his song but later dropped the idea "in favour of [his] own account of awakening." The album's title track is the result.
Japandroids' Near to the Wild Heart of Life is out now through Anti- and available on Amazon, Anti-'s official store, and iTunes.
Editors' Recommendations