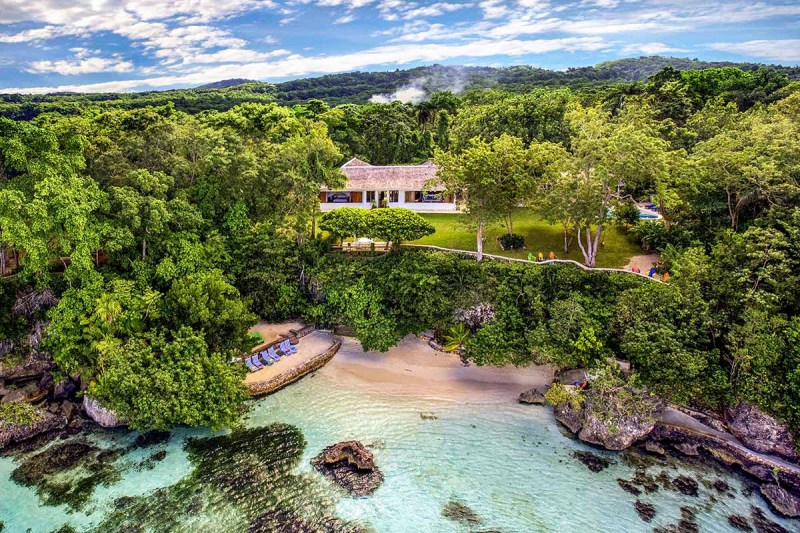 A quick in-flight martini and you could be relaxing in Jamaica on the GoldenEye property, hiding a Walther PPK under your pillow in The Fleming Villa. This sounds like a fictional scene in a spy novel but it's a real vacation rental, made famous by its history as the birthplace of British secret agent 007.
Author Ian Fleming wrote the first James Bond book, Casino Royale, at this exact home in Oracabessa, Jamaica — now a luxury 10-bed rental ranging between $4,455 and $10,505 a night (and still possessing Fleming's OG writer's desk!). Fleming proceeded to return to this GoldenEye property to write the succeeding 007 novels, setting many of the books like Dr. No, The Man With the Golden Gun, Live and Let Die, and Octopussy in Jamaica.
I don't think you understand how cool this is: You can be in the same rooms and lounge on the same private beach that inspired James freaking Bond. Plus, if we're talking literary pilgrimages, we'd rather vacay in an al-fresco cottage overlooking the Caribbean Sea instead of the dank woods beside Walden Pond. Sorry, Thoreau.
Cook skewered lamb ("one sympathizes") over the charcoal barbeque, lounge on the beachfront terrace in your vintage Bond swim trunks, re-watch all the newly added Brosnan Bonds on Netflix in the media room, and bring a gaggle of friends as Fleming did (the dude regularly hosted Katherine Hepburn and Errol Flynn).
As a guest of The Fleming Villa, you also gain super-secret-agent access to the neighboring GoldenEye resort amenities including swimming pools, spa, tennis courts, yoga, water sports, and butler services if you're too beat from the sun to shake your own damn martinis.
Renting The Fleming Villa already includes some butler services, so call them "Q" and ask to retrieve your iPhone from the counter.
If you're going for authenticity, stay in one of the three original bedrooms in the main house, calling dibs on the Fleming Suite. With a king bed, alfresco shower and tub, and legendary writing desk, fanboying is inevitable.
The other bedrooms are situated in two stand-alone cottages, complete with king beds and alfresco rain showers, and the central living spaces and overall design is pure Caribbean fresh. Bamboo furnishings and open-plan bungalow architecture blend indoor/outdoor living.
Now if only you had the perfect book to read on the flight over … which, by the way, if you're flying private, Ian Fleming International is located less than 10 minutes from the villa and "is your best travel choice," says bookers.