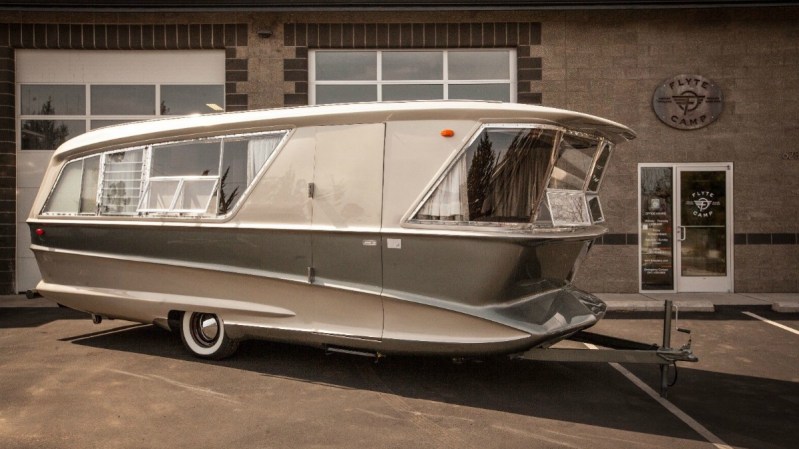 Don Draper was one of those characters — women wanted him and men wanted to be him. We were awed by his 1960s swagger that made us yearn for the old days of sleek suits, cocktails in the middle of the day, and the retro decor that's once again so popular in home design (but maybe without all the casual misogyny). So what if the story of Don was about his love of travel and exploring the U.S. instead of his talent as an ad man? Mr. Draper would surely have hit the road in this insanely awesome Holiday House Geographic Vintage Travel Trailer. And the best part: If you have a spare $225,000 laying around, you can snag this swanky trailer for yourself.
Just what makes a this particular trailer worth so much? The Holiday House Geographic Travel Trailer has a long and fascinating history that includes the owners of a gift basket company, a BMW race car designer, and a factory fire.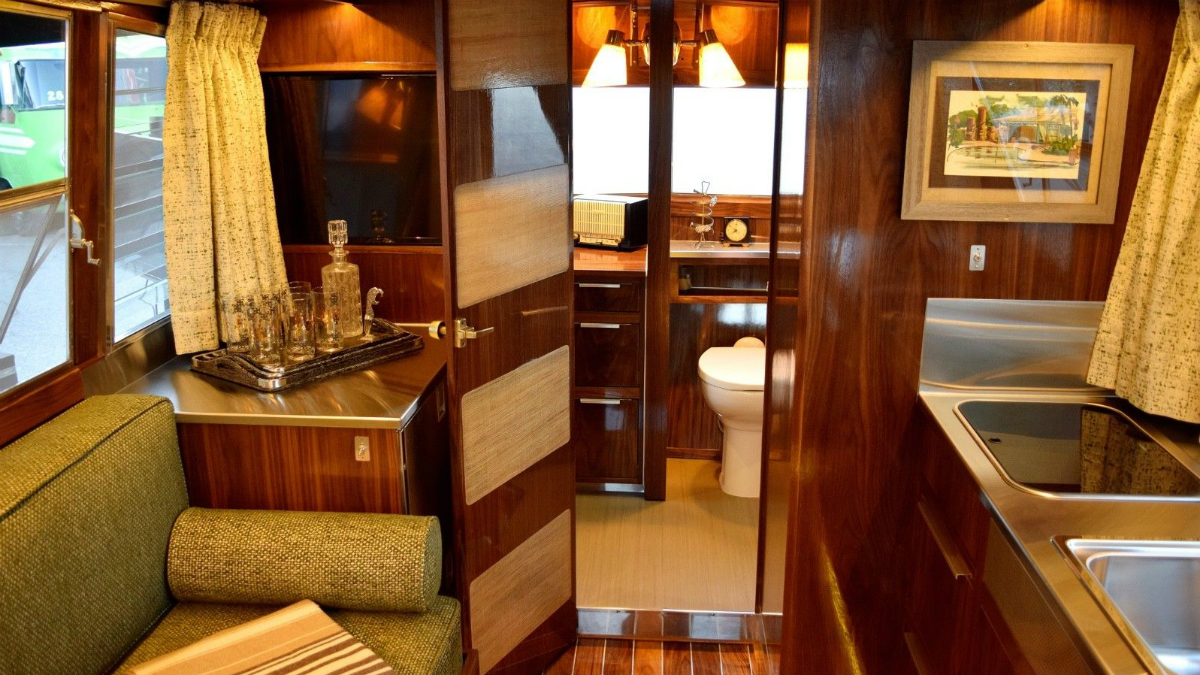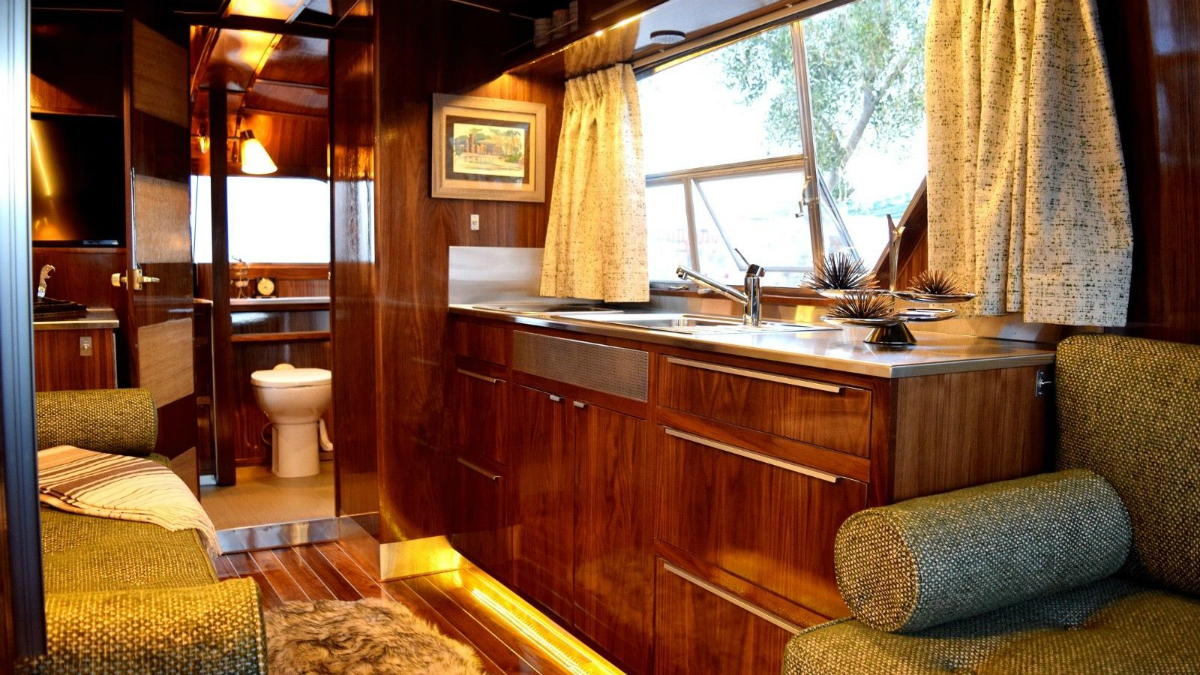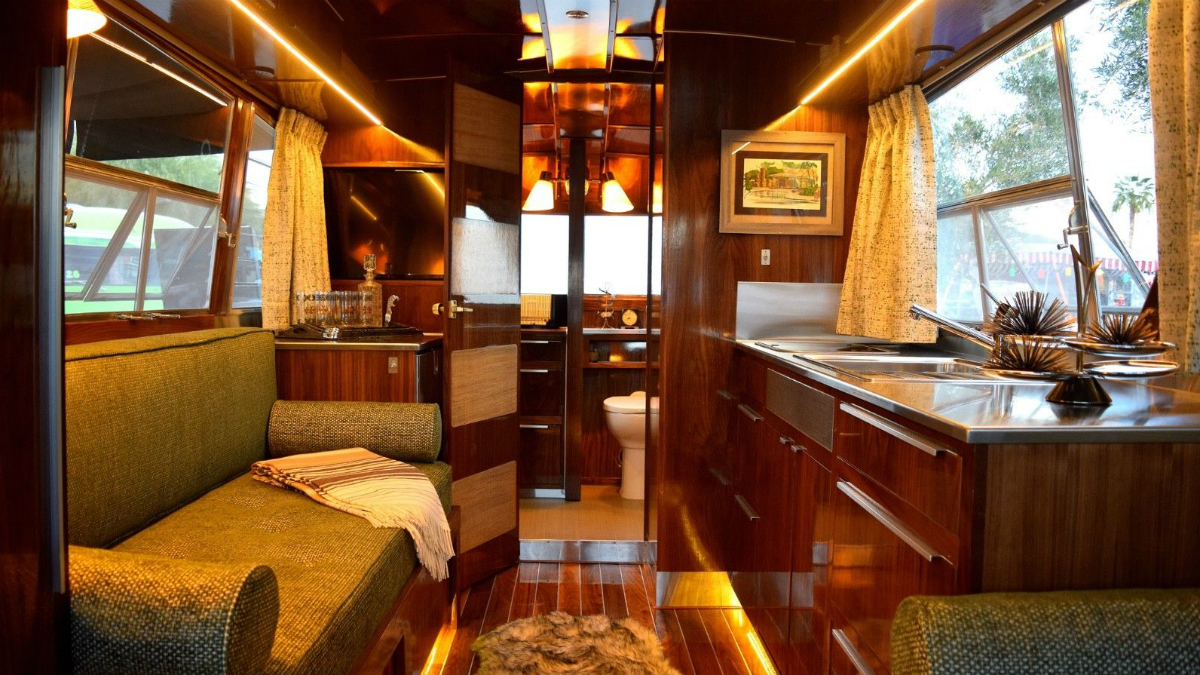 In the 1960's, David Holmes, the owner of a mail-order gift basket company needed to come up with a way to keep workers busy during slow months. His solution was to build upscale travel trailers, naturally. The Holiday House Trailers were futuristic and unlike any other trailers on the market at that time. After early success, Holmes took things a step further, teaming up with BMW race car designer, Chuck Pelly, to develop the Geographic line of Holiday House trailers. A limited edition series, these trailers were intended as "trailers for the rich." Only ten of the Geographics were ever made.
Eventually the original molds (which had survived a devastating factory fire) were discarded when Holmes' company was sold. Today, only two trailers are known to be in existence, and this one, which is up for sale until August 22, has been fully restored to its original glory.
Made of fibreglass, the Geographic has that retro vintage style the '60s were known for. The exterior has a unique streamlined shape and masculine two-tone colorway. That alone would make you feel like a king towing this baby down the highway, but your jaw will drop once you step inside.
The trailer was carefully and lovingly restored with sleek finishes that make it feel at once vintage and contemporary. Polished black walnut cabinetry, walls, floors, and ceilings were installed in the main living space. A stainless steel panel embellishment running along the ceiling coordinates with the stainless steel counter top of the kitchen space. The shine of these finishes along with lighting under the cabinets and built-in seating gives off a luxury, private club feel. Beside one of the built-in sofas is a mini bar complete with crystal cocktail set, perfect for those mid-day whiskeys.
The Geographic is outfitted with several of the standard trailer amenities as well as a few 21st century updates. There is a kitchenette, fold-out beds that sleep up to four, a surprisingly spacious bathroom and changing area, and plenty of storage. There's also an updated air conditioning unit that doubles as a heater on cold nights. A flat screen TV is built into the wall above the bar and is outfitted with surround sound.
And finally, if all that isn't enough to convince you this trailer is worth every penny, Chuck Pelly himself signed it after it was restored. Anyone have a spare quarter-million we could borrow?
If this is a little too "antique" for your liking, you can always check out the new Airstream Basecamp instead.
Photos courtesy of Hal Thomas Photography, Tim Cash of Far From Earth Films, and Anna Scribner of Flyte Camp, LLC.
Editors' Recommendations