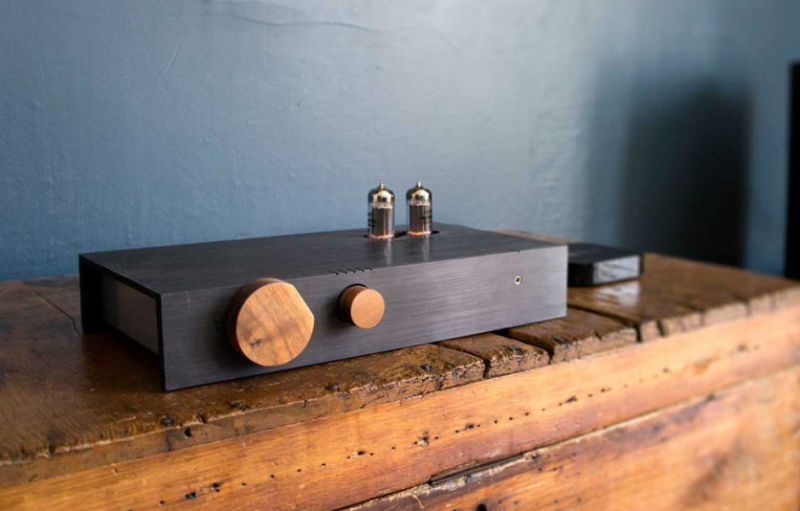 While surround sound, wireless, and multiroom audio tend to generate the biggest buzz these days, many audio enthusiasts still swear by a relatively simple amp with two channels — preferably analog.
The Billie amplifier — named after Billie Holiday — aims to combine the precision of digital components with the analog magic of tubes into one package, and is currently seeking funding on Kickstarter. We've seen plenty of other amplifiers created with that same goal, but the striking minimalist appearance of this amplifier, combined with its high-grade components make it worthy of a closer look.
Related: Astell & Kern unveils gorgeous hi-res player for the cheap(er) seats
The Billie amplifier is well-equipped to drive just about any speakers you throw at it, combining a tube preamp featuring JJ ECC99 tubes with one of Bang & Olufsen's touted ICEpower Class D amplifiers that delivers a claimed 125 watts per channel. The unit can also function as a headphone amp, making it a good fit for your high-end headphones. Amplifiers can consume a fair amount of electricity and generate heat, so the Billie automatically shuts itself off after 45 minutes of inactivity.
A total of three analog inputs are available, with one dedicated turntable input. Two optical SPDIF inputs are available as well, allowing for digital input from components like a PC, CD player, or high-res audio player. The ESS Sabre DAC supports up to 32-bit/384kHz audio, while wireless audio is available via Bluetooth connectivity.
Plenty of amplifiers aimed at audiophiles make a point of looking like they belong in a '70s-era recording studio, with wobbling V/U meters and plentiful shiny metal knobs. The glistening tubes atop the Billie will show that it's working as intended, but otherwise it presents a decidedly sleeker approach than most nostalgia seekers, with a brushed metal body available in black and silver complemented by two simple sculpted wooden knobs: one for volume and the other for switching inputs.
If this pretty package doesn't exactly sound cheap, it's because it isn't. The Billie Amp in silver goes for roughly $650, and if you want it in black it will cost you just under $690. A number of Early Bird specials are currently available, but they're quickly running out, with the earliest and cheapest deals already gone.
At the time of this publication, Heaven 11 Audio has crossed the halfway mark of its $70,000 goal, with plenty of time left in the campaign. Assuming the amp gets funded, the company expects to begin manufacturing units by November of this year and shipping by December — as long as there are no snags in the final testing, which can and does happen with Kickstarter projects.
See the Billie campaign page on Kickstarter for more information.
A version of this post was first published on our "brother site" Digital Trends.