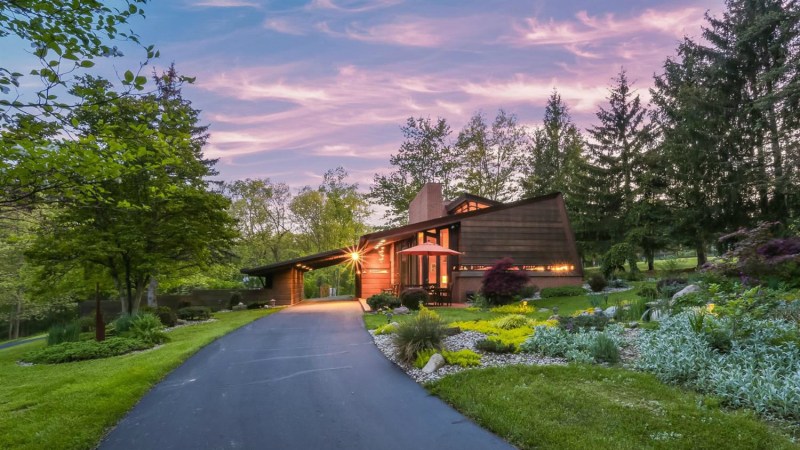 When famed U.S. architect Frank Lloyd Wright died in 1959, he left behind countless unfinished projects and designs. Luckily his firm, Taliesin Associated Architects, was there to continue on his legacy. Such is the case with Haddock House, a Frank Lloyd Wright-designed home that was built 30 years after his death.
Located in Ann Arbor, Michigan, Haddock House was designed by Wright in 1938. Intended for a local school teacher, the home was never built. It wasn't until 1979 when Taliesin Associated Architects finally used Wright's plans to build the home for professor Frederick Haddock.
Haddock House was built to Wright's exacting specifications. The site and placement of the home were all guided by notes left by the architect. Designed in his Usonian style, the home beautifully blends in with its natural surroundings.
The exterior of the home has the classic bold roofline that Wright was known for. Sloping sharply down, the roof extends out over the driveway creating a covered carport. The home is wood clad with an oversized brick chimney rising from the center to create a dramatic focal point. At the entry is a small covered patio decked out in Wright-inspired seating and a wooden block light fixture.
Unlike his sprawling prairie-style homes, the Usonian style was about efficiency and, as such, they were on the smaller side. Just 1300 square feet, Haddock House feels larger than it is thanks to its 25-foot ceilings. The spacious family room contains a sitting area and dining room, with a large wall of windows providing plenty of natural light and views of the 10-acre property. The decor is easily recognizable as a Wright home and features built-in bookcases, unique light fixtures, and custom furniture.
An exposed brick hallway leads down to the home's two bedrooms and two bathrooms. On the other side of the wall is the first of two fireplaces. In the master suite are another fireplace, high ceilings, and a view to the backyard patio. The guest room is small but cozy and contains a corner-glazed window – an invention of Wright's that was first used in Falling Water.
If the excitement of owning a Frank Lloyd Wright home (for under a million dollars no less!) isn't enough for you to head to Ann Arbor and put in an offer, the home comes with an added bonus. The sale includes the drawings and blueprints from the Wright Foundation. They are also including the original letter from Taliesin Associated Architects authenticating Haddock House as a Wright-designed home. Wright homes rarely hit the market at all, so with all that's being offered with this home, it's sure to sell fast.
But this isn't the only FLW home that's hit the market lately. Check out the Olfelt home for sale in Minneapolis.
Editors' Recommendations