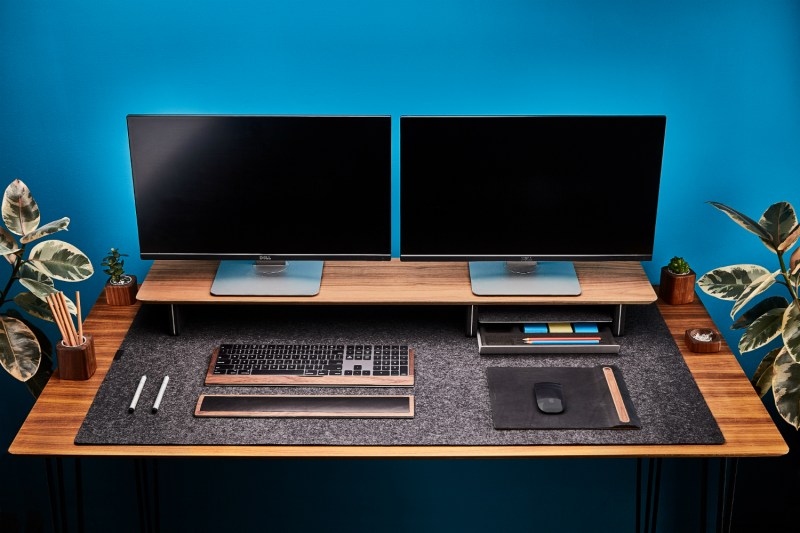 If you're a regular reader of The Manual, you know Grovemade for its great design speakers made from wood, its phone cases and wooden watches, its streamlined and minimalist monitor shelves, and its cork-fronted wireless charging pad for smartphones. Now, the Portland-based company has added to its roster of felt desk pads the biggest yet: the XL Desk Pad.
Made from the same felt fans went crazy over before, this huge desk pad is large enough to cover all the workspace that is typically required of someone chained to his or her computer station all day.
"But, what are the benefits of using a desk pad? Because doesn't it seem like a sort of superfluous thing to have on hand?"
To those questions, we answer: Many and no.
Grovemade Wool Felt Desk Pad Extra Large
Think of the XL Desk Pad as a landing place for all your work gear. It not only provides you a soft surface for writing on (that is, if you're still even writing by hand), but it also serves as an organizational tool, helping to keep your various chargers, battery packs, mice, styluses, folders, and charging pads all contained in one area.
Other benefits? No need to use a cupholder, since the felt will absorb any moisture from sweating cups or glasses; no need for a mouse pad, since the desk pad will do the work for your; your keyboard won't go sliding around your desktop since the felt will keep it securely in place; and even if you're a total slob, having a desk pad makes you look like you have a place for everything and have everything in its place. Remember, illusion is sometimes more powerful than reality.
For more from Grovemade, check out the latest rendition of the famous wooden watch or check back with our podcast The Manual podcast in June when they will be giving us the lowdown on what it's like to bootstrap a lifestyle brand from the ground up. To get yourself your own XL Desk Pad or to see Grovemade's other, smaller versions, head over to the brand's website .
Editors' Recommendations