Imagine picking up from the land of plenty and moving across the world to a third world country. That is exactly what husband and wife Courtney Rose and Laren Fitzgerald did in 2012 in order for Laren to be closer to the work he does for the amazing non-profit, Bridgeway Foundation.
Moving from Los Angeles to Kampala, Uganda is quite a bold move but the couple has made the country their home and, once settled, launched their company, Rose & Fitzgerald. The concept came from their need for practical, everyday items that were both beautiful and well made. As Courtney told us, "I started commissioning carpenters and seamstresses to make pillows, lamps, cutting boards, oversized bowls, and barware, like cow horn whisky tumblers and a wood wine holder—and all of these items started to make our home feel warm, inviting and lived-in."
Related: Eco-Awesomeness in Mozambique.
The more she worked with these artisans the more she wanted to share these pieces with the world. Hence, Rose & Fitzgerald was born. The couple works closely with the artisans to provide them with consistent business while enhancing artistic traditions with a modern aesthetic.
Rose & Fitzgerald: Our Story from Rose & Fitzgerald on Vimeo.
Some of the highlights from the collection include (ahem, Mother's Day is May 10th):
Made from hand-selected Mugavu logs from the wooded forests of central Uganda, the light, slender form and unique curvature of this minimalist wine holder make it the perfect way to display your favorite vintage bottle. Hand carved on a lathe, it undergoes a long sanding process and is then sealed with a wood lacquer, giving it a smooth and seamless finish.
These ethically sourced cow horn whisky tumblers are the perfect accompaniment to your favorite single-malt whisky. Valued for both its hardness and its ability to become pliable when heated, Ankole cattle horn has been used by East Africans for centuries. These natural horn tumblers were hand carved on a lathe, and then shaped and molded at high temperatures to fit perfectly in your hand. They were meticulously sanded, polished, and then sealed with a food-safe lacquer for a smooth and shiny finish. Due to the considerable size of Ankole horns and their wide range of naturally occurring colors, these tumblers are truly one-of-a-kind; no two are exactly alike. Ankole cow horn is indigenous to East Africa, making this material extremely rare.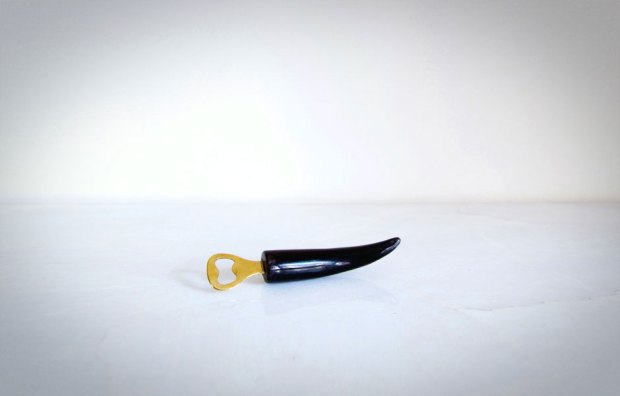 Made from ethically sourced, hand-selected Ugandan cow horn and recycled, industrial scrap brass, this completely unique bottle opener is essential for the bar. The brass piece was measured and cut out by hand from a solid 3mm brass sheet, was sanded and then buffed to perfection.
Editors' Recommendations