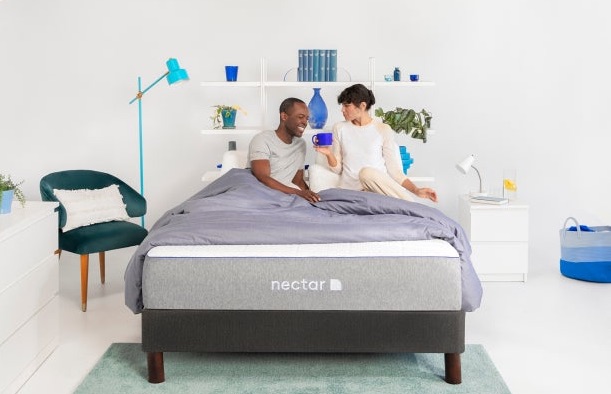 You don't need to wait until Black Friday or Cyber Monday to score some of the best savings on home furnishings, including mattresses, bedding, beds and bedroom furniture. Nectar has just kicked off its Annual Daylight Savings Event, where the specialists of all-things-bed are discounting everything on their site by 25 percent. Everything! You have until exactly midnight to score sleep-saving items like their Memory Foam Mattress and Platform Bed at a huge discount. So don't miss out.
If you're outfitting a new bedroom, looking for new furniture, upgrading your bedding, or simply replacing an old, lumpy mattress with a better one, now is the best time to shop mattress sales. We all know that retailers everywhere will be discounting their merchandise for Black Friday and Cyber Monday. But those events are a month away, and there's no guarantee you'll see discounts this deep on mattresses of this quality. How good are they? We'll tell you.
Nectar's mattresses are designed to give you the very best sleep. Their sturdy but comfortable build contains two layers of gel support in their memory foam, and there's a Tencel cooling cover layer that will keep you feeling fresh and comfy. USA Today said Nectar's mattress was the Best Overall Mattress for the past two years and the Sleep Foundation gave Nectar its Best Foam Memory Mattress Award in 2020. But put aside the critics for a second; over a million Americans have invested in Nectar mattresses. That's a lot of happy sleepers. And customers. Part of the appeal of Nectar is that they offer not only great prices, but a 365-day home trial, free shipping and delivery, a "forever warranty" that guarantees the mattress as long as you own it, and financing options.
As we head into what looks to be a singularly long and stressful winter, your bed, your mattress, and the rest they provide have never been more important. Whether you're just in need of a new mattress to replace an old one, or you're looking to upgrade, or outfit, an entire bedroom, now is the best time to shop. Nectar's Annual Daylight Savings Even only comes once a year, and at this moment you can take advantage of this site-wide sale to receive 25% off on absolutely everything the brand offers. It's a dreamy discount on mattresses and more, so don't miss out! You've got until midnight — this is not a deal you want to sleep through!
Editors' Recommendations