It's great when you can feel as good about your clothes as you look in them. Ecoths (pronounced ecos) makes menswear with a purpose: helping you look great, helping end hunger, and helping the environment. Who knew a shirt could be so powerful?
The menswear at Ecoths is simple, timeless, and highly functional, easily taking you from the trail to brunch. Their classic styles, like polos and hoodies, are all made of natural materials and offered in a variety of plaids and solids, with subtle stitching that offers a modern feel. Even their shorts with myriad pockets are slim and sophisticated, offering you storage without the cargo-short look. Many of Ecoths' shirts even have a sewn-in microfiber cloth on the hem, ensuring that for the first time ever when you wipe your glasses or screen with the tail of your shirt, it'll be clean.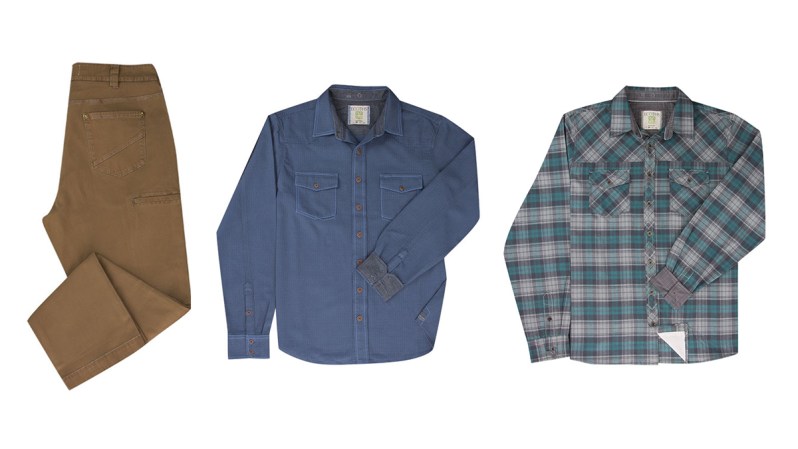 Given that the company's name is a combination of "eco" and "ethos," it makes sense they paired the clothing with a cause. Since the line was started in 2014, they've been partnered with food banks around the United States to provide meals for every single item of clothing sold. And not just one meal, which would be pretty great, but Ecoths provides, at a minimum, three meals for each piece of clothing. To date, that's translated into 250,000 meals. A quarter of a million people have been fed simply because men are dressing well.
Their ethos doesn't just stop at ending hunger. They recently announced a whopping 40% of their Spring 2018 line will be made with organic cotton in Fair Trade factories. "Sourcing Fair Trade Certified factories is something we are extremely proud to be moving towards with both Ecoths and our sister brand Aventura Clothing," says Tom Williamson, VP of Sales and Marketing for both brands. "For Ecoths it's like the trifecta of feel-good clothing; organic cotton, Fair Trade certified and helping feed others with a purchase, it's something our socially conscious customers should get really excited about."
And they're starting with their most versatile styles, like the Axton tee, a shirt you're going to struggle to find something it won't go with. Their Fair Trade hoodie is something you will live in and is perfect for layering, so it'll see you straight through from Fall to Spring.
When was the last time you put on an item of clothing that effected real change in the world?
Editors' Recommendations