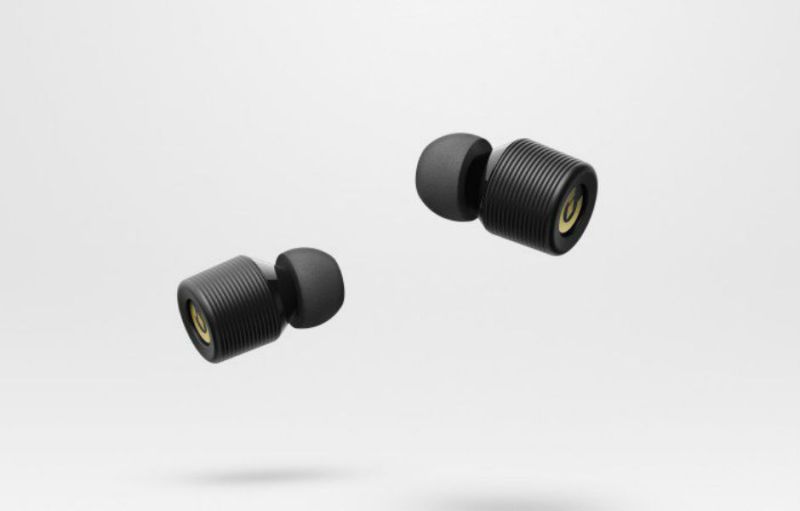 It's official: The first pair of truly wireless earbuds are here, in a store, where you can go out and buy them. Right now. Not coming soon, on Kickstarter, or available for preorder, as every previous effort has been asterisked by. Earin, once a Kickstarter project, has sent a limited run of 1,500 units to 650 Best Buy locations, and you can buy them online right here.
Earin are no ordinary wireless earbuds — they feature balanced armature drivers, which have historically offered superior sound quality to more conventional dynamic drivers, with better accuracy and more detail. Earin promises between 2.5 and 3 hours of playtime per charge, but that figure can easily be doubled as the buds can be quickly recharged using an included compact carrying and storage case, thereby extending usage to a maximum of 6 hours, provided no other power source is available.
Just like every other startup trying to bring a truly wireless earbud to consumers, Sweden-based Earin has faced an uphill battle, and that struggle continues, but its product's arrival at retail is a sort of coming-of-age moment, and a sign of things to come in the near future.
Earin first debuted on Kickstarter to much fanfare. The project quickly rocketed past its rather modest support goal, quickly gaining the support of 8,359 backers who pledged a total of £972,594 ( about $1.47 million), sending the startup on a rather extended journey. Earin had to confront a number of design challenges along the way, most of which involved cramming rather bulky electronics components and a lithium-ion battery into something that needed to be very small and lightweight. After months of engineering, the company finalized the design. Then it had to get the product produced, which brought along its own challenges.
Now Earin has a complete product, and though it still faces some distribution challenges, the company tells us it is ironing out the kinks and hopes to be on sure footing shortly. To date, only the first 1,000 Kickstarter backers have received their units. The second 1,000 were supposed to receive theirs ahead of the launch at Best Buy, but a third-party shipping error caused the second batch of 1,000 units to go to the first 1,000 backers, rather than those who were next in line. The company assured Digital Trends it is working tirelessly to recall those units and get them sent out to the proper recipients.
In the meantime, interested buyers in the U.S. will likely scramble to pick up on these first retail units. "We are first to market with this type of product, and the demand seems to be huge," said Earin co-founder Per Sennström, "But we have an advanced product, and we simply can't just roll out large quantities on a massive production line. Therefore, supply is limited no matter how great the demand is. We have said all along that we put product and quality first. Furthermore, our vision is challenging engineering and outstanding design, not to build a giant company. For example, we have declined taking on investors, rather, we have focused on developing a tight team and refined product development."
And so, it would seem, Earin's product will remain in high demand until it scales up its production a bit.
You can find a full review of Earin earbuds here.
This article first appeared on The Manual's brother site, DigitalTrends.com
Editors' Recommendations