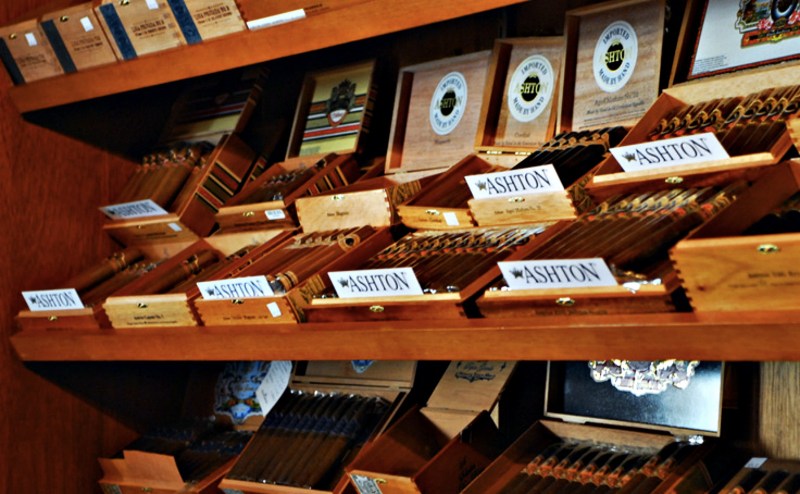 In the humidor room at Cigar Masters in Boston's Back Bay, Jack Dakermanji is the man you want to see. As Cigar Aficionado – or in his words, "I don't know, head cigar guy?"  – he knows a thing or two about how to enjoy a hand-crafted, carefully selected stogy. He gave us the run down of cigar do's and don't's that he sees on a regular basis.
Please do not lick the cigar.
If you've bought a cigar in the last ten years, there's more than a good chance that it's already been humidified. Back in the day, people used to lick the cigars to give them moisture. No need for that these days. Save your taste buds for the draw.
Cuban does not always mean better.
According to Dakermanji, this is hands-down the biggest misconception about cigars. A high-quality producer will create a box of cigars that is completely uniform, with cigars that have almost no variation in shape, color, or texture. Often, Cuban cigars have the most variance per box. "It's more of a 'people want what they can't have' thing," he explains. Cigar seekers often like the idea of Cubans simply because they're illegal to buy in the U.S., not because of the strength or flavors.
You don't need a special occasion.
Greg Durkin, a Cigar Masters regular, says that the cigar lounge is his beloved, antisocial time. "I talk to people all day long at work, so I like to come here, open my iPad, and enjoy my cigar in silence. Some of the other regulars and I will say hello to each other, but we're not interested in making conversation." Sometimes your best cigar companions will be peace and quiet.
Don't smell the cigar when it's in the wrapper.
"The only thing you're smelling is plastic," Dakermanji has nothing more to say on this subject. Neither do we.
It's okay to go for the chocolate-flavored one.
Yep, it's slightly girly, but no more so than enjoying a dessert-flavored liquor. The flavors in cigars range from mild to strong and come in varieties such as coffee, caramel, and butterscotch. The flavors will also change from the beginning of the draw to the end, so what matters most is what you like.
Big brands like Montecristo might be your go-to, but Dakermanji prefers some of the smaller, boutique producers like Tatuaje and Camacho, and he encourages people to be curious and branch out. Whether you're looking to celebrate with friends or just get away for an hour, sit back and enjoy the draw.
Editors' Recommendations