In the interior design world, we freely admit that inspiration for home trends often comes from fashion. That there is a strong relationship between the two industries is obvious when you think about it. Style-conscious people want equally stylish homes. Collaborations between fashion designers and furniture companies is nothing new. But when celebrity-favorite, laid back LA fashion hot spot Fred Segal decided to branch out into home decor – something truly special was created. Partnering up with CB2, a whole new collection has been created and it's exactly what your home has been craving.
Launching this month, the CB2 x Fred Segal line beautifully blends the relaxed California vibe of Fred Segal with the thoughtful nod to mid-century modern we all know and love from CB2. The collection has everything your home could need, right down to a stylish tape dispenser. Each piece in the collection is such a beautiful, seamless blend of both companies, you wonder why they didn't join up sooner.
A trend setter in fashion, Fred Segal keeps it up with this new line for the home. They kept the classic, modern-lined furniture CB2 is known for and redesigned it with today's hottest materials and finishes, like the Silas Barstool which features a woven natural rattan seat. The collection also shows us that what's old is new again with the Acrylic Coffee Table with Storage – a beautifully simple wood storage box that sits inside of an acrylic frame. Acrylic was hot in the 60's and it's made a big comeback in 2017.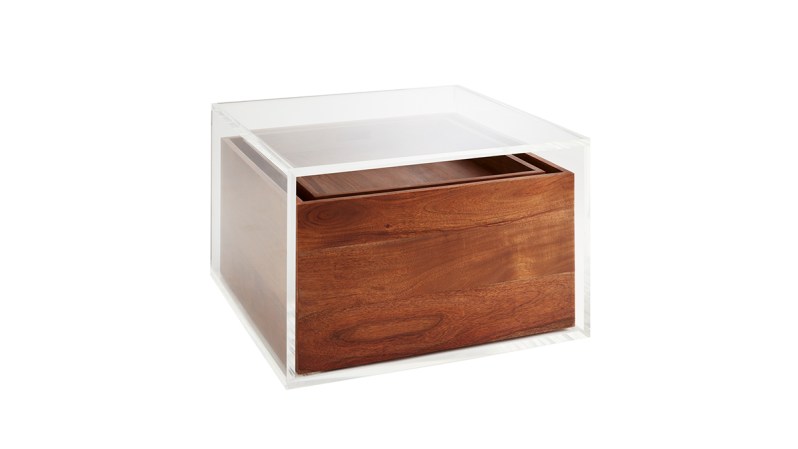 Brass is also big this year and this CB2 x Fred Segal collaboration shows us why. With it's deep hue and rich shine, brass is a perfect accent metal for a sophisticated masculine look. This line features a complete office set all in solid brass. From the aforementioned tape dispenser to a letter box and even a pair of rulers, the set has everything you need for a sleek and stylish office space.
Of course no Fred Segal home decor line would be complete without a few whimsical pieces and this line delivers. From the Pop Art Mirror shaped like a rainbow to the Fresh Cut Side Table with a pineapple-shaped base to the surprisingly elegant Ocean Palm Floor Lamp with globe lights that resemble coconuts – these pieces bring a California surfer vibe to the collection. Neon lights are still a big trend in home decor and Fred Segal's motto "love one another" is represented in their white neon heart-shaped wall light.
The CB2 x Fred Segal collection is available starting August 3rd and can be found in CB2 stores or online at CB2.com.