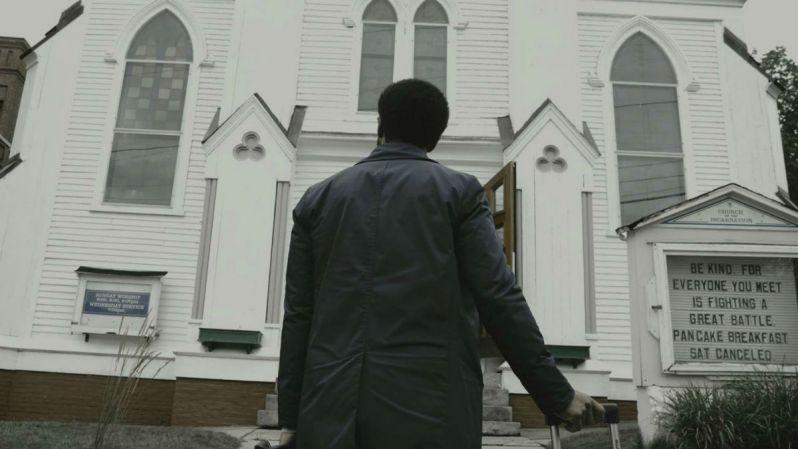 Hulu's new show, Castle Rock, takes place in the Stephen King multiverse of, well, Castle Rock — a fictional town in Maine that is, for all purposes, a place you don't wanna live.
Pulling elements from King's hometown, Castle Rock has been the setting for over a dozen of King's novels, including Cujo, The Dead Zone, The Body (aka Stand By Me), and Needful Things. Moreover, 24 additional novels and short stories by King reference the creepy town, such as It and Pet Cemetery. It's also the home of the famous Shawshank Prison.
CASTLE ROCK is really good, each episode better than the last. But put all that Easter egg stuff aside and just enjoy it on its own terms. The cast is incandescent and they support a story worth telling.

— Stephen King (@StephenKing) August 1, 2018
Major fans can lose themselves in a K(ing)-hole during this new psychological horror, but it isn't necessary to know squat about the writer or his anthology to reap all the delicious suspense and mystery the show delivers.
We were hooked the moment we saw the trailer featuring Bill Skarsgård, the horror genre's It boy who is quickly becoming the hottest thing since Boris Karloff.
Then, when Hulu dropped not one, not two, but three episodes on the show's debut on July 25, we binged through the hour-long episodes with a feeling we haven't felt since forever: true suspense and utter fascination.
In other words, don't waste your time with season one of The Sinner on Netflix.
Immediately the viewer is wrapped into the deadly sheath of Castle Rock and all its mysteries (we almost got a Twin Peaks vibe, in all the right ways). You're pulled along slowly (it does take patience) but with the killer timing you'd expect from both Stephen King and Executive Producer J.J. Abrams (Sarah Lawrence College alma mater shout-out).
By episode two, you'll be hunting down the Stephen King Easter eggs hidden throughout the show (i.e. actors from Carrie, Rose Red, and It return to play new characters). Or, if you're a hardcore King fan, you'll be losing your mind at how brilliantly creators Sam Shaw and Dustin Thomason have made use of past characters, places, and crimes.
As of right now, the 10-episode season that will end on September 12 is at its half-way mark and we eagerly await every Wednesday for a new episode.
The story starts in 1991 with the disappearance of a boy, Henry Deaver (played by André Holland), and his adopted father. The father turns up dead before Henry is found and the town of Castle Rock believes the kid murdered him. Flash forward to present day, the warden of Shawshank Prison (Terry O'Quinn) kills himself on his last day at work. A new warden (Ann Cusack) assigns people to investigate an unoccupied area of the prison and the guard Dennis Zalewski (Noel Fisher) finds an underground tunnel where "The Kid" (Skarsgård) is being kept in a cage by the old warden. There is no information on The Kid and the only words he says is "Henry Deaver." Zalewski calls Deaver, now a criminal attorney specializing in death-row inmates in Texas, who returns home to Castle Rock to learn more about the identity of The Kid.
A Fibonacci spider's web unfolds, revealing old and new secrets, madness, and murder. Based on its current sprinkling of revelations, we believe the show will only get better and better. It doesn't withhold to a painful degree like a certain second season on HBO (cough Westworld cough).
Rotten Tomatoes currently gives Castle Rock an 85 percent approval rating, while 97 percent of Google users liked the show. We recommend it especially if you get down on Stranger Things, The X-Files, or Twin Peaks.
Editors' Recommendations