This content was produced in partnership with Canadian Down & Feather Company.
This Presidents Day, Canadian Down & Feather Company has a huge sale on pillows that will appeal to every taste and budget. Whether you're looking for the most premium goose-down pillow or something a little more affordable, there are big discounts afoot with up to 25% off all pillows including some of the most popular items. To help you figure out what's best for you, read on while we take you through the highlights. The prices have been listed in CAD as exchange rates tend to fluctuate.
Gel Microfiber Down Alternative Pillow — C$36, was C$45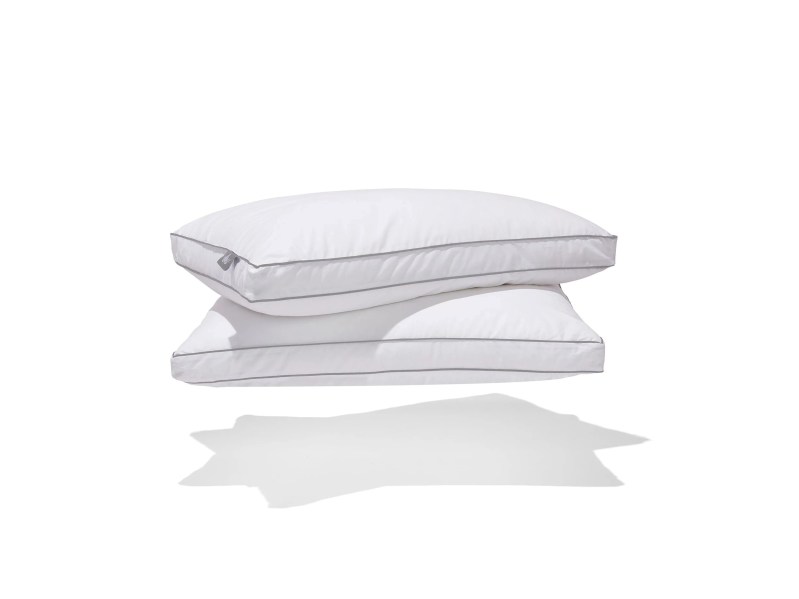 Plush, but denser than down options, this pillow is excellent for those who need a solid mix of comfortable and supportive. It's softer than a feather pillow while still providing more stability than a down pillow. It's ideal for just about any sleeping position to boot. It features box edge construction, a 300 thread count exterior, and gel microfiber fill for the inside.
Down Perfect Pillow — C$55, was C$68.75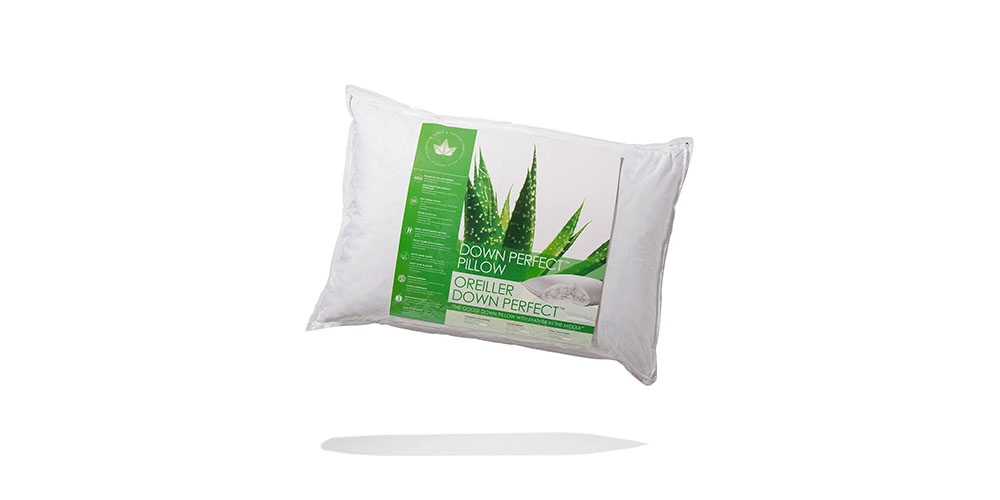 This three-chamber pillow is super comfy for the majority of people. It has a center chamber filled with goose feather so you get excellent and resilient support. This makes up about 90% of the total fill weight followed by outer chambers filled with 575 loft goose down to add softness and luxury to the pillow. Combined, you get the firmness of feather along with the softness of down so there's the best of both worlds here. Rounding things off neatly is the outer cotton shell which has a crisp 255 thread count. There's a choice of medium or firm with the latter best for those that sleep mostly on their side, while medium is good for all situations.
White Down Pillow — C$90, was C$112.50
There are a lot of ways to describe this pillow, like calling it soft, sinky, squishy, and even malleable. It's composed of more affordable down, to ensure everyone — on any budget — can enjoy its comfort. The inside is overfilled when compared to the Hutterite Goose Down Pillow, so it's puffier. For construction, it's a double needle stitch, with a 260 thread count exterior, white duck down high-quality fill, and a 550+ fill power down that insulates.
White Goose Down Pillow — C$90, was C$150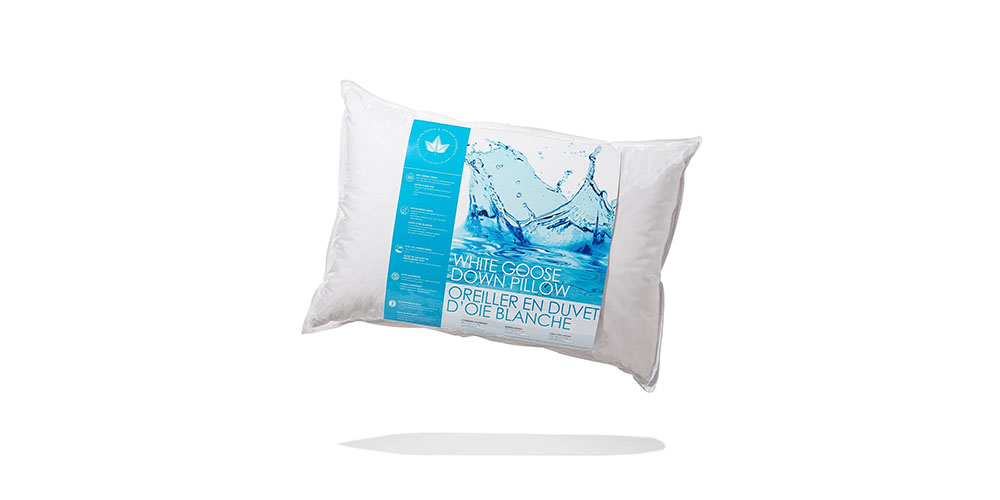 The White Goose Down Pillow offers an extremely comfy fill of 575 loft goose down so you get a very soft and squishy pillow you can sink into. On the outside is a crisp 260 cotton thread count shell so it's incredibly good to rest your head on. All weights of this pillow are fairly soft and will cause you to sink down, but the soft version is flatter due to having the least amount of fill. It's best suited for front sleepers while medium and firm are good for front and back sleepers due to being more full.
Hutterite Goose Down Pillow — C$168.75, was C$225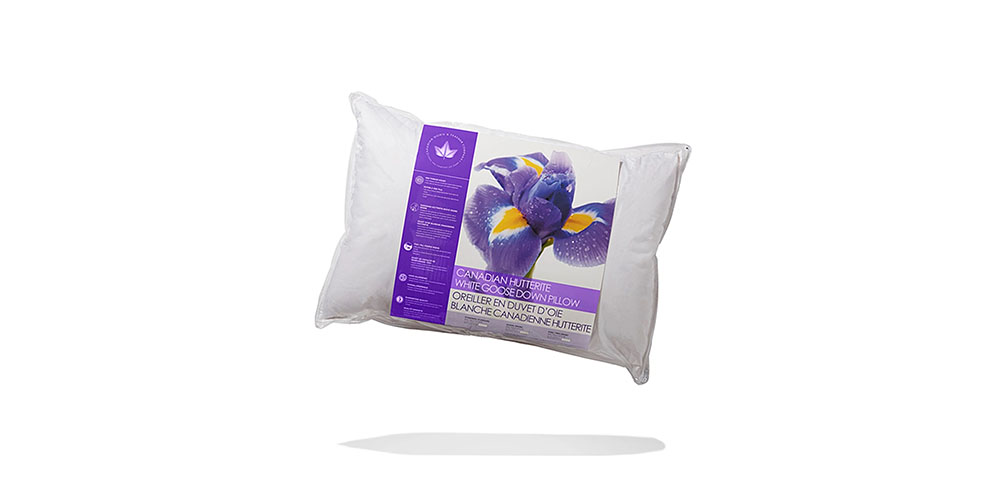 A premium pillow, the Hutterite Goose Down Pillow has an impressive fill of 700 loft goose down farmed by Hutterites in Alberta, Canada. It's encased in a soft 400 thread count shell made of cotton so you get a supremely comfortable place to rest your head. A choice of weights are available with the soft version flatter and best for front sleepers, while medium and firm are best for front and back sleepers. Packed with some of the highest quality fills available, this is an extra comfortable way to snooze.
850 Loft Hutterite Goose Down Pillow — C$206.25, was C$275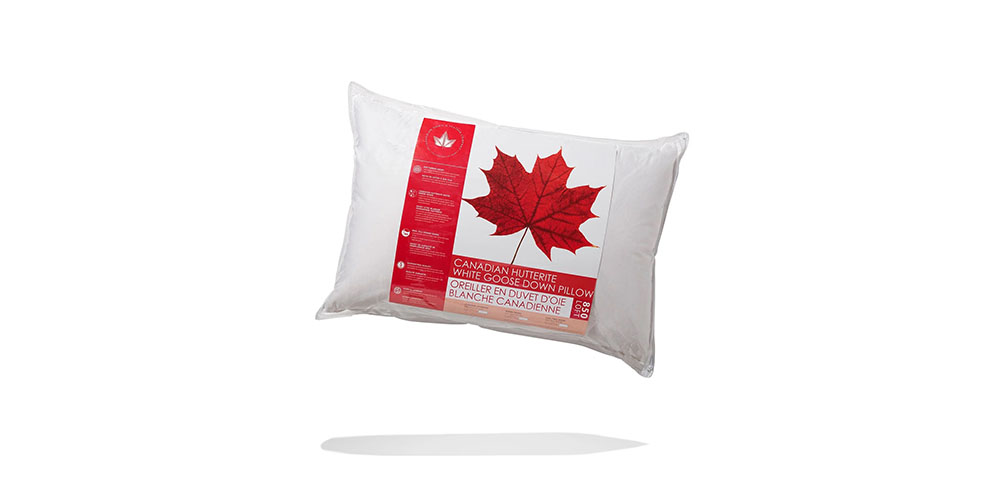 The ultimate pillow for those that love a soft pillow, the 850 Loft Hutterite Goose Down Pillow offers a fill of 850 loft goose down for a phenomenally comfortable experience. Its shell is similarly well made with a soft 500 thread count made from cotton to ensure everything feels good here. As with others, you'll need to decide which weight with soft being best for front sleepers due to its fairly flat design. Medium and firm work well for front and back sleepers with side sleepers best considering a different option for the ultimate fit.
For All Your Bedding Needs
We sure are covering a lot of pillows, but now's a good time to mention Canadian Down & Feather is offering some great deals on a host of additional bedding items, including duvets, mattress toppers, cushions, duvet covers, cushion covers, and more. There really is an excellent variety to choose from, which means it's best for you to check it all out — there's sure to be something for you!
Editors' Recommendations