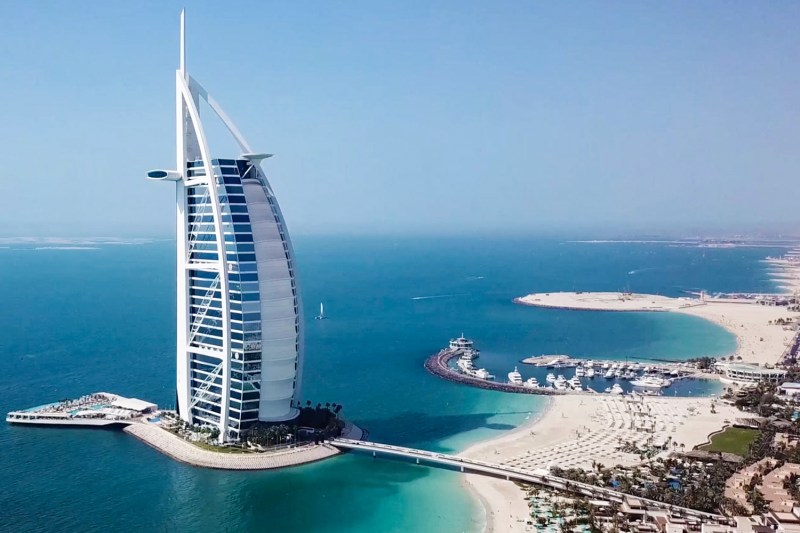 Standing on its own man-made island and designed to look like a larger-than-life sailboat, the exclusive Burj Al Arab hotel in Dubai is an experience reserved for those who can afford the ultra-lavish and can cost more than $21,000 a night.
The Royal Suite of this towering hotel (the fifth tallest in the world) only includes two bedrooms, sleeps four total guests, and runs a lofty $21,797 per night. An extreme opposite from stark, minimalist hotels like these Scandinavian retreats, the Royal Suite isn't exaggerating its name — this hotel room is made for a king. The Dubai palace is extravagantly decorated with a leopard-print grand staircase, ornate gold banister, chandeliers, a giant marble tub, and designer furniture. The absolutely wild and rich color scheme of bold golds, reds, pinks, purples, and, yes, more cheetah print is only the beginning of this luxury stay. Just call on the on-site butler to tell you more.
Warning: If you're prone to sensory overload, this is not the stay for you. However, it would arguably be the most grandiose stay of your life.
Floor-to-ceiling windows in almost every room of the suite open up to endless views of both downtown Dubai and the Arabian Gulf. The kitchen is fully equipped (we've fallen in love with the espresso machine) and a formal dining area seats 12. Since only four guests are allowed to stay, the expansive nature of the Royal Suite was made for "important meetings and social gatherings of the highest formality." So … next year's fantasy football draft?
If at any point during your stay you feel overwhelmed by how luxurious the stay is, scoot down to the private beachfront available only to hotel guests for a moment of chill. There's also an exclusive hotel pool that is begging to be Instagrammed.
Thinking of pocketing the shampoos before you leave? Well, they're full-size Hermes amenities. If you don't steal them, we will. Already dripping with excess, the suite also includes professional wardrobe packing and unpacking, as well as access to a waterpark.
Guests wanting to check out incognito can jump on a helicopter from the helipad near the roof. Returning home, you might find yourself wearing cheetah print robes, buying Egyptian linens off Amazon, and demanding Americanos upon waking.
Editors' Recommendations