Bill Murray celebrates another year of capturing ghosts, teeing up, and drinking Japanese whiskey on September 21st. For the comedy icon's birthday, we've planned the ultimate Bill Murray-themed party for you and your platoon of pals, complete with drinks, décor, and dress inspired by Murray's most exemplary roles.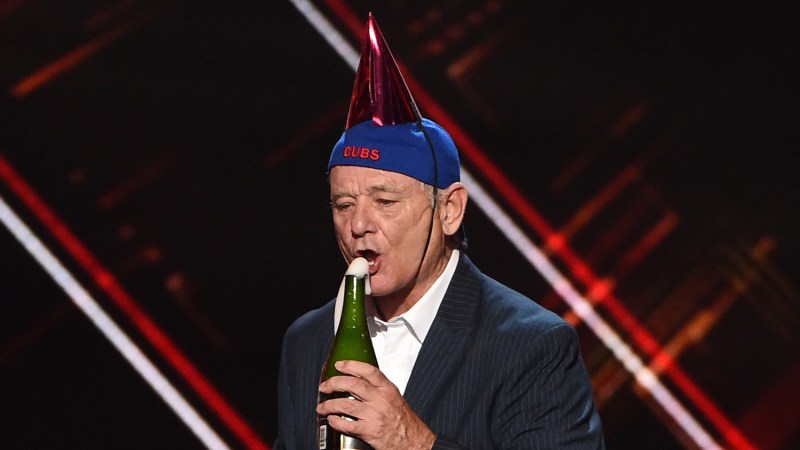 Booze
Suntory Whiskey
"For relaxing time … make it Suntory time." Put out a bottle of Suntory whiskey and ice for a classic Bob Harris on-the-rocks. Our booze suggestion is inspired by Sofia Coppola's film Lost in Translation, in which Murray plays aging actor Harris who is filming a Suntory whiskey commercial in Tokyo "when I could be doing a play somewhere," he explains to college graduate Charlotte (played by Scarlett Johansen). The commercial scene is wickedly funny as the Japanese director and Harris try to communicate. The "Suntory time" stock of aged whiskey actually dried up in 2018, so grab a bottle of Yamazaki Mizunara instead. Serve vodka tonics for the non-whiskey drinkers (Charlotte's drink).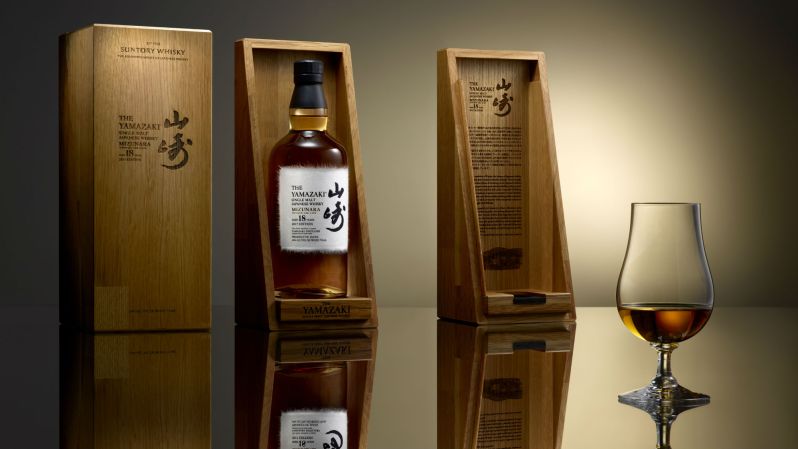 Snacks
Twinkies and S'mores
Put out a plate of Twinkies (or one 35-foot long Twinkie weighing 600 lbs) and chit-chat all things psychokinetic energy, much like Murray and his buddies do as scientists in the film Ghostbusters. Keep things sweet by roasting Stay Puft marshmallows for gooey s'mores.
Outfit
William Murray Golf Apparel
The Caddyshack star and his five brothers (Murray is one of nine children) created a wonderfully bizarre label of golf apparel in 2016. The goal was to "keep it light, have fun, and bring personality onto the course," says the company. Dress yourself to the nines (iron) in William Murray Golf threads, including the party-ready Palmer Button Down and Round of Shots Shorts. Make sure everything fits right by practicing your swing like groundskeeper Carl in a patch of flowers. Add camo bucket hat for good measure.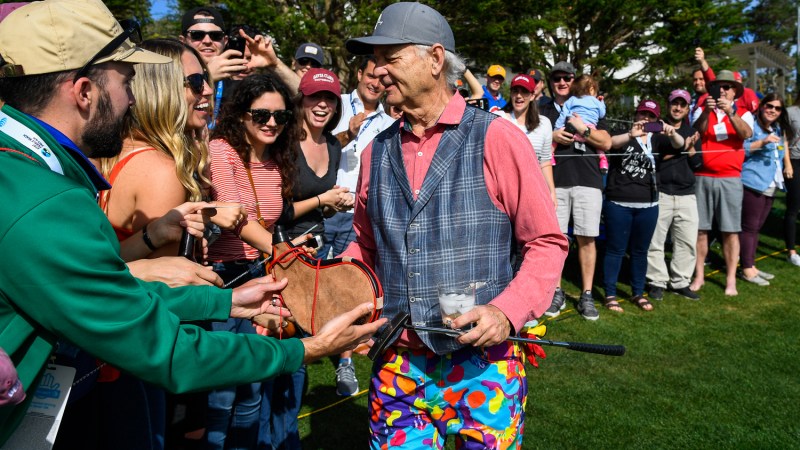 Activity
Basketball
If you're celebrating alone, play golf. If you're throwing a Murray party, split into two teams — the Tune Squad and Monsters — and play a game of pick-up basketball, inspired by Murray's role as himself in the '96 film Space Jam. (He also played himself in Zombieland.) You've got to throw a lay-up to this looney cameo since it's widely considered the defining performance that sealed Bill Murray's evolution from goofball '80s actor to deadpan film legend. If you "don't play defense," that's OK.
Music
Manfred Mann
Press play on the best of Manfred Mann and holler along to the unofficial Stripes theme song, "Doo Wah Diddy Diddy." Take the music a step further and karaoke the song starting it off, "There she was just walkin' down the street." Murray would be proud, as he's carried a tune in a handful of films including "Stripes," "Lost In Translation," and "St. Vincent." (Note: We're suggesting Manfred Mann, which made the tune famous, over The Exciters, which recorded the original version, because of the former's larger discography.)
Decorations
Jungle
Assemble fake palm trees and glue banana leaves to the ceiling because this party calls for jungle décor. Raid Party City's jungle animals and luau aisles for plates and cups inspired by Murray's voice role as Baloo in The Jungle Book. Murray's also been the voice of Garfield in the titular movie (which he regrets) and the Badger in Fantastic Mr. Fox.
Smoke
Punch Churchills Cigar
Savor the classic, old-style Cuban cigars, Punch Churchills, one of Murray's favorites, according to an interview in Cigar Aficionado. Fire up the medium-strong Havana flavor like the wealthy TV executive Frank Cross on the Scrooged film poster. The Punch is both woody and salty with a subtle hint of sweetness at the end, which somehow sums up Bill Murray perfectly.
Have a suggestion from Groundhog Day, Rushmore, Meatballs, or another classic Murray film? Comment below for your additions to the party!