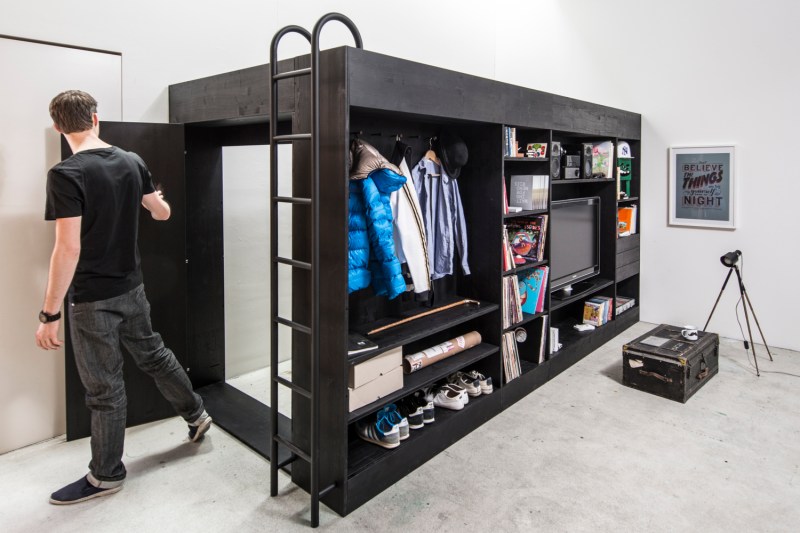 Aside from a few major cities in the Southeast, the average U.S. apartment size is hovering around 750 square feet. And when you factor in the cost of rent in cities like New York City, San Francisco, and Seattle the size of your living quarters diminishes quickly into a cozy studio with about 300-400 square. So with rent prices out of control in many urban areas and tenants being forced into smaller and smaller apartments, it doesn't leave much room for styling out your living quarters.
Naturally, if you have the luxury of living in an apartment with a dedicated bedroom or two, you should have ample room for a couch, maybe a small dining area, and of course a big ol' flat screen TV. But when it comes to the studio life, a mother-in-law apartment, or four occupants to a single bedroom, you need to find a way to outfit your home while avoiding any sort of Jenga scenario. Thankfully, companies have begun to take note of the tiny space living with pieces that fold, shrink, bend, and even disappear out of sight until they are called upon next. And while you'll be saving space, this furniture does, unfortunately, come with a hefty price tag.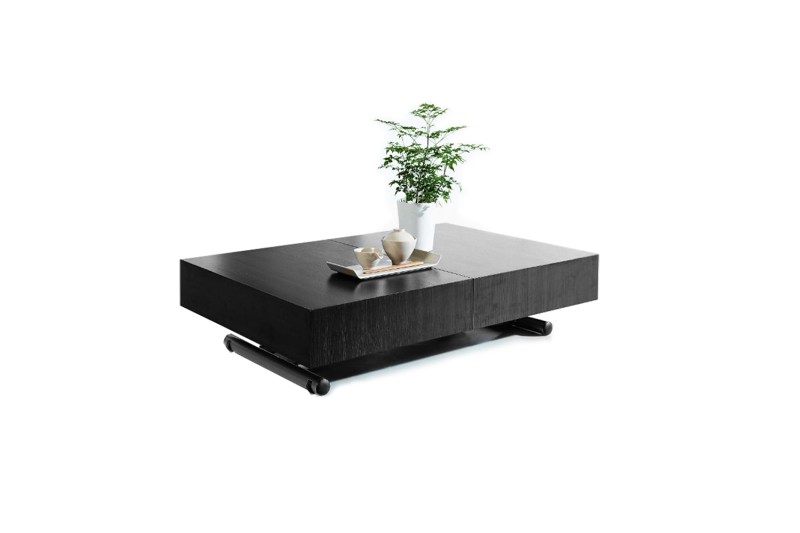 From our friends in Canada comes Expand Furniture, a brand specializing in providing "people with exceptional furniture that makes their living spaces better" with functioning, high-quality furniture. Expand Furniture has tapped into a market that just about anyone will appreciate and especially those with limited space to accessorize their home. And when it comes time to choose between a coffee table or dining table and an entertainment center or bed, and who makes the cut for Friday's dinner, Expand Furniture provides the answer.
No matter the size of your dwelling you've got to have a table throw stuff on, whether that be a set of keys, a copy of Dwell Magazine, a cup of coffee or even a dinner plate or two. And when space is tight, Expand Furniture's Box Coffee to Dining Table is the perfect solution. At first glance it looks like any other table, lying close to the ground and ready to align itself in between your sofa and flatscreen. Its sleek design measures in at roughly 32 inches by 47 inches and just 11 inches high at the lowest setting. And when it comes time for the dining experience, whether or not you have the room for eight to 10 friends or even if you have that many friends, the newly transformed Dining Table opens to an impressive 86 inches after the three leaves have been pulled from its innards. The Box Coffee to Dining Table is truly a great piece for day to day life and for the rare occasions, it's your turn to host. And as space is everything, add the Nano Chair Dining Set to complete the look.
Further Reading
As the night concludes and your friends have parted ways, really the only thing left to do besides folding away your dining table is to drop down your bed and shake hands with the sandman. Again, Expand Furniture complements the daily necessities with a hidden necessity and the Amore Revolving TV Murphy Bed. The name itself already has all the best things: love, revolving, TV, and bed. Can you truly think of a better combination of words other than "Southernplayalisticadillacmuzik?" Standing at roughly 7.5 feet by 6.5 feet by 2 feet, it is a bit of a monster but it should have no problem squeezing into any apartment or guest room. Think about it, you'll never have to make your bed again and after 8 hours of binge-watching The Office (for the fifth time) all you have to do is turn the door and out pops a sanctuary for a few hours of sought-after sleep. When space is tight and Sundays from September through February take precedence over just about everything else, the Amore Revolving TV Murphy Bed wins the coin toss time and time again.
But if space is really, really tight, Expand Furniture has a few more magic tricks up their sleeves. The Cottage Cabinet Bed/Buffet Bed offers sufficient space for a lamp, makeshift bar setting, all your knick-knacks, and, at the end of the day, a gel-infused memory foam mattress for you or your guests. It's approximately 5.5 feet by 3.5 feet by 2 feet in the upright and locked position and expands into the perfect tiny space mattress. And maybe the best part of this Cottage Cabinet is the bottom drawers actually function as storage. The Junior Giant Edge/Modern Dining Table is another real space saver with a depth of a mere 16 inches standing idle. Tucked in the corner or against the wall the Junior Giant Edge Table waits patiently for a gathering of friends as to expand to a whopping 7.5 feet (with all four leaflets in place). It's a perfect accent piece to any size room and when the Bat-Signal shines, this table will be ready for a round or two of King's Cup and/or the Millennial Friendsgiving.
Expand Furniture is no doubt leading the way to tiny space living but there are a few other notables that beckon your attention. The Living with Jack Snap Jack Table's versatility lies in art and functionality. Mounted on the wall, it leaves an unassuming blank canvas over the artist's intentions before it drops down and turns into your dining table. It comes in two different sizes with the option of a natural finish or a Flox original covering to add some color to the room. The Imax Convertible Bookshelf/Dining Table is another great option for transforming storage into dining use. It looks great up against the wall displaying all the books you've read, a candle, or your collection of bobbleheads while it waits to convert to an in-time-of-need dining table. And if you're looking to go full send, the Till Könneker Living Cube is essentially a tiny house for a tiny space.
Editors' Recommendations