Cold beer. Hot nights. The sounds of summer and the company of friends. As you gear up for sunny days ahead, you may be re-thinking your outdoor living space. When that first summer sunrise sweeps over your patio, you don't want to see those bright rays lighting up a beaten-up table or bleached-out lawn chairs.
Whether you've got a large backyard or an apartment balcony, there are plenty of great options for updating your patio space to create a relaxing and inviting area worthy of dinner parties, morning coffees, and game nights alike.
For Large Patio Spaces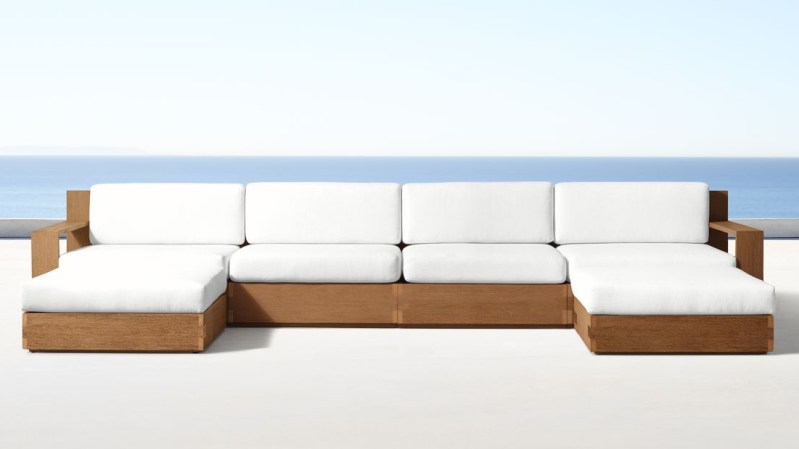 Crafted of sustainably harvested natural teak, the Marbella Sectional is one of those seating units that seems to stretch on into the sunset. We love the ultra-deep seats, low-slung design, and the stylish box base that makes it easy to mix and match sections. This is the ideal outdoor sofa for gathering all your favorite flaneurs to sip cocktails and catch rays in an attitude of vainglorious repose.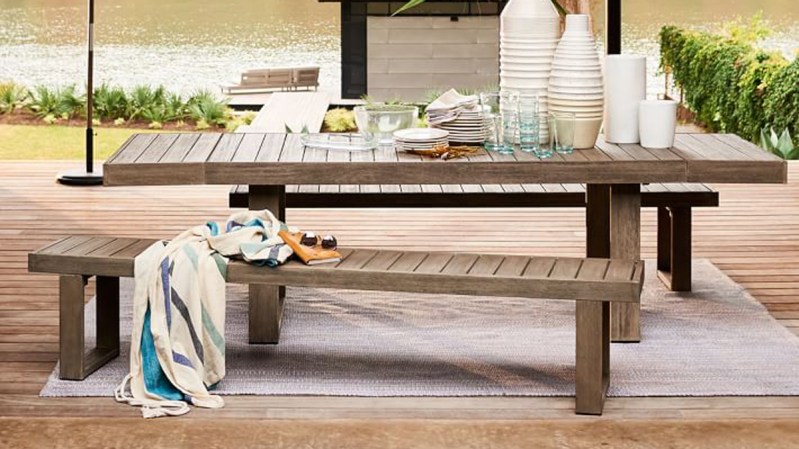 This durable table is made from sustainably sourced tropical hardwood and can seat up to ten people when expanded to its full size. The surface of the wood has a protective topcoat and is wire-brushed to add a rustic finish that will have dinner guests feeling like they're dining beach-front. Sets are available with matching chairs or benches, so you can customize the feel and function of your space.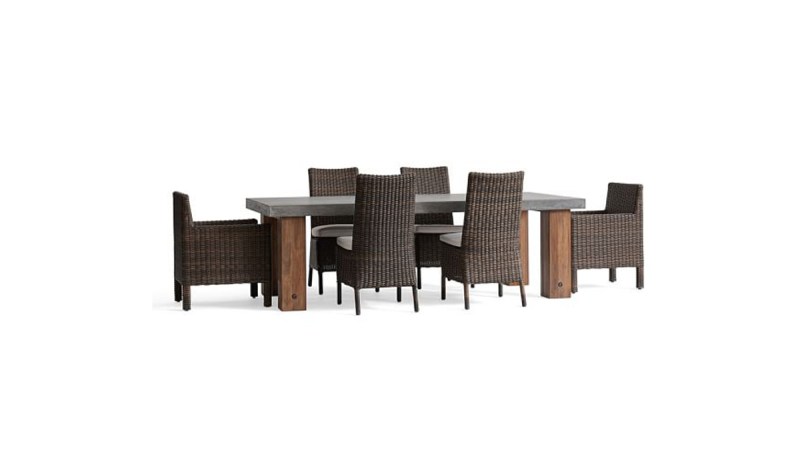 Add some real wow-factor to your patio with a dining set that can double as a statement piece. A truly unique contemporary, natural look that combines Ecoline synthetic rattan with a bold concrete and hardwood table, the Abbot dining set will add some real wow-factor to your patio. Each table in the line has hand-finished touches that make it one-of-a-kind, and the canvas seat cushions are comfortable, weather-resistant, and easy to clean.
If you've got a large area to work with, you can turn your patio space into a full outdoor entertaining experience by adding some fun but functional furniture. This console/bar/workstation has a top that opens up to reveal a stainless steel ice tray, so you can keep drinks cool in the center and still have plenty of surface space for food on either side. It also includes steel hooks on the side for utensils or towels and is made from sustainably sourced teak that is incredibly durable against the elements.
For Small Spaces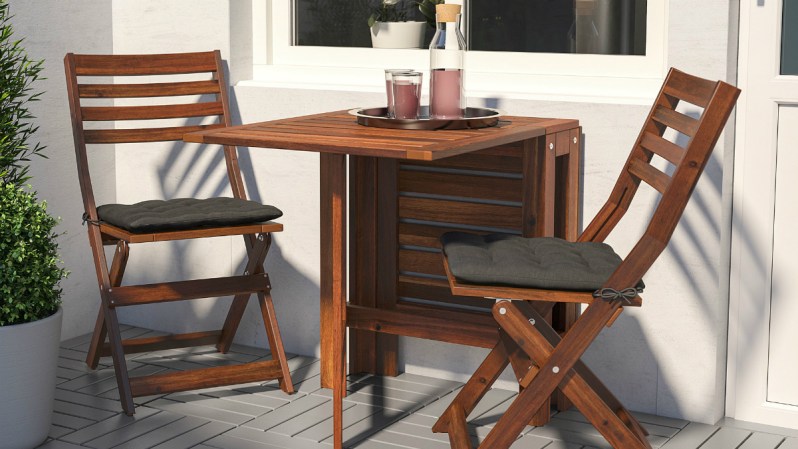 When you're working with a smaller patio space, a low profile and easy storage can become just as important as style when it comes to your furniture. Ikea's Äpplarö makes proper use of small spaces and adds a hit of high-end style at the same time. The table and chairs can be folded for super-fast, low-profile storage when not in use, and that can hold its own as a focal point, even when the rest of the set is tucked away.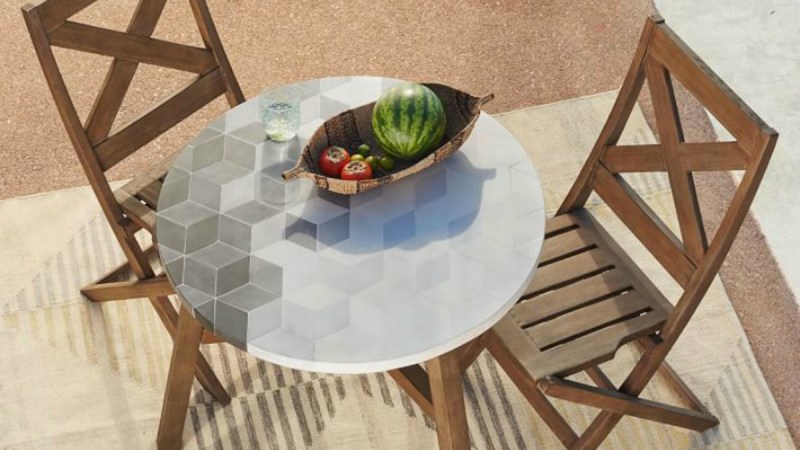 This alluringly minimalist table has a surface of hand inlaid concrete tiles that creates a modern mosaic for a touch of pure artistic elegance in your outdoor space. The solid hardwood base is available in three finishes, so you can pair with the chairs of your choice for a contemporary space. Equally perfect for your morning coffee or evening whiskey — or hell, morning whiskey.
You may not have the space to turn your patio into a backyard version of Cheers, but if you've got a little wiggle room and well-designed furniture, you can maximize your area with a bar set that includes some simple seating. Made from solid wood, the Abbott Ultimate Bar has a built-in bottle opener, hooks, drawers, and foot rest, a removable shelf, and a hardy concrete top for a bold natural finish that can hold up to some serious mixology. The set comes with two matching steel bar stools that are sealed with a protective weather-resistant coating, so you can leave them out all winter without worry.
If your space is big enough to warrant an outdoor sofa, but can't accommodate a full sectional, may we suggest the Ibiza Double Lounge? The shape alone should be enough to convince you — this whimsical postmodern lounger looks just like a perfect dollop of whipped cream. The beanbag-style interior fill makes it as yielding as a marshmallow, but it's surprisingly sturdy with a water-resistant performance fabric shell encasing a sound structural base of quick-dry foam. In other words, you can have that second daiquiri without fear of a slow slide onto the concrete.
For Full Relaxation Mode
If you see a lot of summer lounging and backyard gatherings in your future, this outdoor sectional from Ikea will create a comfortable space that will make you forget about those boring old living room days. Made from durable plastic rattan, this set has a natural look that can stand up to the elements. And you can customize it with a variety of plush cushions and bold pillows.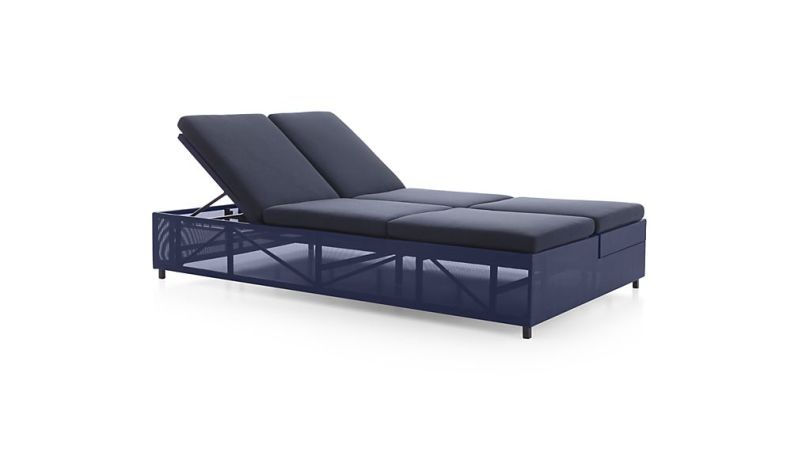 Some days, ya gotta lounge. And when you do, why bother with a patio full of one-trick-pony furniture that's just going to harsh your mellow? This Chaise Sofa Lounge from Crate & Barrel can be easily moved into different positions to suit your mood. If you want to kick back with a book, put it into the chaise lounge position and start reading. Want to spend a summer night beneath the stars? Move it into its fully flattened position. If you've got company, it becomes a couch. With a classy modern design and mesh upholstery that prevents fading, staining, molding, or damage, this is an incredibly versatile addition to any patio.
When you're confronted by the ageless conundrum — to sunbathe or to take shelter — Restoration Hardware has your answer. Their domed wicker daybeds offer an overhead canopy that provides respite when the day gets oppressive, with sloping side panels that provide a little privacy for … you know, whatever. Meanwhile, the wicker's open weave still lets in warmth, a breeze in the warmth you crave. Choose from the pyramidal Nevis, the egg-shaped Spartan, or the elliptical Cayman. Any one of these sexy loungers will accommodate you and a friend (or two) for a little retreat of your own.
The Lap of Luxury
The time has finally come. You've toiled your way through starter furniture and basic patio sets, flexing your creative muscles every step of the way to keep your outdoor space light and inviting on a budget. Now you're settled into your space and you're ready to make that next leap: full Bond-on-a-veranda-style, cutting edge, sharply-designed patio furniture that will last you through a lifetime of admiring toasts from party guests.
The Grid Collection from Gloster is built around materials like powder-coated aluminum and natural teak that make for an intensely sleek, modern look that still retains plenty of organic inspiration. All cushions are tightly woven for ultimate comfort and durability and have a water-resistant coating on both sides to keep the elements out. The pieces in the collection blend seamlessly, so you can hand-pick the furniture that best suits your needs and build your perfect outdoor entertaining space. All that's left to do is kick back with a martini (shaken, not stirred of course).
Article originally published by LeeAnn Whittemore on April 28, 2017. Last updated by Chelsea Batten on May 11, 2018.
Editors' Recommendations