Man isn't meant to stay indoors — our weekly "Trekking" column can attest to that. It's a column dedicated to the adventurer inside of all of us, the one pining to ditch the office humdrum for a quick surf session or seven-week jaunt in the Grand Tetons. One day we may highlight an ultra-light stove and the next a set of handmade canoe paddles. Life doesn't just happen inside the workplace, so get outside and live it.
The notion of the American Dream, oft defined by economic and social opportunity, has never been anything short of alluring. It's what many of us strive to achieve in our day-to-day lives, a sense of stability and peacefulness that's as picturesque as the small house and white picket fence we tend to associate with it. Achieving it in these days of political turmoil and economic strife, however, seems easier said than done. Thankfully, the same isn't necessarily true of the Portland-bred camper with which the concept shares its name, aka the American Dream Trailer ($8,900+).
Related: The Pendleton Limited Edition is built for the outdoors (not your budget)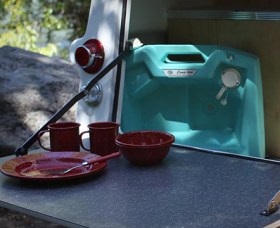 Using a 1961 teardrop trailer for inspiration, husband-and-wife duo Paul and Tyla Dahlman have helped forge a modern replica with a penchant for authenticity. The 650-pound, fiberglass trailer takes a cue directly from the original's design, and relies on a local metalsmith and fiberglass company to manufacturer the same glass windows and molds that defined the original. The entire building process takes five to six weeks, but the end result is a compact towable that sleeps two and houses a small cooking and storage galley in the rear for food preparation, complete with room for customization.
The real kicker of the American Dream Trailer isn't the checkerboard floor, though, or the two-tone color scheme and optional galley table. The trailer's biggest selling point lies in the secondary roof, which conveniently functions as a small rowboat when it's not securely attached to the top of the trailer's lightweight frame via a set of five hood latches. How and where you want to use the trailer, well, that's totally up to you.
Visit The American Dream Trailer Company online to request an estimate. Each camper is custom built to order, and takes roughly six to eight weeks for delivery.