Erik Weihenmayer first started kayaking when already more than 40 years old, but nonetheless he soon paddled all 277 navigable miles of the Colorado River through the Grand Canyon. A few years before that, he sumitted Mt. Everest. Oh, also he went blind at age 13.
Weihenmayer isn't the kind of guy who was ever going to let blindness stop him, though — in fact he's the kind of guy who was climbing mountains so often, he eventually had to make the hard choice to leave a teaching job he loved, feeling his frequent winter absences weren't fair to the students. Even with his blindness, Weihenmayer he has conquered all of the Seven Summits (the highest mountains on each continent) along with bagging dozens of other peaks around the globe.
But despite a climbing record that's awe-inspiring with or without a disability, and despite his record-setting achievements in a kayak, when I spoke to Weihenmayer recently, it was clear that his main focus in life isn't on his own accomplishments, but rather on helping other people achieve goals regardless of any obstacles they face.
It was in that spirit that he helped found the No Barriers organization, a nonprofit that touches the lives of about 10,000 people each year and counting.
Weihenmayer first found a love for climbing thanks to an organization set up to help blind youths experience and enjoy nature. The first time he tried his hand at rock climbing in the mountains of the northeastern U.S., he was hooked. Remember that whole too many mountains, can't keep teaching thing? But as he bagged more and more peaks in his adult years, he gradually developed a sense that he had to do more.
"In the Himalaya, the Sherpas say the summit is not the full summit, it's only the halfway summit," Weihenmayer said. "You have to get down alive for it to count, but after I came down from Everest, I started to interpret that a bit deeper. You climb mountains, you thump your chest up on the top, and that feels good for a while, but in a way it's almost like you're escaping the world. I felt like I needed to connect with people more, like I needed to do more, I needed to connect with other people who maybe thought they could't do these things."
Surely inspired by the people who had helped a blind young man find his passion for altitude, soon Weihenmayer and a group of colleagues began working with a small handful of people with varying disabilities. One was a woman whose MS had left her incapable of riding bikes with her kids, formerly a great joy. The solution? Get an electrically assisted bicycle and get back out there. Another was a veteran with opioid addiction who wanted to get clean and just needed people who believed he could. Then there was the man who simply wanted to be able to go up and down stairs. And with a pair of specially modified trekking poles, he did, after which he turned to Erik and said: "That was my Everest."
And that was proof of concept.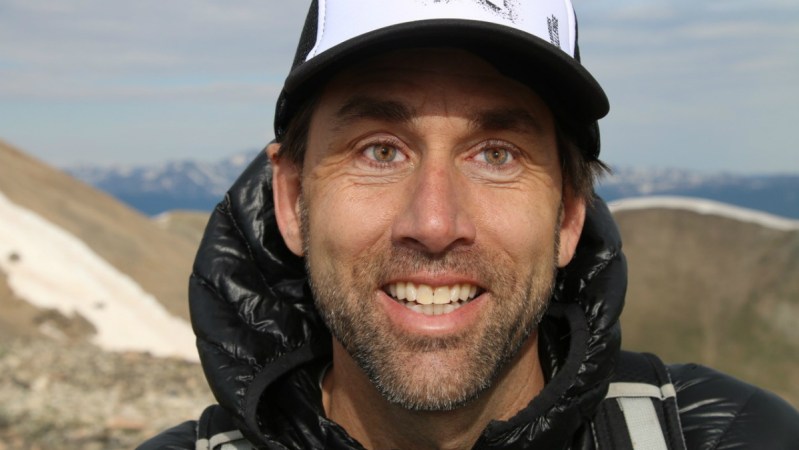 Weihenmayer defines the No Barriers way using its motto: "What's Within You is Stronger Than What's in Your Way." He explained that at its inception, the organization was intended to help people with physical disabilities achieve their fullest potential despite perceived limitations. He and his associates would take amputees hiking or help veterans with PTSD emerge from isolation, for example. But soon he realized that many more people with those than specific physical disabilities such as his own were nonetheless in great need of help.
"We talk about disability [at No Barriers] but we also talk about people with invisible disabilities, invisible barriers — children who lost a parent to violence, people with addiction, people with depression, a single mom struggling her ass off to raise a family," Weihenmayer explained. "People can get in a dark place, no disability involved. Sometimes we all get stuck, but a lot of people, more than you would think, feel stuck and they stagnate, and they have to do something, they have to take a step. If you feel that way, you need to stop sabotaging your life, open your heart, and step out of yourself and into something like the No Barriers community."
While the organization periodically holds large events, such as major two-day summit in New York City  and sponsored walks all around the country, the biggest impact often comes from smaller group outings that hark back to the foundational days of No Barriers. Today, more than a decade and a half of service and tremendous growth, Weihenmayer and his colleagues still take small groups out into the mountains or onto the water, out of their comfort zone and often into a situation an individual never thought he or she could handle, to help them realize their full potential and overcome perceived limitations.
As for Mr. Weihenmayer's own next adventure? "Oh man… you got two hours?" he replied when I asked him what was upcoming. "I'm heading to Jordan to the Wadi Rum to climb some towers there and do some first ascents, and to the Northwestern Territories in Canada to a few mountains there, and I'm going back to the Himalaya next year…."
To explore the Himalayas without having to climb all the way up them, check out this amazing helicopter tour of the mountain chains highest peaks.
Editors' Recommendations