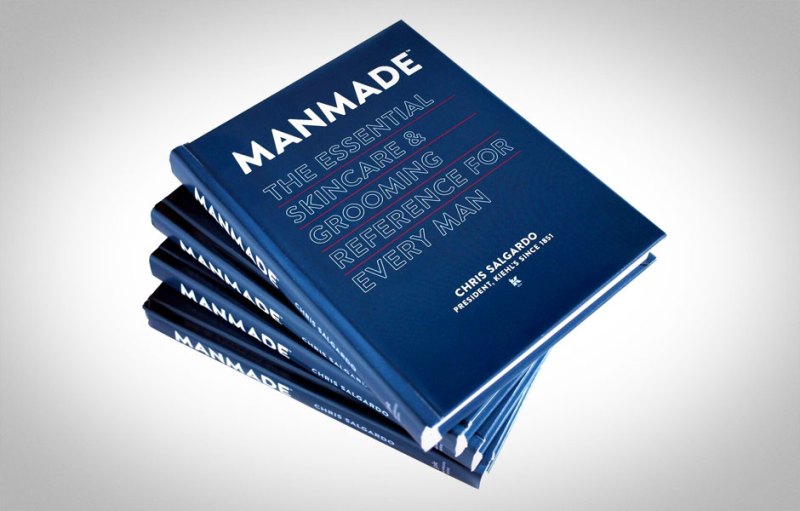 If you were lucky enough, your dad guided you through your early days of shaving. Beyond that, for most men, there is world of confusion out there when it comes to men's grooming. And with an overwhelming amount of skincare, shaving and hair products to choose from it's understandable why.
Now you can find the most up-to-date advice all in one place in the new book MANMADE: The Essential Skincare & Grooming Reference for Every Man written by Chris Salgardo, President of Kiehl's Since 1851. "My goal here is to demystify skincare and grooming, and to help you refocus on the real-world questions and answers that will give you the tools to put your best face forward every single day, no matter where that day takes you."
MANMADE is complete guide to grooming that goes beyond the latest and greatest potions. Salgardo starts by addressing the essential shaving and skincare basics. The book then jumps into a ton of practical advice on how to elevate your grooming game. There are easy to follow steps on what you should be doing for your skin every morning and every night. You'll learn exactly how to shave, cleanse, moisturize and protect your skin the right way, once and for all.
The best parts of this book answer those questions that are maybe a little embarrassing to ask. MANMADE covers all you need to know about body odor, manscaping, eyebrow plucking, wrinkle repair, waxing and even tattoo care.
Kiehl's devotee or not, and frankly you should be, you want optimal results from your products and the time you spend taking care of yourself. Follow the tips in MANMADE and learn how to stock your medicine cabinet with the right formulations and the smartest tools. "Do I need an eye cream, moisturizer and sunscreen"? Of course you do, and Chris Salgardo will teach you how to put it all into a good grooming practice.
Photos Reprinted from MANMADE: The Essential Skincare & Grooming Reference For Every Man.Copyright © 2015 by Chris Salgardo. Published by Pam Krauss Books, an imprint of Penguin Random House LLC."
Editors' Recommendations