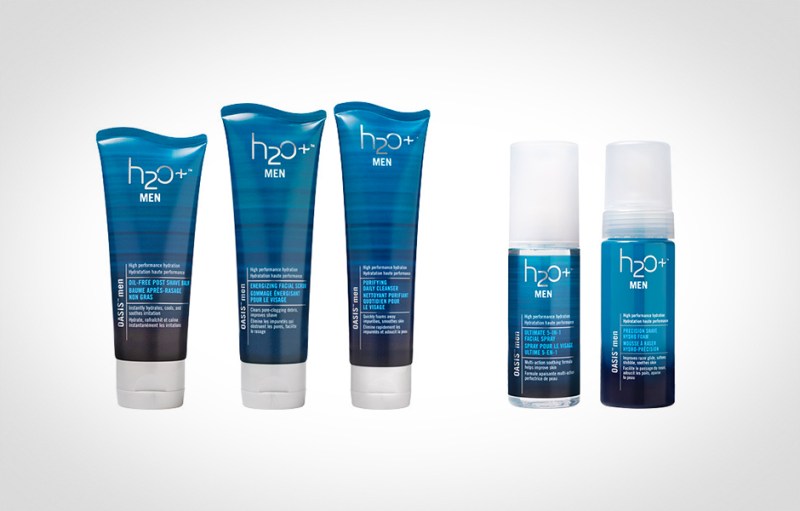 Tired looking skin? Or tired of looking at your skin? H20 Plus is going to kick your grooming game into overdrive by blasting you with a series of hydrating products.
The men's line appropriately titled Oasis is surprising addictive and fresh with no overwhelming smells – and it's going to take your skin to paradise.
Our personal favorite is the shave foam – but we'll get to that in a bit. Let's talk routine.
Start out with the H2O Plus Oasis Men Purifying Daily Cleanser – it dissolves dirt and blasts away pore-cloggers by using marine ingredients which restore, hydrate your skin. These marine botanicals and plant extracts will help heal shaving irritations and protect from environmental damage.
H2O Plus Oasis Men Energizing Facial Scrub
'Exfoliate' is a scary term which can lead to blotchy red skin. This stuff will wake you up – or at least make you look awake. It's gentle and perfect for your pre-shave routine to remove dead-skin cells.
H2O Plus Oasis Men Precision Shave Hydro Foam
This is our favorite. This liquid to foam formula is so light that your razor will just glide. It's unlike anything we've ever tried before because most foams or gel have a thickness – this is as light as it gets – and yet it works just as well. Vitamins A, B and E will help condition your face and prevent bumps and irritation.
H2O Plus Oasis Men Oil-Free Post Shave Balm
Fast acting and oil-free, this aftershave balm will instantly cool off your freshly shaved skin.
H2O Plus Oasis Men Ultimate 5-in-1 Facial Spray
Another stand out product – this facial spray just feels right. It helps sooth and relax just the like other products, but this spray will also even out your skin tone, prevent ingrown hairs and help diminish the appearance of wrinkles.
H20 Plus is also committed to helping give back to various charities – including Earth Echo, Bin Donated, and Clean the World.
So quench your thirsty skin and check out the entire H20 Plus line here.
Editors' Recommendations