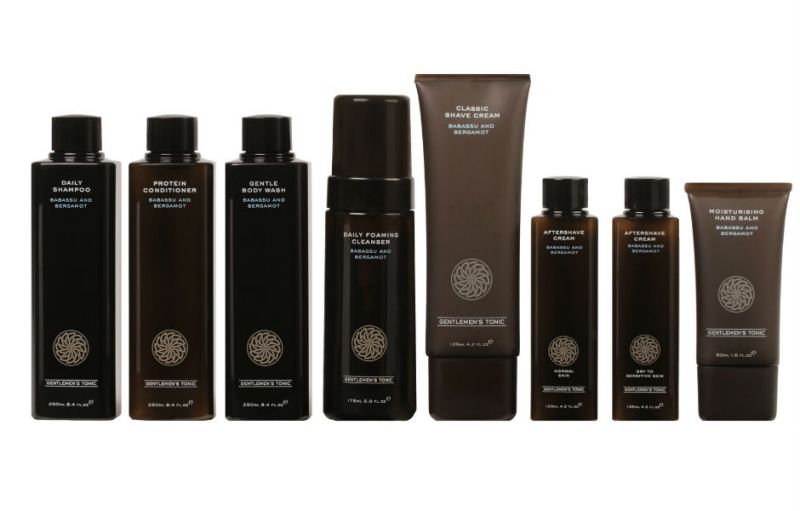 A new line of grooming products from London has hit Stateside. Gentlemen's Tonic, the Mayfair-based barbershop released its extensive line in the United States for those of you who won't be crossing the Atlantic anytime soon to pay a visit to its brick-and-mortar location. Gentlemen's Tonic "is taking grooming needs for men to the next level with a masculine, simple, yet sophisticated and classically packaged collection. Consisting of a striking blend of naturally based plant-derived materials from sustained and renewable resources."
With a number of products available, Gentlemen's Tonic is one of the largest grooming lines available in the United States. Plus, you have every reason to feel good about the line. Everything comes in 100 percent recycled packaging, and on top of that, the collection is free from parabens and petroleum derivatives, artificial colors, animal extracts, synthetic perfumes / chemical additives, TEA/DEA and sodium laurel/laureth sulphates.
Wake up in the morning and invigorate your senses with the Daily Shampoo, Body Wash, and Daily Foaming Cleanser. Then, get ready for a luxurious shave by prepping with the Pre Shave Oil. Next, cover your beard with either the Traditional or Classic Shave Cream. Once you're finished shaving, put on that Soothing Aftershave balm. Now, get your hair in shape with the a combination of the Structure, Clay or Pomade.
Finally, choose one of the Gentlemen's Tonic Eau de Toilettes:
Junzi

: a Chinese term originally applied to men with connotations of nobility. He is a rare person, an exemplar who leads by his character and conduct.

Sinsa

: A Korean term meaning Gentleman, the Sinsa man exhibits courtesy, righteousness and is always ready to make sacrifices for the greater good.

Honos:

a Latin term meaning respectable and dignified, a man of virtue and a model of excellence and perfection.
We can't tell you how excited we are that we don't have to go over to London to grab Gentlemen's Tonic grooming products.

For more information, visit gentlemenstonic.com. 
Editors' Recommendations