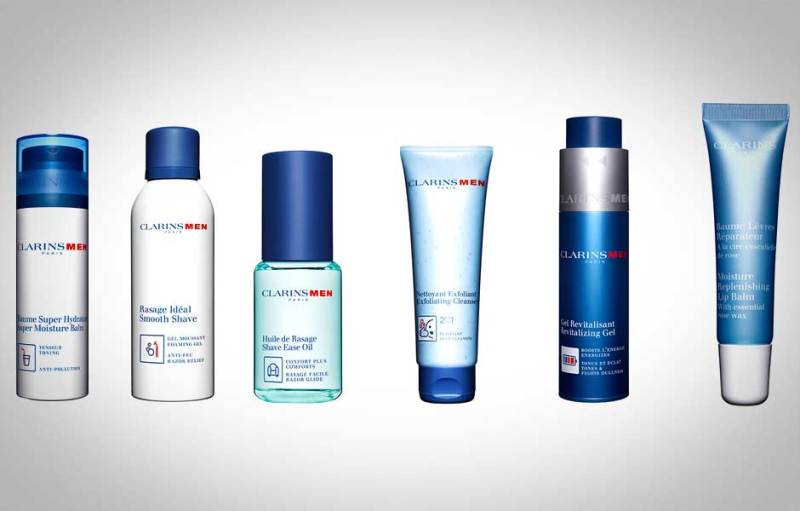 Let's just call it how it is: the French know what's up. From mandatory month-long vacations, to luxury goods, to fragrances, the French not only know how to live, but how to live pretty damn well. They also know bread, mistresses, wine, and skincare. Amazing skincare. And now, the venerable Clarins Group has released their latest line for the American market, Clarins Men. We took a few weeks to try out some of Clarins' new products so we could bring you this primer on French Skincare and also to find out whether or not the French really do live up to their reputation for excellence in everything Lifestyle.
2-in-1 Exfoliating Cleanser, $24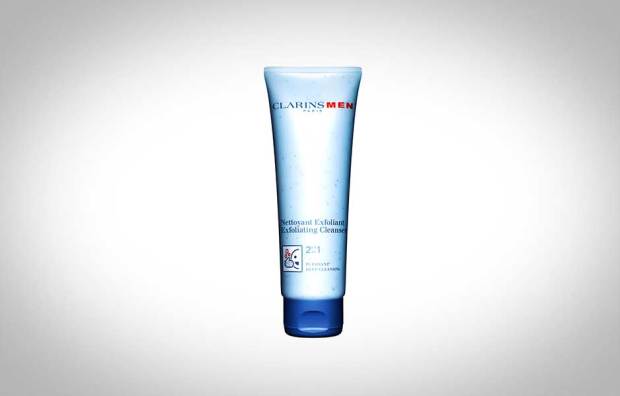 All men need an exfoliating product in their skincare regime. Whether it's a physical sponge, brush, or cleansing gel like this one, exfoliating your skin once or twice a week removes dead skin cells and impurities all while cleansing. Clarins 2-in-1 Exfoliating Cleanser combines the deep cleaning and purifying powers of wintergreen extract to lift off dead skin cells a eliminate dullness, all the while smelling pleasant and fresh.  This particular exfoliating cleanser did a great job at brightening and toning the skin's appearance without feeling like you've taken a piece of sandpaper to your face. Use first in your daily skincare ritual.
Anti-Aging Revitalizing Gel, $40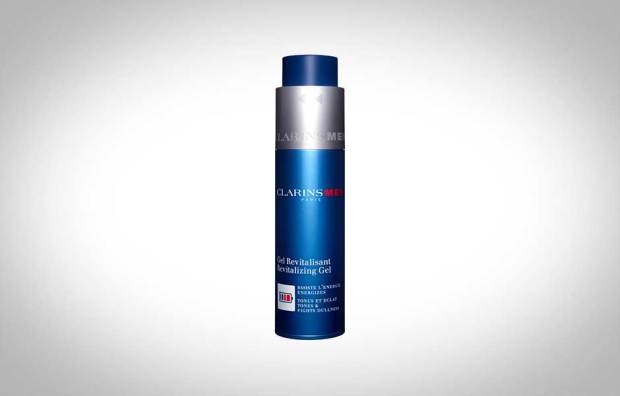 When trying out this product, what was immediately noticeable after application was how the skin felt much tighter. You could almost hear the nascent jowls being pulled back into the neck. And after a few days, there really did seem to be some visible improvement in fine lines and wrinkles as well. The clarity of our skin also improved after a week of testing. Made with a combination of Goji Berry to boost cell performance and Bison Grass to fight off the first signs of aging, this product provides a new can't-miss-step in your skincare regime. This is not a moisturizer and it does contain alcohol (which could explain the tightening skin), so remember to lotion up after the gel has time to absorb into your skin, otherwise you might wind up a little dry by mid-day. The bottle of this gel is also pretty bad-ass: simply twist the bottle in the opposite direction of the cap to reveal a rising pump and spout. Turn the other way to lock it all away. Very NASA.
Super Moisture Balm, $32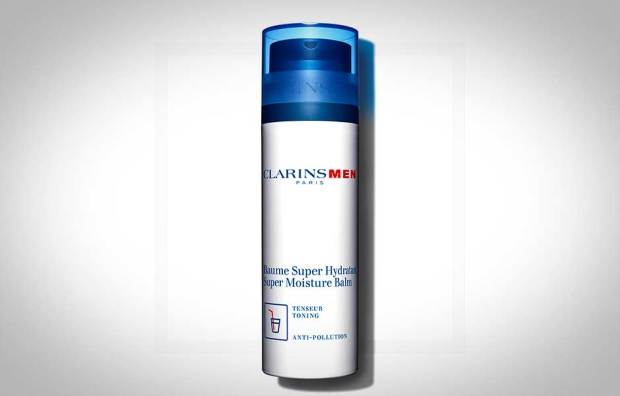 This was hands down our favorite product out of the bunch. When Clarins says 'super moisture' they mean: Super. Moisture. This balm was like applying a much needed drink to our thirsty face. And it should be. Clarins has done their research. Using an innovative new derivative of hyaluronic acid (which holds up to 1,000 times its weight in moisture), Calcium Hyaluronate, the Super Moisture Balm penetrates deeply into the skin, hydrating and protecting the skin's lipid barrier. The balm also includes natural plant extracts such as Alpine Sea Holly for reduction in redness and razor irritation, Bison Grass for toning, and Sunflower Auxins which moisturizes and energizes. This balm is the perfect bookend to your day without getting gloopy. Apply once before you leave the house in the morning and once before going to bed at night. Repeat for twenty years and you'll look relatively young forever.
Shave Ease Oil, $28
Like most shave oils, this one did a great job at softening facial hair and readying the skins for its date with the blade. Altogether though, there was nothing particularly special about this shave oil. We've reviewed products that perform just as well and smell a little better. Clarins Shave Ease Oil is perhaps the only product from this bunch that you can feel confident in taking a pass on.
Smooth Shave Foaming Gel, $20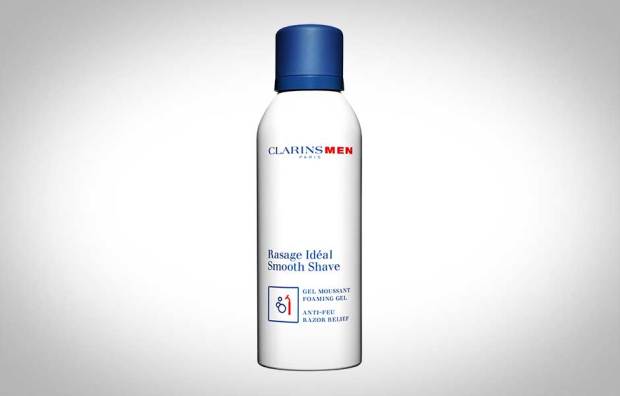 We at The Manual are big fans of traditional, thick shaving cream. So we were pleasantly surprised to discover that a tiny, dime-sized amount of Clarins Smooth Shave foaming shave gel in the palm of our hand would, with the addition of a little water and some lathering, result in one of the richest, most luxurious shaving creams we've had the privilege to test out. Clarins has formulated this shave gel with "active surface texture," ensuring optimum razor performance and Grindelia extract to prevent bacterial growth (read: razor burn and ingrown hairs) and, unlike most shave gels, this one is alcohol-free, so it won't dry you out.
HydraQuench Moisture Replenishing Lip Balm, $24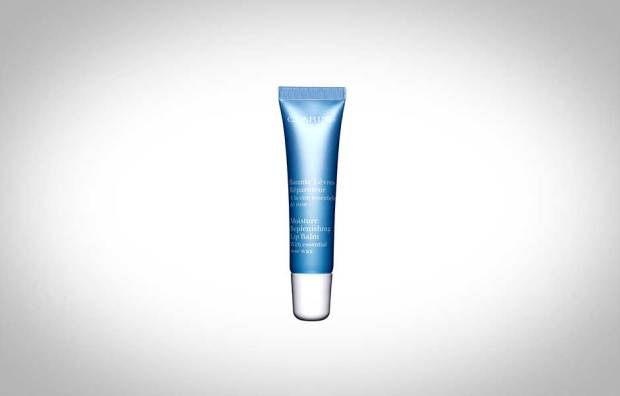 I know what you're thinking. $24 for lip balm? Really? Yes. Really. And it's worth it. A little bit of this stuff goes a long way. The tiniest of drops of this super thick, super hydrating, super rich lip balm will leave your poor chapped lips soft and smooth for an entire day. Meant to "recreate lips' perfect climate," Clarins HydraQuench lip balm contains essential rose wax, a natural way to smooth and protect the lips, as well as Ceramide 3 to repair chapped and dried lips by balance the skin's natural barriers, and natural rice oil, which boost microcirculation and will make your lips look pinker. But don't worry, this is a subtle healthy pink–not a rose red lipstick situation we're talking about here.
The Takeaway
On the whole, Clarins Men products get the thumbs up from us. While you may not want to go out and buy the whole line yourself, a few of these products could work well as a compliment to your pre-existing skincare cache. Your best best are the shaving cream and super moisture balm. But you can't go wrong with the lip balm. Seriously.
Editors' Recommendations